If you've got a little more to spend you've got perhaps even more choice. From Canon you've got the Canon EOS Rebel T5i (known as the EOS 700D outside the US), Canon EOS Rebel T6i (EOS 750D), Canon EOS Rebel T7i (EOS 800D) and the EOS 77D.
From Nikon, there's not quite the same amount of models to pick from, but the Nikon D5300 and Nikon D5600 are still very strong contenders.
Canon Rebel T5i / EOS 700D
Canon EOS Rebel T6i / EOS 750D
Canon EOS Rebel T7i / EOS 800D
Starting with the EOS Rebel T5i / EOS 700D, the main differences between this model and its cheaper siblings (the EOS Rebel T6 and EOS SL1 on the previous page) include a touchscreen LCD that you can pull away from the camera, as well as a hybrid AF system that keeps focusing during video recording.
It also shoots at a slightly faster 5fps but offers the same 18MP sensor resolution as the more junior models. When we came to review the camera, we praised its image quality and loved the flexibility of its LCD, even if the touchscreen means of operation meant that it easily attracted fingerprints.
The EOS 700D is quite a bit cheaper than the Nikon D5300, although the D5300 has many advantages. These include a 24.2MP sensor with no low-pass filter, a 39-point AF system, a larger 3.2in LCD screen (though there's no touchscreen functionality) and Wi-Fi built into the body.
Collectively, this adds up to a much better proposition, although it doesn't have a touchscreen, which may be a deal-breaker. We weren't so crazy about the D5300's AF speeds in live view when we reviewed the camera either, although we were otherwise left with positive impressions.
Nikon D5300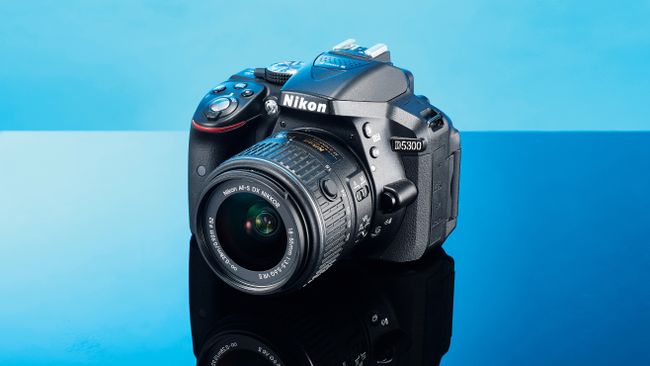 Nikon D5600
For a little more cash the Canon EOS Rebel T6i / 750D is also well worth a look. Although our review found that it didn't quite match the D5500 for detail, we loved its handling and the way the touchscreen controls had been implemented, and felt it was overall a worthy upgrade on the EOS 700D.
Next up is the EOS Rebel T7i / EOS 800D. The direct successor to the T6i / 750D, it'll set you back a bit more as it's a newer camera, but it comes with a newer sensor (though the resolution remains the same at 24.2MP) that delivers better noise performance at higher ISOs and a great improved AF system. The EOS 77D is pretty much identical to the T7i / 800D as far as spec goes, but offers more body mounted controls - useful if you're a slightly more experienced user.
That leaves the Nikon D5600, which features a 24.2MP sensor that produces very detailed images, along with an articulating touchscreen, decent 39-point AF system and polished handling. These all combine to make the D5600 one of the most well-rounded entry-level DSLRs available.