The most common question people ask when buying their first DSLR is whether to side with Canon or Nikon. Indeed, even more experienced photographers tied to one system often think about what they would gain by switching sides.
The fact is that both companies make excellent DSLRs. Nevertheless, at any given point they each have slightly different offerings on the market, and so it follows that some models will be better suited to your specific needs than others.
To that end, we've rounded up the main DSLRs currently available from the two (bar the most senior models designed for professionals) and compared them with their rivals in the same price bracket.
Whether you're a photographic novice looking for your first camera, an enthusiast keen on exploring a range of options or a more advanced user looking for a full-frame powerhouse, read on to get the best idea of what your money gets you.
Canon vs Nikon: Entry-level DSLRs
If you've got up to £500/$500 or so to spend on your first DSLR, you're very much spoilt for choice. Not only do you have a raft of brand new models to consider, but there are also many older ones that manufacturers typically subject to discounts and cashback offers to hook you into their system.
Currently, the cheapest options are the Canon EOS 1300D (known as the EOS Rebel T6 in the US) and Canon EOS 200D (know as the EOS Rebel SL2 in the US), as well as the Nikon D3300 and the newer Nikon D3400.
Canon EOS 1300D / EOS Rebel T6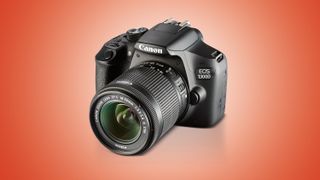 Canon EOS 200D / EOS Rebel SL2
For example, both the D3300 and D3400 have 24MP sensors and can shoot at 5fps, and each is furnished with an 11-point AF system. By contrast, the EOS 1300D / EOS Rebel T6 has a 18MP sensor and can only shoot at 3fps, while there's a 9-point AF system featured. The EOS 200D / EOS Rebel SL2 is the newest camera out of the four and features Canon's latest 24.2MP sensor, though it sticks with a similar 9-point AF system. Not huge differences, and potentially not too important for those just wanting to get started, but something to consider nonetheless.
Nikon D3300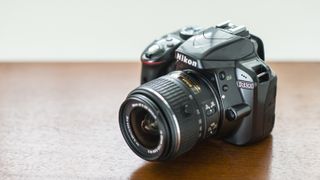 Nikon D3400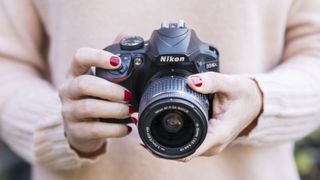 Nikon's D3400 isn't a significant upgrade over the D3300, and the fact that it doesn't offer automatic, built-in sensor cleaning places it at a disadvantage to the others. Being quite new also means that it doesn't offer quite the same value as its competitors either, but the price has dropped quite a bit since its launch last year.
While our review of the D3300 noted that some may prefer a broader range of physical controls, that camera is perhaps the strongest model out of the quartet. If, however, you're on a tighter budget the EOS 1300D might just be a better option for you.