Image 1 of 3
Image 2 of 3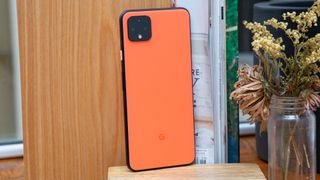 Image 3 of 3
Still top cameras, and a few odd new features
Release date: October 2019 | Weight: 193g | Dimensions: 160.4 x 75.1 x 8.2mm | OS: Android 10 | Screen size: 6.3-inch | Resolution: 1440 x 3040 | CPU: Snapdragon 855 | RAM: 6GB | Storage: 64GB/128 | Battery: 3,700mAh | Rear camera: 12.2MP + 16MP | Front camera: 8MP
Top-of-the-line camera suite
Simple, no-nonsense design
Face Unlock is finicky, no fingerprint sensor
Low storage options
Battery life is barely adequate
The Google Pixel 4 XL came out in October, bringing a long-awaited second camera lens, new radar technology with face unlock, and a better screen. While it's still one of our top smartphone cameras, the loss of the rear fingerprint sensor and middling new features like the erratic Face Unlock and aerial gesture control Motion Sense makes this Pixel iteration less of a generational leap than its predecessors.
Screen: The Pixel 4 XL has the same 6.3-inch screen as the Pixel 3 XL, though it's been stretched to a 19:9 aspect ratio and its refresh rate has been upped to 90Hz for smoother app browsing and gaming. Last year's notch has been ditched for a return to a solid black bar. Colors are rich on the OLED display, and thanks to the dual front-facing speakers, it makes for a handy streaming device.
Battery life: While the 3,700mAh capacity sounds like a lot, we found the battery lasted less than a day with even moderate use - any extreme GPS or photo sessions will drain it even faster. If you're not taking a lot of photos, it may be easier to get a full day of battery, but with such a good camera, it may be tough to avoid.
Camera: The Pixel 4 XL's cameras are its best selling point. On back, the 12.2MP sensor paired with Google's brilliant software optimization make for stunning photos in most situations, and the added 16MP telephoto enables respectable hybrid zoom clarity with its Super Res Zoom feature. Best of all, the Night Sight mode has been improved - and can even snap shots of the heavens with its Astrophotography function.
Mini verdict: The Pixel 4 XL is powerful and its camera capability is still great, but its middling new features and compromises make it a bit less of a standout iteration. Still, with Google's knack for photo optimization, this phone can almost sell itself with the camera alone.
Read more: Google Pixel 4 XL review