The MacBook Air, as it exists today, is in an odd position. With outdated hardware and a dated hardware design, it could use an update.
Fortunately, the MacBook Air 2018 may be on the way, if the internet rumor mill is to be believed. We were anticipating that the iPhone XS event would reveal the new MacBook Air, but that didn't happen. Instead, if a cheaper MacBook Air 2018 exists, we're guessing Apple will host a dedicated Mac hardware event next month.
And, although we have very little information about the MacBook Air 2018, that doesn't mean we can't do some speculation. So, now that time is running out if Apple is going to release a new MacBook Air by the end of the year, there's never been a better time to learn everything there is to know about the MacBook Air 2018.
Cut to the chase
What is it? A hopeful sequel to Apple's most popular laptop
When is it out? October 2018 at the earliest
What will it cost? Hopefully as much as current models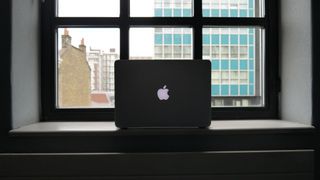 MacBook Air 2018 release date
Over the last several years, the MacBook Air has received updates on an annual basis since its initial release in 2008, and in largely different months during those years. However, June has always been the most likely month to see the release of a new MacBook Air.
While WWDC 2018 came and went with no new hardware, we have seen speculation that Apple is planning to release five different MacBooks this year – with the MacBook Pro 15 and 13-inch being two of them. So, we're thinking the Macbook Air 2018 will be one of them. As for when it'll release, we could see apple imitating the MacBook Pro and just releasing it in the middle of the week sometime. Or, we could see Apple hold a special Mac event in October – we just don't know.
It's possible that the MacBook Air could be delayed even further, if recent speculation that points to an Intel Whiskey Lake and Amber Lake shortage is accurate. Either way, we're heading into the final months of 2018, so a MacBook Air 2018 announcement should be around the corner – if it really will be coming out this year.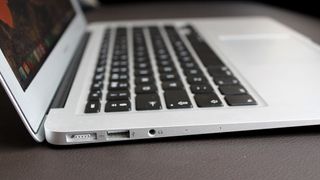 MacBook Air 2018 price
Of course, until we see an actual announcement from Apple, we know next to nothing regarding the price of the MacBook Air 2018. But, the wait is almost over. We're fully expecting to get this information later today.
We initially weren't expecting pricing to change much – Apple has nailed the prices for the MacBook Air, starting at $999 (about £949, AU$1,499). But, in light of recent rumors we expect the starting model to come down in price, possibly using a lower-priced ARM processor.
From there, you can double the starting model's 128GB SSD capacity to 256GB for another $200, £150 or AU$300.
If pricing is to change this year, we're thinking that Apple will bump it down, especially if that rumored 13-inch entry-level MacBook does still cost four figures. However, it's still possible that Apple will just discontinue the MacBook Air, especially if it thinks that the entry-level MacBook creates some kind of redundancy.
We'll look out for new rumors and update this article as soon as the MacBook Air 2018 price begins to grow clearer.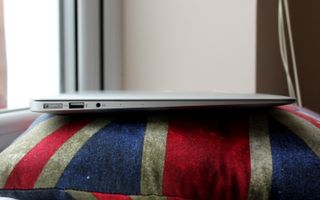 What we want to see in MacBook Air 2018
While we still don't know anything substantial about the MacBook Air 2018, we've created a wishlist, anyway. So, here's what we want to see from the MacBook Air 2018.
Up-to-date components all around
This is the most basic and essential of requests, but the MacBook Air could really use a soup to nuts upgrade. From the processor to the ports and screen resolution, everything about the MacBook Air could do with ample refinements.
This should start with the design of the laptop. In its current state, the MacBook Air appears more antiquated than the Windows laptops that have shamelessly ripped it off. What it needs now more than ever is a Retina display that goes as bezel-less as possible without sacrificing the webcam.
We've seen a wealth of rumors that suggest that the 2018 MacBook Air will feature 8th-generation Intel Core processors, which would go a long way to making the MacBook Air a more compelling device.
However, there are other rumors circulating that there will be a MacBook Air with an ARM processor, and if so, we could be seeing a faster, cheaper, more energy-efficient MacBook Air with maybe even some LTE functionality – bringing new weight to the name 'MacBook Air'.
A better screen
There's no argument from us that the MacBook Air's display needs to get with the times. By now, every other MacBook except the Air is using a Retina display featuring at least 226 pixels per inch (ppi). Meanwhile, the MacBook Air remains stagnant at only 128 ppi, a measly 1,440 x 900 pixels on a 13.3-inch panel.
We can conclude, then, that the resolution has to get a bump of at least 76% in order to keep up with Apple's other products. Fortunately, the webcam doesn't necessitate a similar treatment, as the current MacBook Air FaceTime camera already captures video at a higher resolution than the pricier 12-inch MacBook.
No matter how crisp its screen, the MacBook Air 2018 will benefit from the MoltenVK Vulkan API implementation recently introduced for Apple's Metal 2 graphics framework. This means we can expect to see higher frame rates across the board for a number of multiplatform games available for macOS including, but not limited to, Dota 2.
The traditional keyboard stays
For as much as we appreciate the revised butterfly hinge keyboard in the MacBook and MacBook Pro, we'd really like to see at least one Apple laptop hold onto its traditional keyboard. There's enough room inside the chassis, and giving fans a choice would be admirable.
That's not to mention the fact that as good as it is, the butterfly hinge mechanism has its flaws, which Apple has even admitted. So, letting consumers have the choice would not just be good for us, it'd be good for Apple as well. We don't think Apple wants to endure another class-action lawsuit.
Plus, even though the MacBook Pro is now using a keyboard with a revised Butterfly hinge keyboard with membrane to keep dust out, it doesn't change the fact that using existing hardware could keep the costs of a revamped MacBook Air down to where they should be – keeping the price low.
Fast charging, please
We'd imagine the MacBook Air 2018 should have the same stellar battery life in the current MacBook Air if all the parts are upgraded simultaneously. But, it's 2018, fast charging the laptop for 10 plus hours of use in a fraction of time is a necessity at this point.
This comes in tandem with the request for new ports, i.e. USB-C for fast charging, but we'd like to see to see the MagSafe cord remain. Even the option for both would be pleasant.
iOS apps on MacBook Pro
Now that it's been bandied about for a while, we've come around to idea of iOS apps on macOS. The prospect of continuing work from our phones straight away on our laptops – or polishing off that top score upon sitting down at the desk – is an exciting one.
And, at the WWDC 2018 keynote, Apple detailed exactly which iOS mainstays will be making their way over to macOS Mojave. You won't be seeing any third-party apps making their way over, but iOS core apps like News, Stocks, Home and Voice Memos. Apple hinted at third-party apps making their way over to macOS apps in the future, but we'll have to wait until 2019 to see it.
These are the best Macs that 2018 has to offer so far
Gabe Carey has also contributed to this report