The Google Pixel 4 launch date is today, but with the colossal amount of leaks and rumors revealing nearly every inch of the upcoming smartphone, we won't be surprised by much when the phone is unveiled.
To be fair - and probably to get ahead of the already plentiful leaks - Google itself showed off cropped shots of the phone earlier this year. But that did little to stop the flood of rumors and early looks at the device.
Or devices plural, since we're anticipating more than the usual pair of Google Pixel 4 and Google Pixel 4 XL: we could see a Google Pixel 4 XL 5G, too. There are reasons the search giant would want to introduce its own 5G phone, and while the company could just wait for the next-gen networks to mature before introducing its own device, there's more evidence Google will have at least something to show. We're also hearing about a possible Google Pixel Watch and a notebook that could be shown off at the event.
You can watch along with the announcement by following the Pixel 4 live stream which begins at 10am EDT (7am PDT, 3pm BST, 1am AEDT), but if you want in-depth analysis and commentary, you'll want the TechRadar Pixel 4 live blog.
The end of the year is 'big phones launch season', and with the iPhone 11 and the Huawei Mate 30 Pro already unveiled, Google wants to finish it off.
Latest leak: Three big pieces of information have shown up prior to the Google Pixel 4 launch – that give away the game a bit too much. The first is that the CEO of Qualcommon has said the Pixel 4 won't use the latest Snapdragon chipset, so the handset won't be as advanced as we were expecting. The second is that the phones could cost the same as their predecessors, and the third is that the Pixel 4 battery capacity could actually be lower than the Pixel 3, meaning it may have a shorter battery life.
We'll have to see just how valid these pieces of information are when the Pixel 4 is launched in a few hours, but some of them come from pretty reliable sources, so they could well be true.
Since its launch in 2016, the Pixel line has been a reliable tent-pole in the smartphone release calendar later in the year. Offering a suite of features with an almost unmatched level of software polish, and packing the most impressive camera tech on the market, the handsets have done a lot to earn the adoration of the tech community at large.
That's not to say the competition is resting, and Google in 2019 really needs to keep on its feet if the Pixel line is to meet expectations with its next big version. Could it reach the top of our list of the best Android phones, or best camera phones as the Pixel 3 did before it? Only time will tell.
Read on for the most up-to-date list of rumors regarding its design and pricing, and on the next page you'll find a full breakdown of what we'd like to see feature-wise from Google's upcoming pocket rocket.
Cut to the chase
What is it? The next flagship phone from Google
When is it out? October 15, 2019 (that's today!)
What will it cost? Possibly around $1,000 / £1,000 / AU$1,350
Google Pixel 4 price and release date
Google has officially announced when the Pixel 4 will be unveiled: October 15, which is today. You'll be able to tune in live or check out our launch live blog.
We don't currently know an exact date when you'll be able to buy the phones, but we hope to learn that at the announcement on October 15. But it's likely that the Pixel 4 and Pixel 4 XL release date will be in early November, if past years are anything to go by.
In terms of the Google Pixel 4 price, the cost of Pixel handsets has been climbing for years now.
With the extra features now included and the general emphasis on a premium fit and finish, the Pixel 4 - or at least the XL model - could be the first of the line to break the $1,000/£1,000/AU$1,500 mark.
We'll probably also see multiple different storage capacities offered at different prices.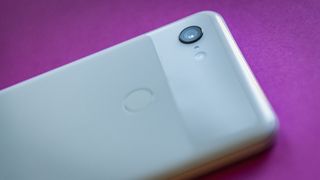 Indeed, a store listing puts the Google Pixel 4 at €825.33 (roughly $905 / £730 / AU$1,340) for a 64GB model and €947.10 (around $1,040 / £835 / AU$1,540) for a 128GB one.
It also states that the Pixel 4 XL is €1,015.98 (around $1,115 / £900 / AU$1,650) for a 64GB model and €1,132.83 (roughly $1,245 / £1,000 / AU$1,840) for a 128GB one. We would however take these prices with a pinch of salt - they might be wrong, and even if they're not it won't be an exact conversion for other regions.
A more recent leak we've seen from Best Buy in the US puts the starting price of the Pixel 4 XL at $999.99 – in other words, slightly higher than the prices for the XL models last year.
Having said that, an even more recent report puts the Pixel 4's starting price at $799 and the Pixel 4 XL's at $899. Those are the same starting prices as the Pixel 3 range, which could mean other regions will get the same prices too. That would mean £739 / AU$1,199 for the Pixel 4 and £869 / AU$1,349 for the Google Pixel 4 XL. However, we're not sure of anything price-related for now.
There's also multiple reports - the latest of which coming a week before the event - alleging that a 5G version of the Google Pixel 4 will be shown off on launch day. We have no idea if this model will look or operate any differently, as every phone maker is taking a different approach with their 5G-supporting editions.
One thing we can assume with some certainty: it will be more expensive.
Google Pixel 4 design
We know what the Google Pixel 4 will look like (on the back at least), thanks to Google itself posting a tweet with a picture of its upcoming handset.
It confirms that the Google Pixel 4 design will feature a large, square camera bump on the rear - which we'd seen in multiple rumors before Google posted its tweet.
On closer inspection, it appears the bump houses two cameras - which would be a first for the Pixel line of phones, which have stuck to just a single rear snapper to date - along with a camera flash below them (with a sensor to its right) and another sensor at the top of the square.
Well, since there seems to be some interest, here you go! Wait 'til you see what it can do. #Pixel4 pic.twitter.com/RnpTNZXEI1June 12, 2019
Another key point we can glean from the official Google Pixel 4 image is the lack of a fingerprint scanner. Every Pixel handset to date has had a rear fingerprint scanner, which points towards the Google Pixel 4 coming with an in-display scanner.
The Pixel 4 and Pixel 4 XL may not have fingerprint scanners at all though, if Google opts to go all-in on face, retina or voice recognition instead, as has also been rumored.
Exclusive: Google Pixel 4 Renders Reveal Square Camera Bump, No Physical Fingerprint Scanner https://t.co/SrRqFNdERA pic.twitter.com/nry9eKfz0sJune 10, 2019
While the front design isn't totally clear, it's also rumored that the Pixel 4 range might have a full bezel at the top, rather than a notch or punch-hole.
You can see a close look at the likely bezel (along with the square camera block) in the leaked photos below.
That full bezel is a claim that someone else who seemingly snapped a Pixel 4 in the wild also makes (though the front isn't visible in the photo). It's also an idea that Google itself has virtually confirmed, so this looks likely.
And yet more people have seemingly photographed the phone, with another source catching the front, complete with that top bezel but seemingly almost no bottom bezel.
Better yet, what appears to be the Google Pixel 4 XL has also been caught on video, as you can see below.
The phone is shown from all angles, highlighting the top bezel, the lack of a 3.5mm headphone port, and the glass back that's all one color, rather than two-tone as we saw on past Pixel handsets. This single-hue, single-finish rear is supported by another release by noted leaker @evleaks showing the front and back of an alleged Pixel 4.
We've also seen leaked renders of the Pixel 4 XL, giving us a close look at the possible bezel.
Exclusive: Google Pixel 4 XL Renders Reveal Dual Selfie And Triple Rear Cameras https://t.co/oOjPx5h1JU pic.twitter.com/MxXpa8CMn4July 8, 2019
We've since also seen the Google Pixel 4 XL in more videos and live photos and they all match the design above - so this is looking very likely to be accurate.
You can see what's apparently the Pixel 4 XL in a real photo below, the source of which said it has a matte finish on both the frame and glass back.
This is (possibly) the #Pixel4XL, and we got our hands on one. Hit the link for our first impressions! https://t.co/hyNn1y9EOY pic.twitter.com/UbA56RCwTtSeptember 23, 2019
Another Google Pixel 4 XL leak with case renders supports this top-bezel design and gives more angles to see the phone's potential design. Sadly, if this render is true, there's no return of the 3.5mm audio jack that we surprisingly saw in the Google Pixel 3a.
Whatever design the phone has, it might come in some new colors, as a mint green shade has leaked alongside the expected black and white models. We've also seen images showing off a new coral color (or is it orange?), which has now appeared on a billboard as you can see below, as well as in a leaked render (also below).
Image 1 of 2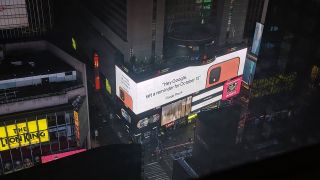 Image 2 of 2
We also have an idea of what this shade will be called, with multiple sources pointing to the name 'Oh So Orange' - and saying that it will be joined by the existing 'Just Black' and 'Clearly White' shades.
Google Pixel 4 camera
We've got some big clues as to the Google Pixel 4 camera capabilities, in the form of actual samples from the smartphone. These were leaked in advance of the Pixel 4 launch event, and show what the snapper is capable of.
Shots include astrophotography (that shows the night sky in clear detail, including stars and the milky way), macro snaps (focused pictures of small, close objects), bright night and low-light shots, and a mode for action pictures that don't look horribly blurry.
The snaps don't confirm what the smartphone's new lens is, but it could be a macro lens judging by the quality close-up shots.
A site claims to have got hold of a Pixel 4 unit early, and suggests that it has a very good camera - outperforming the Samsung Galaxy S10 Plus in their tests, with more natural but less vibrant colors. They added though that it struggled to focus on close up shots.
Leaked Pixel 4 XL images meanwhile a dual-lens camera on the front, and a triple-lens camera on the back. We don't know for sure what specs the camera will have yet, but rumors suggest it will include a 16MP telephoto lens and improved color capture.
Elsewhere we've heard that the Pixel 4 could have both a 12MP main lens and a 16MP telephoto one, as well as a "DSLR-like attachment."
There's also a chance that the Pixel 4 could have an improved zoom, possibly offering up to 20x zoom. We're basing this theory on a zoomed-in photo posted on Instagram by Claude Zellweger (Google's design director), in which he says "20x zoom #Pixel" in a reply to a comment.
However, in another comment he clarifies that the shot was taken on a Google Pixel 3a using a mix of zooming and cropping. So it doesn't sound like this is a new feature, but it could be hinting at one. We're not convinced, but you never know.
Other rumors point to an 8x zoom, though it's not clear whether or not that's all going to be optical. There's also talk of a new Motion Mode to help you take the best action shots without blur, and an improved night mode, one which a leaked marketing video further suggests.
And despite the images above, another leak, this time in the form of case renders, suggests the Pixel 4 might have a notch, one housing two cameras. The renders also show a big bezel below the screen housing a speaker, and the same square camera on the back as the leaks above.
#Google - #Pixel4 - Google Pixel 4 case renders leaked https://t.co/wAo4vQmXBB pic.twitter.com/Hlw9AtTbA8June 21, 2019
There's also alternatively a chance the Pixel 4 might arrive toting the punch-hole design used by the Honor View 20 and then brought into the mainstream by the Samsung Galaxy S10 line.
At least, that's what an image for a screen protector seemingly designed for the phone shows, along with stereo speakers and virtually no bezel.
We've also similarly seen a leaked image below, supposedly showing the Google Pixel 4 XL with a dual-lens camera cut into the top right corner of the screen - although as we now know the rear design it suggests is incorrect, it pours cold water on the rest of the claims made here.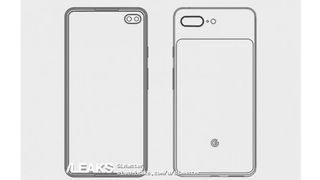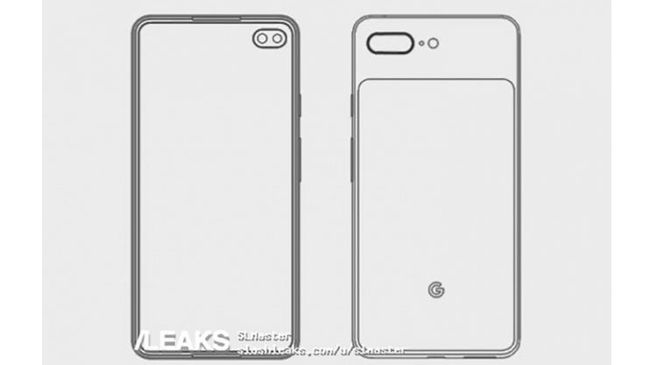 Indeed, it's since been rumored that three Pixel 4 designs were in the works before Google settled on the one with the square camera block, so the images above may have once been in consideration.
The design that won out seemingly involves a full top bezel on the front, and just one selfie camera - at least in the base Pixel 4. In a seeming bid to get ahead of leaks, Google announced two new features, the hand gesture control Motion Sense and Face Unlock (detailed below). Both require a full suite of sensors located in the big top bezel, though that seemingly edged out the second selfie camera.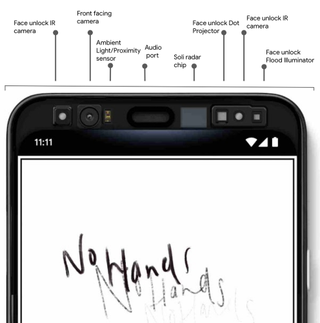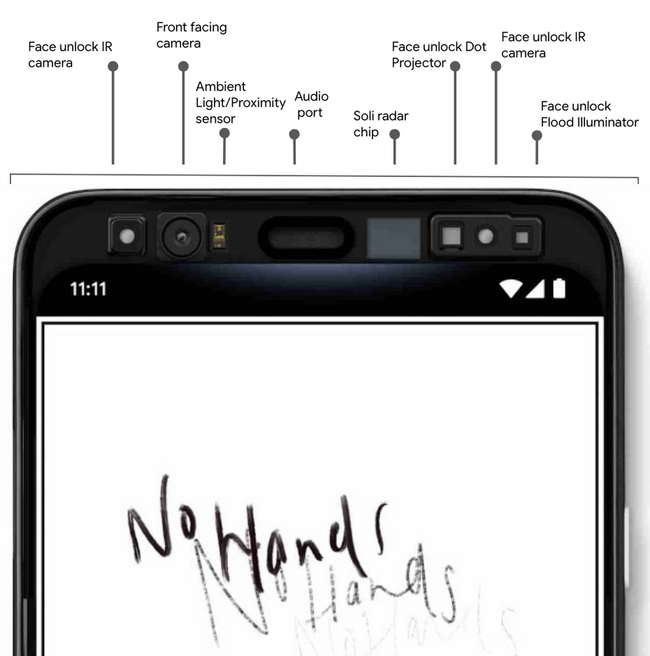 The phone could also introduce a 'raise to talk' feature that activates Google Assistant after you pick up the phone. It would honestly make it far easier to use than holding a button or unlocking the phone first, though we're not sure the feature will be ready for launch - and might come in a later update.
We've also seen what might be the Pixel 4's new and improved camera app, which sports an expanded photo-taking view, a horizon-leveling feature, and more.
Plus, there's been mention of a 'Pixel Neural Core', suggesting that neural networks will play a big role in photo processing.
Google Pixel 4 display
In screen news, the latest leak suggests that the Pixel 4 XL will have a 6.23-inch 1440 x 3040 screen with 540 pixels per inch and a 19:9 aspect ratio. That would make it marginally smaller and sharper than the Pixel 3 XL.
Previously we've heard that the Pixel 4 could have a 5.6-5.8-inch screen, while the Pixel 4 XL could have a 6.2-6.4-inch one (compared to the 5.5-inch Pixel 3 and 6.3-inch Pixel 3 XL).
That same source says the Pixel 4 will be roughly 147.0 x 68.9 x 8.2mm (or 9.3mm thick including the rear camera bump), and the Google Pixel 4 XL will be around 160.4 x 75.2 x 8.2mm (rising to 9.3mm at the camera bump).
Another source claims that the Pixel 4 will have a 5.7-inch screen and the Pixel 4 XL will have a 6.3-inch one. That matches the leak above, but this source adds that the phones will have a 90Hz refresh rate, allowing for smoother scrolling than most handsets. This would apparently be marketed as 'Smooth Display' and it's a feature we've heard about more than once.
Google Pixel 4 specs
We've seen a Geekbench benchmark possibly for the Google Pixel 4. It lists a top-end Snapdragon 855 chipset, along with 6GB of RAM - up from 4GB in the Pixel 3 range. It also, unsurprisingly, lists the phones as running Android 10.
The Google Pixel 4 processor is set to be the Snapdragon 855 – that's not speculation, as it's been confirmed by the CEO of Qualcomm, the company that makes the chipset. The Snapdragon 855 is the newest high-end chipset for 2019, although there is also an 855 Plus which is optimized for gaming, but the Pixel 4 doesn't have this.
The benchmark includes a single-core score of 3,296 and a multi-core one of 9,235, which are solid but unexceptional results for a top-end phone. Of course, this would be pre-release hardware and software, so results at launch might be better.
We've heard from multiple sources, in fact, that the Pixel 4 could launch with 6GB RAM. So far all the Pixel phones have had 4GB RAM, so this would be a long-overdue step up in terms of processing power.
Another source has pointed to the same specs, along with 64GB or 128GB of storage, and a 2,800mAh battery for the standard model and a 3,700mAh one for the Pixel 4 XL.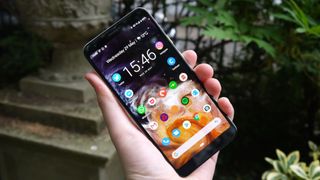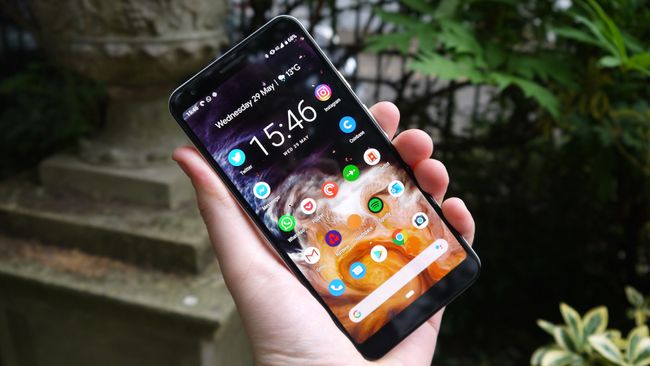 However, there might be a model that comes with as much as 8GB of RAM - along with 5G, as exactly that has also appeared on a benchmark.
Elsewhere, we've seen evidence that there could be a third Pixel 4 model, which could be the Google Pixel 4 XL 5G benchmarked above, though there's an outside chance that it could be a Pixel 4a or something else.
In more unusual news we've heard that the Google Pixel 4 might have capacitive buttons rather than mechanical, clickable ones - however the image Google has shared appears to go against this, with raised buttons on the side of the handset suggesting mechanical ones.
It's possible that this change would be made to allow Active Edge (the ability to launch Google Assistant by squeezing the frame, as found on previous Pixels) to work along the full length of the phone's frame, and it could also help improve the design of the phone. Though notably image leaks still show physical buttons, so take this with a pinch of salt.
The same source added that the Pixel 4 will have front-facing speakers and a punch-hole camera.
Finally, code added to the open source foundation of Android suggests that the Google Pixel 4 might have improved dual-SIM support, letting you use both a normal SIM and an eSIM at the same time.
Throughout the year more leaks will continue to arrive, so keep checking back here for all of the latest developments.
Google Pixel 4 Motion Sense
In an apparent bid to get ahead of leaks, Google itself revealed two big features coming to the Pixel 4, one of which is a type of hand gesture control called Motion Sense.
Motion Sense uses the Google Pixel 4's whole new suite of sensors alongside its front-facing camera - specifically Soli, a motion-sensing radar concept - to track hand gestures for theoretically easy, no-touch controls. Ostensibly, these will be used to perform simple actions like skipping music tracks and swapping apps.
Look internet, no hands. #Pixel4 Learn more https://t.co/PYY0AFcnyI pic.twitter.com/f9v51VbXWdJuly 29, 2019
Indeed, leaked promo videos have shown a hand swipe above the screen being used to turn off an alarm, silence an incoming call and skip to the next song.
However, it seems Motion Sense won't work everywhere, with an early store listing stating that it will work in the US, Canada, Singapore, Australia, Taiwan, and most European countries (likely including the UK), but not Japan.
Since then a list of 38 supported countries supposedly found in the Motion Sense app itself has been unearthed, and this list specifically includes the UK and the US but oddly doesn't include Australia, so right now we're not certain whether Australia will support the feature.
The reason you can't use it everywhere is that Google needs permission from many countries to enable the Project Soli radar technology that it requires.
It also initially won't work in all apps, with the same source as the country list above also finding a list of 9 initially supported apps, namely Amazon Music, Deezer, Google Play Music, iHeartRadio, Pandora, Spotify, Spotify Stations, YouTube Music and YouTube.
Google Pixel 4 other features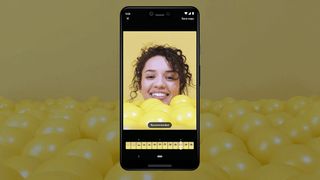 A leaked product listing for the Pixel 4 suggests it'll have a smaller battery capacity than the Pixel 3. Since one of our biggest issues with the Pixel 3 was its low battery capacity, this is a bizarre choice, and we're hoping Google has enhanced its software optimization to reduce the impact of this change.
The arrival of the Pixel 4 could well coincide with a major update to Google Assistant: a 'raise to talk' feature is one upgrade we've heard is in the pipeline. We've also heard rumors that Google Assistant on the Pixel 4 might be able to take over when you're placed on hold on a call, then alert you once a human answers.
Another Assistant upgrade looks to be coming in the form of 'Continued Conversations', a feature shown off in leaked videos, which allows you to ask it follow-up queries without saying "Okay, Google" again. This feature also allows it to remember context, so it will know if your follow-up relates to the previous thing you asked.
Face Unlock has also been confirmed by Google and seems to do what it says - though achieved through multiple sensors, including a dot projector, IR camera, and flood illuminator.
For the privacy-concerned, Google assured in its blog post that all processing would be done on the Pixel 4 and no images or recognition data would be shared through its services.
A site meanwhile claims to have used the feature and says that it works quickly and reliably, even in low light. It adds that there's apparently no fingerprint scanner.
Another feature we're expecting to see in the Google Pixel 4 is close integration with Google Stadia, Google's upcoming cloud gaming service. Google has already announced that the service will work on all its smartphones from the Pixel 3 onwards, so the Pixel 4 is definitely included, and we could definitely see certain features that make it a great mobile platform to game on.