So, who's making driverless cars? The answer: Everyone!
OK, that's not entirely true, and you probably want more details than that.
Major tech companies, from Apple to Google to Uber, have been working in the self-driving car space. Apple's self-driving car was recently spotted by TechRadar, and we've got a full breakdown of everything having to do with the Apple Car in our in-depth guide.
Almost all of the top-selling car brands in the US— Ford, GM, Toyota, Honda, Volkswagen, Nissan, Volvo, BMW and more—have been working on driverless cars for years, often in collaboration with components providers like Nvidia and Intel.
We've got the breakdown on the biggest players in the driverless car space today, plus give insight into which of them look most likely to achieve truly driverless cars in the near future.
Apple self-driving cars
The Apple Car is a long-standing Silicon Valley rumor, and while initial reports indicated the tech giant would build its own driverless electric vehicle, the story has changed drastically in the last several years.
For its part, Apple has admitted that it's interested in creating the autonomous systems that run self-driving cars, and not an actual car itself.
Still, Apple is actively testing its self-driving car tech, evidenced by several car sightings in the last few years. Though the vehicles lack proprietary markings, the cars are bedecked in all the gear needed to run self-driving systems and are often seen driving around Apple office buildings and into Apple complex parking lots.
TechRadar spotted one Apple Car in May 2018 as it was driving on a public road and going into the parking lot of a cluster of Apple office buildings in Sunnyvale, California. The car was sporting a different-looking rig than we've seen on the vehicles previously.
Here's exclusive video of the Apple self-driving car we saw in May 2018
Apple's self-driving cars are coming out of the shadows and onto public roads, but that's not all that's circulating about Apple's automotive project.
In May 2018, it was revealed by the California DMV that Apple's autonomous car permit now covers 55 cars and 83 drivers, giving it the second biggest autonomous car fleet in California, behind GM Cruise's fleet of 104 and ahead of Waymo's 51.
A recent patent also showed Apple's plans to install VR devices into its driverless cars to entertain passengers, another sign that Apple is working on systems for self-driving cars and not necessarily vehicles themselves. A second newly discovered patent describes "intent signals" as a method passengers would use to indicate where they want the car to go.
The patent suggests a joystick, a phone's accelerometer, or voice commands could be used to suggest alterations to a route, choose an open parking space, or instruct the car to park close to a certain part of a store, like near a specific entrance.
All of this points to Apple's interest and active development in the driverless car space. We wouldn't be surprised to see Apple's self-driving project come to light in the next one to three years.
Google's driverless cars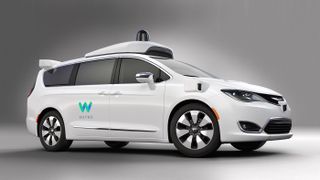 Waymo, the self-driving car division of Google's parent company, Alphabet, was formally launched in late 2016, but its self-driving tech has been in development since 2009.
And that near-decade of work has paid off in arguably the most reliable driverless car we've seen to date.
Disengagement—when a human driver has to take control of a self-driving car—is the primary metric by which automakers gauge their self-driving AI's technical skill. And Waymo's cars lead the pack: Waymo self-driving cars disengage 0.18 times every one thousand miles.
For context, if a Waymo car drove across the United States and back, a human would on average have to intervene one time. Only GM's self-driving cars come close to that level of disengagement, averaging about 1,000 fewer miles per disengagement.
How has Waymo's team achieve this level of reliability? With a powerful system of six lidar sensors that instantly detect any potential hazards, and a deep learning system sophisticated enough to respond instantly to obstacles and weather hazards.
Waymo collects its lidar, radar and camera feed information into an aggregate map of the surrounding road, which the company calls x-view.
The video above shows a stylized version of how x-view can detect people and avoid accidents.
Waymo's cars have driven six million miles on public roads thus far, along with 2.7 billion virtual miles inside of traffic simulators.
Sometimes the car's ability to drive itself can't keep it out of every accident though, as was seen in Arizona in 2018 when an oncoming car swerved across the road and crashed into a Waymo van, injuring the test driver inside.
Still, Waymo hopes to add to its fleet's mileage on public roads in the next couple of years, as it rigs 20,000 new all-electric Jaguar I-Pace cars and an immense 62,000 Fiat Chrysler minivans with Waymo AI tech built in.
Waymo's partnership with Fiat Chrysler Automobiles (FCA) could eventually mean self-driving FCA-built vehicles becoming available directly to consumers.
Waymo's bold goal is to launch a "driverless ride-hailing service" in Phoenix in 2018, and eventually expand nationwide.
Waymo has recently been eyeing Europe as another area for expansion, but it may need to rely on strategic partnerships to be competitive there. Waymo's parent company Alphabet has a shaky relationship with the EU, and it lacks the brand recognition and loyalty that its European competitors have.
We'll have to wait and see if Uber's fatal self-driving car crash in Arizona or Waymo's own collision stall any of the company's plans, however.
Uber's driverless cars
Uber's relatively late start to the self-driving game hasn't stopped the ride-sharing company from zealously testing its AI tech on public roads, hoping to beat Waymo to the punch and start its own driverless taxi service.
After purchasing Otto, a self-driving truck company in 2015, Uber's ATP developed its own system of cameras, radar and lidar to track obstacles, using a Nvidia GPU to power its AI tech.
ATP reportedly settled on just one lidar sensor, compared to Waymo's six, to install on its 24,000 Volvo XC90 SUVs.
Uber's self-drivings car have driven over one million miles on public roads, though its disengagement statistics don't stack up to Waymo's: Uber reportedly only makes it 13 miles on average before a human must intervene.
Though it began with gusto, Uber's self-driving car program is currently in limbo. After a fatal accident in Arizona in March 2018, the state's governor suspended Uber's ability to test self-driving cars in the state. Uber had already shut down tests nationwide following the accident.
Then, in May, Uber announced it was shutting down its self-driving car program in Arizona completely. It will continue tests in San Francisco, Toronto and Pittsburgh, whenever tests resume.
When Uber's tests begin again, they will be in a much more limited fashion than before. As far as when they start again, Uber CEO Dara Khosrowshahi hopes to see his autonomous fleet driving in the next couple months.
Uber plans to take findings from the National Transportation Safety Board's (NTSB) investigation into the fatal accident to make changes to its program. The company is also undergoing an internal safety review.
The preliminary NTSB report reveals that while the vehicle had an automatic emergency braking feature, this was disabled because the car was in "computer mode." Citing Uber, the report says the feature is disabled to prevent erratic driving behavior.
Though the car detected it needed to make an emergency braking maneuver 1.3 seconds before it struck the pedestrian who later died of her injuries, the system doesn't alert the driver to take control of the vehicle.
You can read more on what is in the initial NTSB report into the fatal Uber self-driving car crash here.
In light of the accident and subsequent fall-out, Uber's contributions to the driverless car industry have been overshadowed.
Work that Uber had done included patenting a way to prevent motion sickness in passengers with a "Sensory Simulation System" that would adjust seats, air flow and in-car lighting to make riders more comfortable.
In another patent, Uber outlined how its cars could signal pedestrians or cyclists with flashing lights or a bumper text display—"intention outlets" that would help cars feel less inscrutable and difficult to predict.
What's more, Uber has developed an autonomous truck service that will make freighting goods across the country much easier for truck drivers.
Despite the work that it's done in the self-driving car space, Uber has a big uphill battle before the public trusts its autonomous vehicles again.
One way Uber is eyeing as a means for getting autonomous vehicles on the road without as great of safety concerns is by partnering with Waymo. Uber's CEO has said the companies are in talks, trying to bring some of Waymo's vehicles to Uber's driverless car fleet. However, given Uber and Waymo's past legal battle over trade secret theft, the grounds for a new partnership seem shaky.
Tesla's driverless cars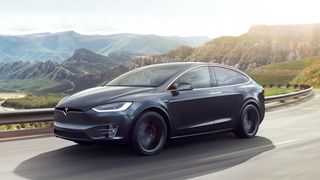 Tesla Model X, Model X and Model 3 cars all feature the latest version of Autopilot, a sensor system of cameras, sonar and radar built for autonomous driving on highways.
Tesla's AI can perform tasks like preemptively shift lanes before an exit or to avoid slower traffic, and can autosteer around more windy highways.
Once you leave the freeway, your car will warn you to take control of steering.
As of early 2016, Tesla owners had allegedly driven hundred of millions of miles in Autopilot mode. And, because Tesla scrapes data from all of its cars, it's able to gather information on apparent errors to improve Autopilot over time. That dwarfs the mere millions of public road miles that most self-driving cars have achieved.
Of course, Tesla's miles are autonomous, not driverless.
Tesla does sell models with "full self-driving capability" on its website, but these models apparently have only double the cameras as a regular Tesla and no other major changes.
Moreover, Tesla admits that enabling this mode would require "extensive software validation and regulatory approval" that isn't yet available.
Still, many drivers tend to treat Autopilot like a self-driving mode rather than as a driver assistance systems, which has led to serious accidents, including in recent months.
One recent crash killed a Tesla Model X driver when his car crashed on a freeway in California. The driver had ignored Autopilot's warnings to assume control of the vehicle. The NTSB is still investigating the crash.
Aside from some other high-profile crashes, Tesla insists that its Autopilot and Autosteer tech generally lead to a 40-50% reduction in accidents. The below tweet shows how its tech can pick up on potential hazards most humans might miss.
Original video, authorisation from the owner. Essential, no one could predict the accident but the radar did and acted by emergency braking. pic.twitter.com/70MySRiHGRDecember 27, 2016
For now, Tesla hasn't announced any recent news on true driverless tech, and no one has spotted any self-driving patents by the company, either.
It's unclear if Tesla is playing things close to the chest, or if it's content sticking with what it's done so far while other companies duke it out over more challenging AI goals.
The other major players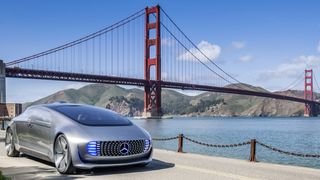 Outside of these three major players, many other companies are maneuvering to accelerate public testing, or even launch for-profit driverless car services, in the next few years.
General Motors, the runner-up to Waymo in AI reliability, plans to start testing its cars in Manhattan this year.
New York is something of an Everest for self-driving companies to climb: building an AI capable of navigating the city's traffic and hoards of pedestrians is no easy task.
GM's fully automated Chevy Volts each have a $5 million insurance policy for any potential crashes, and can't enter any school or construction zones.
If the cars can pass this gauntlet, GM's AI could be powerful enough for the Chevy Cruise AV, a truly driverless car without a steering wheel or gas pedal.
But, GM isn't going to tackle this challenge alone. Japanese company SoftBank is offering $2.2 billion in backing to GM for a 20% stake in GM's self-driving department. Of that money, $1.35 billion is withheld until GM's autonomous vehicles are commercially ready.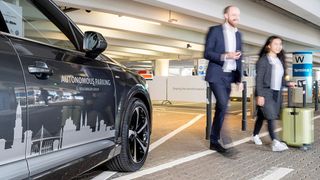 Volkswagen, conversely, is braving the chaotic battleground known as parking garages for its testing.
At the Hamburg Airport in Germany, VW car owners can simply drop off their cars in front of the garage and activate a smartphone app; the car then self-drives to a free parking space, using its GPS and cameras to navigate.
Eventually, VW has designs to make your driverless car maintain itself, and even do your chores. The company stated how its cars will be able to speak with city systems to find free parking, or drive themselves to gas stations or car washes for service.
Other big name car companies haven't made their plans public for driverless cars, but do have dates in mind for when their AI tech will be ready.
Hyundai hopes to have its cars fully driverless on the road by 2021, and Ford also aims to have its driverless AI and traffic-tracking technology up and running in the same year.
Meanwhile, Google's rivals in the smartphone industry also have aspirations to take the search giant on in the self-driving industry.
Samsung recently got permission from the California DMV to test autonomous vehicles.
And even Huawei has jumped into the game, showing off a self-driving car earlier this year that ran entirely off of camera data from a smartphone.
Finally, Lyft hopes to beat Uber at its own game. Lyft launched its own self-driving division last year, and have since teamed up with Ford and acquired the help of an automotive parts supplier, Magna, for its self-driving car machinery.