Smart speakers are dominating the smart home market and are now owned by one in six Americans, while over the pond in the UK, smart speaker ownership has doubled in six months, with 10% of households now owning one.
The popular virtual assistants are taking the home by storm, with many now considering smart speakers to be the future of home automation, not only controlling your smart home devices (like your Philips Hue bulbs or your smart locks), but running everything from your fridge to your garage door, too – sometimes without much help from you.
It may sound a little unnecessary, but these devices can be unbelievably handy and it doesn't look like they are going anywhere anytime soon.
Now able to communicate with an ever-increasing list of IoT devices, smart speakers are also able to manage your schedule, record your shopping list, and even learn from your preferences over time.
The only thing they can't do, it seems, is help you decide which one is right for you - so, if you're not sure which smart speaker to buy, read on for our pick of the best.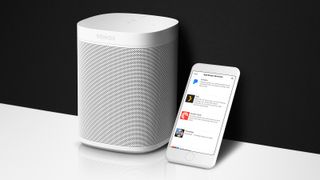 We're assuming you're here because you want to find the best smart speaker for you – the one that plays nicest with the devices you already have, understands you the best and, when it's time for some tunes, rocks out the loudest.
So take a look at our guide below and find the smart speaker that suits your current setup, your budget and the aesthetics of your home – each of the speakers in our guide below has something called an artificial intelligence (or AI) inside of them. All of the tasks above (and many, many more) are carried out with help from the AI and without it, the Amazon Echo, Google Home and Apple HomePod would just be regular old dumb speakers.
Every one of the smart speakers below are more than capable of making your smart home smarter, playing tunes and keeping tabs on your family.
Not seeing the perfect speaker for you at this current junction? Don't worry. Be sure to keep checking back, as we'll be updating this list with the best smart speakers, as well as the top rumors of the new speakers to expect soon at the end.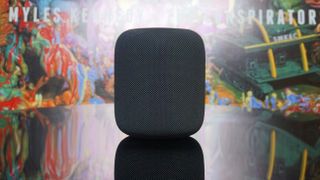 Apple HomePod
Superb sound, so-so smart speaker
Great sound
Nice, minimal design
Siri accuracy is high
Siri scope is limited
No Bluetooth streaming
Apple Music needed
The highly-anticipated Apple HomePod finally entered the smart speaker battle for your bookshelf in early 2018.
The obvious benefit of an Apple HomePod over an Echo or Google Home device is that it'll play nice with your other Apple products. So if you're a die-hard Apple fan the HomePod may be a no-brainer.
But it's worth asking the same question you should always be asking yourself when you want to splurge on a new Apple product: how much of a premium should you pay for owning a device that fits only seamlessly into the Apple ecosystem?
When we reviewed the device we were torn because we were really reviewing two things at once: how the HomePod weighs up as a premium speaker and how it fares as a smart home hub.

In the former category, the HomePod is excellent, as it boasts incredible sound and a very intuitive set-up. But in the latter, Siri is only middling in its implementation, and the fact that you're not able to break out of the Apple ecosystem for many key functions also rankles.
Apple is said to be working on the Apple HomePod 2, or a cheaper, more compact HomePod Mini, but with no mention of either at September's iPhone launch event, it looks like we wont find out until 2019.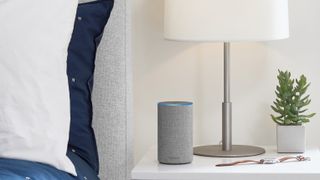 Amazon Echo (2nd Gen)
Amazon's speaker got even smarter (in looks at least)
Great new look
Lower price
New Alexa features
More of the same
Alexa app could be better
No more rotating dial
If you're after a smart speaker that's affordable and sounds good enough to play your favorite tracks, the latest version of the Amazon Echo is your safest bet. In fact it's our current top pick for the best smart speaker on the market right now.
The newest, 2nd-generation Echo sounds better than Amazon's Echo Dot, but it's cheaper than the Echo Plus and Apple's HomePod.
We don't think you should be using it to replace your hifi, but at the same time it's a really great place to start if you want to try out what the smart home life is like.
Amazon has also improved the Echo's style since the first version was released in 2015. The new fabric finishes will suit most living rooms better than the brushed aluminum of the original.
The only downside is the Echo doesn't have the neat volume dial of Amazon's Echo Plus. It's also worth mentioning that Alexa often doesn't seem quite as intelligent as Google Assistant. At the price, though, it's a great option that should suit most people's needs.
Amazon is also reportedly working on eight new Alexa powered devices as of September 2018 including a microwave and high end audio system.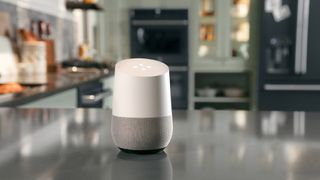 Google Home
Great for Chromecast owners and inquisitive types
Customizable base
Big song library
Expanding hardware ecosystem
Missing Google's own services
Requires precise phrasing
Google Cast support needs work
For starters, you might never appreciate just how much music is on YouTube without buying a Google Home. We're not saying Google Home is capable of playing any song you can think of, but after dredging the depths of the '90s we still couldn't find a tune Google Home couldn't track down and start playing.
While Google Home excels as a DJ, it's also a surprisingly intelligent smart home hub. It already hooks into some of the largest platforms now available by including Nest, Philips and Samsung's SmartThings, and given a few months that number will grow even more.
But we're torn when it comes to recommending the Google Home. In some ways it's disappointing and doesn't live up to be the coveted center of the smart home Google has marketed it as.
That's because it's just not there yet. It's a little too rigid in its language comprehension, its list of smart home devices is growing but still a bit underwhelming, and, perhaps the biggest disappointment of all, it doesn't have many of Google's core services built into it.
It has the potential to develop to compete with Amazon's Echo in the future, but for now the Google Home is simply a smart novelty with access to YouTube Music, built-in Google Cast and the ability to save you a trip to the light switch.

It's also worth mentioning a more recent update: Google Home can now make calls to landlines in the UK! This was a feature unveiled at last year's Google IO, and has now finally made its way into the home. Google Assistant has also been updated to included bilingual capabilities, Continued Conversation and Multiple Actions.
[Update: The Google Home Hub has arrived and it's available for pre-order in the US for $149 (around AU$210) and £139 in the UK, and is due to hit stores on October 22. Read our hands on review for our first impression of the new smart display.)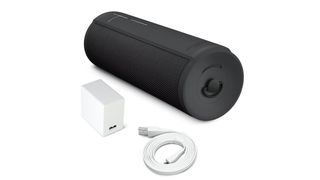 Ultimate Ears Megablast
One of the best-looking smart speakers around
Waterproof and robust
Portable
Great sound
Still awaiting key features
Expensive
Charging dock sold separately
Ultimate Ears is an audio brand that's known for its great quality and sturdy Bluetooth speakers. With its new Megablast speaker it's gone and thrown Amazon's Alexa smart assistant into the mix.
The result is one of the best-looking and sounding portable speakers around with the Megablast. And thanks to the Amazon Alexa integration, it's also one of the smartest too.
With the Megablast you get the 360-degree sound, portability and durability of the excellent UE Boom speaker with the smarts of an Echo. It's really a marriage made in speaker heaven.
But unfortunately, it's still lacking some key features months after launch and for those looking for a straightforward smart speaker, its price may be too high.
The Amazon Echo is significantly less expensive than this speaker. At $299.99 / £269.99 (and that's not even including the dock) the Megablast will set you back more than the most recent Amazon Echo or a Sonos One speaker.
Overall, the Megablast is a great addition to the Ultimate Ears lineup and may be its best-sounding speaker yet. It hasn't quite lived up to all of our expectations but when it gets Alexa support for a wider range of music services and can create a multi-room speaker network it'll be pretty close (the recent update adding Spotify voice control is a welcome one, for example).
Ultimate Ears has also announced that it's bringing Spotify voice commands to its UE Blast and Megablast speakers, with both being recognized by Spotify Connect.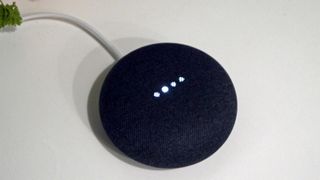 Google Home Mini
Mini sound but fully functional
Plays nice with Google Cast
Bluetooth support
Good value
Weak sound performance
In many ways, the Home Mini is similar to the Amazon Echo Dot. It's Google's attempt at getting the Assistant into as many homes as possible.
The huge amount of capabilities that the Google Home brings, in addition to its minimal, premium build and its low price make it an instant star.
This means if you're in the market for a cheap speaker, the Google Home Mini will do the trick for many. Do keep in mind though that it's best viewed as a supplement to the Home family rather than the foundation.
This device's specialty, aside from being oh-so smart, is mainly to reward those who are already within Google's Cast-enabled ecosystem with a cheap, new device.
Yes, the Google Home Mini is less than half the price of the larger Google Home, and half its size, too; however, it just doesn't sound like we're getting half its performance – we're getting something a bit less.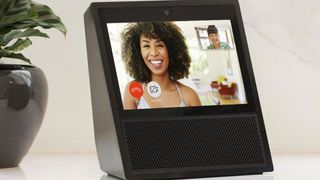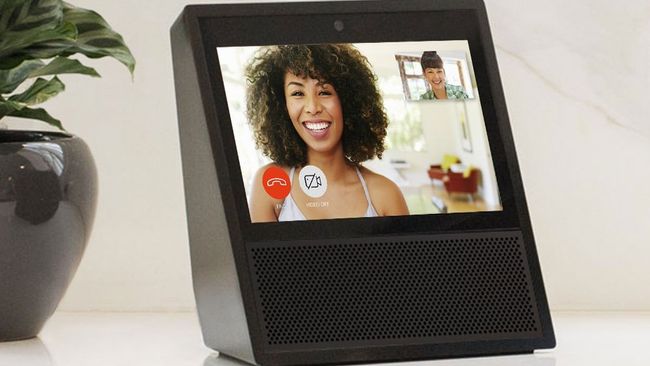 Amazon Echo Show
Like an Echo, but with a screen
Great voice recognition
Nice touchscreen
Competent smart home hub
Speaker sounds shallow
Video calling limited
Alexa needs some schooling
The Echo Show, like the Echo before it, is more of a fun, ancillary device rather than a true necessity or smart home hub in its own right.
The addition of the 7-inch touchscreen helps separate the Show from the crowd, though some Google Assistant-powered devices now come with screens too. Like the 5MP camera, the Show hasn't quite made the most of the touchscreen, but that can – and likely will – change down the road.
However, it adds value by combining devices you already have and ones you could buy at a lower price elsewhere – just look at the Amazon Echo Dot, for example.
Put everything together though, and the Show is a marked improvement on the original Echo, and one that deserves a spot on your kitchen counter.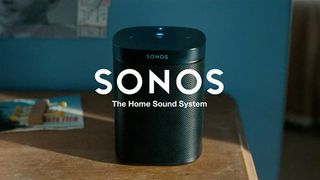 Sonos One
Sonos and Alexa might be a match made in heaven
Rich sound
Best of Alexa and Sonos
Plays music while Alexa is muted
Google Assistant MIA for now
Premium price
Sonos' debut Alexa speaker is a cleanly-designed, feature-rich and great-sounding device that brings together the best of both ecosystems. You've got the ever-improving Alexa on the one hand, and on the other you've got Sonos with its own multi-room smarts. There's also a new feature in the mix that promises to change the game: AirPlay 2. With it, the Sonos One can talk to Siri and form a multi-room pairing with the Apple HomePod, making it the most versatile speaker on the list.
If there's anything holding the Sonos One back from greatness it's the fact that Google Assistant is still MIA - something Sonos has been particularly quiet about.
Once Google Assistant support hits later in 2018 (we hope), the Sonos One promises to become the market leader in smart home speakers.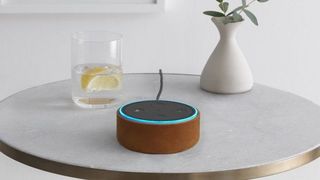 Amazon Echo Dot
A small-but-mighty entry into the smart home category
Great, smaller design
Stellar voice recognition
Line out functionality is very useful
Limited voice control
Amazon's Echo Dot is a great little product. It maintains almost everything that made the original Echo so great, while also bringing a substantial cut in price.
Being able to use an external speaker means the Dot is genuinely a great way of listening to music around the house, but its internal speaker is also surprisingly adept at dealing with simpler requests too.
If you're curious about the Amazon Echo experience, then the Dot is pretty much perfect for trying it out at a much cheaper price – and in some ways its audio output options mean it's actually the superior device.
We're not quite living in the age of Tony Stark's Jarvis just yet, but if developers continue to rally behind Alexa by developing ever more intelligent skills, then the future may be just around the corner.
If the Dot sounds really up your street but you've got kids and you're not sure how they'd get on with Alexa, then check out the Amazon Echo Dot Kids Edition– it comes with some unique, child-friendly perks, including a two-year damage replacement warranty, a colorful rubber case in either red, blue or green, and a year's subscription to the FreeTime Unlimited kid-focussed service.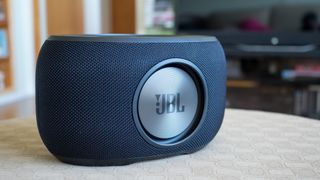 JBL Link 300 Smart Speaker
This Google Home speaker kicks serious bass
Good sound, good bass
Physical buttons
Great value
Tonal balance too warm
Can't make calls
Mediocre voice detection
The JBL Link 300 is a great sounding Google Home speaker that gets loud and pumps out loads of bass. While not everyone will like the warm tonal balance, the speaker represents good value compared to the competition. We hope Google and JBL can work to make its voice detection better via a software update.
The JBL Link 300 is the sweet spot in the company's Google Home speaker line. For the money, you get a good-sounding speaker that gets loud, drops serious bass and features handy physical controls. Its design may be a little forgettable, but that's forgiven since the speaker works so well.
The speaker isn't perfect though. Voice recognition is average, as we have to shout at the device when music is playing loudly. Plus, there's no way to make voice calls currently, which is something that the cheaper Google Home and Google Home Mini can do out of the box.
Up against competitors, the Sonos One offers more balanced sound, but only supports Amazon Alexa at the moment. The company promises to bring Google Assistant support to the speaker in 2018, but the feature hasn't appeared yet.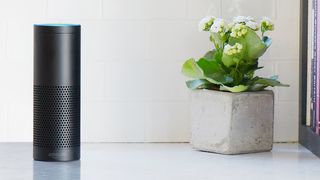 Amazon Echo Plus
Alexa wants to rule your home with new smart hub functions
Good Alexa voice control
Improved audio
One-box smart home solution
Sound could be better
Smart hub features need work
The Amazon Echo Plus is the higher-end choice among its tower speakers. You should consider buying one if you want decent sound quality but don't want the display of the Echo Show or Echo Spot.
It's louder and bassier than the standard Echo, which is particularly useful for music. Does it sound as good as the Sonos One? No. But like Amazon's other Echo gadgets, its price is competitive. It costs $149.99 (£139.99) with a Philips Hue bulb included to kickstart your smart home future.
Like other smart home systems, Amazon Alexa is a work in progress. However, it's easy to recommend the Amazon Echo Plus. It's a convenient one-stop solution for both audio, smart assistant functions and Internet of Things controls, with Alexa still going strong as the most feature-rich voice assistant.
But the strength of the Echo range, especially at the lower price tiers, still makes these top-of-the-line models a harder sell: the Echo Dot has comparable smarts for a fraction of the price, for example, it just doesn't sound as good. Likewise, the built-in smart hub is a great addition, but isn't yet feature-complete, meaning committed smart home users may not want to make the jump just yet.
In short, if you're looking to enter the world of the connected home, the Echo Plus is a great place to start. Just be aware that more economical options may, for the time being at least, suit your needs just as well.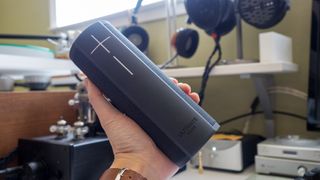 Ultimate Ears Blast
Portable Bluetooth speaker first. Smart speaker second.
Excellent sound quality
Good battery life
For home and on the go
Amazon's walled garden
Alexa useless without Wi-Fi
Poor voice recognition
The UE Blast is a portable Bluetooth speaker first and a smart speaker second. The inclusion of Alexa makes the Blast useful in the home when paired with the optional Power Up dock - but, even when you're away from Wi-Fi, the Blast is still an excellent-sounding Bluetooth speaker.
The UE Blast is a slightly confusing product as its tries to be both a smart and portable speaker. As a portable speaker that you don't have to worry about taking to the beach, the Blast is excellent (as the older Boom 2 was). However, don't expect the UE Blast to be great in the home with its poor voice recognition and lack of the included dock.
When smart speaker competitors like the Sonos One retail for about the same price, it's hard to justify using the UE Blast in the home, as the Sonos One works with the company's multi-room technology and platform that supports just about every streaming music service under the sun. Plus, you'll get the option of using Google Assistant as well as Alexa in a future update.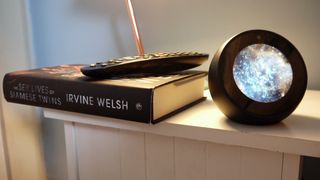 Amazon Echo Spot
This addition to the Echo family is a fun, versatile video device
Lovely form factor
Clear video
Video cropping
Pricier than Echo
In our opinion, the Amazon Echo Spot is the best-designed Alexa device Amazon has ever created – it's a gadget you'd happily have in your bedroom, on your desk, in your kitchen, and pretty much anywhere else.
The Spot is versatile – it doesn't have a chameleon-like ability to adapt to the room you put it in, but this is certainly not just a smart alarm clock, something Amazon has been very clear about.
It does everything the Echo Show does, but it all feels better in this smaller form factor. The design is great – it's available in black and white – and we can easily see the Spot being used in the bedroom, kitchen or even on a desk. In fact, you may want it in all of these places.
That's the thing with the Amazon Echo Spot: much like other Echo devices, Amazon wants you to have a multitude of them in your home so you always have access to video chat no matter where you are.
Essentially, it wants the Echo Spot to replace the Echo Dot. The Amazon Echo Spot is a little more expensive than the new Echo, though, and in turn much more expensive than an Echo Dot.
This is because of the addition of the screen. While we still haven't seen that killer Skill for the screen, it does enhance the look of the Spot and opens up the possibilities for it being much more than just a smart speaker.
We're just hoping that Amazon's Skills become much more video-friendly – once this happens, the Amazon Echo Spot will become an absolute must-have.

What could be coming soon?
Those are all of the best smart speakers on the market right now, but with the huge success of these voice-activated smart home assistants, this selection is likely to be just the beginning.
Right now a number of other companies, including some of the biggest names in tech, are also working on their own smart home audio products. Whether they shake-up the market or turn out to be a load of hot air remains to be seen.
But in the meantime, here are just a few of the highly-anticipated upcoming releases and rumors circulating right now: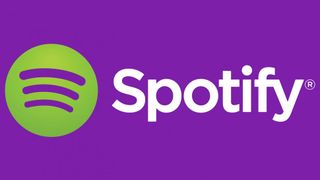 Spotify smart speaker
There are loads of speakers on the market that already allow you to connect your Spotify account. But that doesn't mean the popular streaming service can't make its own product to compete with the biggest names in tech.
Rumors suggest Spotify has been working on its own voice search interface, but it hasn't yet lifted the lid on a speaker that could compete with the likes of the Amazon Echo or Google Home.
That hasn't stopped us from dreaming up what a Spotify smart speaker might look, sound and behave like. Read our Spotify speaker wish-list: what we want to see in a Spotify smart speaker.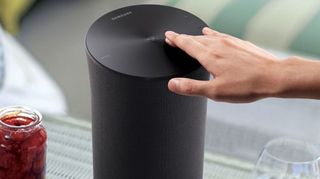 Samsung Galaxy Home smart speaker
This is now official, though details are still scarce – Samsung showed off the Galaxy Home smart speaker at its Unpacked 2018 event, promising high-quality audio alongside some integrated AI smarts provided by Bixby.
As yet we don't know a price or release date, though we're assuming it will work with Samsung's SmartThings ecosystem. Samsung is promising more news at its developer conference later in the year.
The speaker had been rumored for some time, primarily in a report from Bloomberg, with sources telling the publication that 2018 will be the year Samsung's smart speaker would be announced and be available to buy.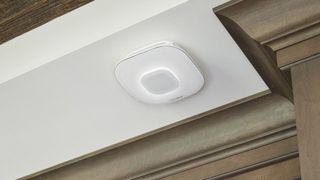 Everything is a smart speaker
Maybe the future isn't about which smart speaker you should buy after all, but will be much more focused on integrating voice-activated smart assistants into other products.
Earlier this year at CES, lots of manufacturers were boasting of voice assistant integration; Alexa and Google Assistant found their way into cars, bathroom mirrors, and even smoke alarms.
While that may sound a little gimmicky, it actually solves one of the major niggling points of the smart home: you want to have access to your voice assistant in every room but don't really want to fill your home with speakers.