The Crown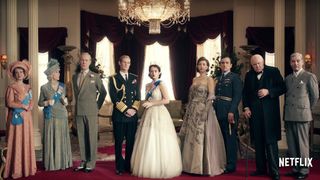 A truly opulent historical epic, The Crown is a majestic Netflix Original series that deals with Queen Elizabeth II (Claire Foy) and her rise to the throne, starting in the 1940s and moving on to modern times. With a reported budget of £100 million, Netflix and Left Bank Pictures spared no expense to tell this story of royalty with as much detail and historical accuracy as possible. Though it might seem like a stuffy costume drama, the brilliant photography and incredibly sense of scale will leave you flabbergasted. Featuring terrific acting and wonderful direction from Peter Morgan (who directed the Oscar winning film, The Queen), The Crown is the perfect show for Downton Abbey fans who are looking for their next big fix.
Seasons on Netflix: 2
Peaky Blinders
This British gangster epic is set almost a century ago and charts the rise of Thomas Shelby (Cillian Murphy) and his gang in Birmingham. 'Peaky Blinders' refers to the gang's tendency to sew razor blades into the into the peaks of their caps — not exactly the warmest of welcomes, if you ask us. With incredible production value, acting, writing, costumes, sets and cinematography, Peaky Blinders is the kind of show that screams quality from every angle. To make the show even more of a 'must-watch', Tom Hardy lends his star power by playing the villain in the show's second season. Well c'mon then guv'nor, start watching!
Seasons on Netflix: 3
Spartacus
Before he was the showrunner for Marvel's Daredevil, Steven DeKnight worked on the gratuitously violent and sexual series Spartacus. At first glance, you'd be forgiven for thinking that there's nothing more to the show than meat-headed beefcakes fighting and screwing in a 300-aping manner, but there's so much more going on – we follow Spartacus (the late Andy Whitfield and his replacement, Liam McIntyre) as he is taken into slavery and forced to do cruel and unimaginable things in the gladiatorial arena, just waiting for the day that he can finally get his revenge on slave-owners Batiatus (John Hannah) and Lucretia (Lucy Lawless). All of this culminates in one of the most satisfying season finales in recent memory. Be warned – this show is filled with grotesque violence and an immense amount of sex and nudity. It's like Game of Thrones times ten.
Seasons on Netflix: 4
Vikings
Praise Odin! We finally have a brutal and (mostly) historically-accurate show about Norse culture that would make Thor proud. Vikings takes us on a journey through Scandinavian/European history as Ragnar Lothbrok (Travis Fimmel), a man who may or may not be a direct descendent of Odin himself, rises up the viking ranks and searches for new civilisations alongside his band of viking brothers. Best watched with a pint of mead in your hand.
Seasons on Netflix: 4
Marco Polo
Netflix's answer to Game of Thrones, Marco Polo is the most epic and expensive Netflix original series to date. With a budget of $US90 million for the first season alone, the show is packed with big scale battles, thousands of extras, incredible locations and lavish sets. Set during Marco Polo's time in Mongolia under Kublai Khan, the series follows the famed Venetian's adventures as he navigates through Khan's Imperial City. You can guarantee that there will be blood, betrayal, intrigue and heaping helpings of sex and nudity. Hey, we told you it was like Game of Thrones!
Seasons on Netflix: 2