Bodyguard
War veteran David Budd (Richard Madden, aka Robb Stark from Game of Thrones) works for the London's Metropolitan Police. While travelling on a train with his kids, Budd is forced to lead police negotiations with a suicide bomber. He then gets assigned as the principal protection officer to UK's Home Secretary (Keeley Hawes) and the twists and turns in this six-part series begin to unfurl. Each minute keeps you at the edge of your seat – every time you think you've figured something out, you're proven wrong. Not only is the show gripping, it portrays today's tense times extremely well. The Brits do police procedurals better than most, and this drama is no exception – in fact we think it's the best BBC production in a while. The script shines through in the cast's perfectly restraint acting, and the plot is full of intrigue and suspense that will probably make your brain hurt – a must-watch in our books.
Details: 1 season, 6 episodes per season, 60-75 minutes per episode
Orange is the New Black
Back for its sixth season, Orange is the New Black is showing no signs of slowing down, with the women of Litchfield now experiencing some new problems after having been moved into a maximum security prison following last season's riot. It may have never reached the heady heights of House Of Cards, but Orange Is The New Black is another show that proves Netflix is now up there with HBO when it comes to offering decent programming. As per its prison setting, Orange doesn't shirk the big issues of violence and rape but manages to mix these with a heady dose of black humour and some occasional romance. If you haven't gotten onboard the OITNB train, now's the time to start your binge! For those who are up to date, check out the trailer for season 6 below.
Seasons on Netflix: 6
The Alienist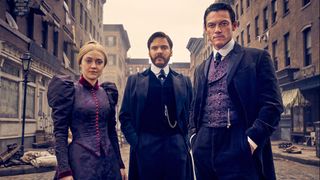 Set at the turn of the 20th century, The Alienist finds New York City gripped by the heinous serial murders of young male prostitutes. With the city in a panic, police commissioner Theodore Roosevelt (Brian Geraghty) appoints a team to track and apprehend the killer. This includes the unorthodox criminal psychologist, Laszlo Kreizler (Daniel Brühl), New York Times illustrator John Moore (Luke Evans) and aspiring detective Sara Howard (Dakota Fanning). A harrowing mystery that will have you on the edge of your seat, The Alienist is a grisly crime thriller in the vein of Mindhunter and From Hell.
Seasons on Netflix: 1
Sons of Anarchy
From the makers of the gritty award-winning series The Shield comes Sons of Anarchy, a crime drama that follows a bikie gang as its wreaks havoc across the small (and fictional) Californian town of Charming. Led by Jax Teller (Charlie Hunnam in his star-making role), the Sons must deal with cops, rival gangs and drug cartels, as well as inner turmoil from within the motorcycle club itself. Adding fuel to the fire is Jax's devious mother, Gemma (Katey Segal), who has a way of manipulating everyone around her — including her own son. With betrayals, bullets and bloodshed being a daily occurrence in Charming, there's never a dull moment across Sons of Anarchy's seven seasons. Be warned, the show can get extremely violent and occasionally deals with some very heavy subjects — if you're easily offended, you may want to steer your bike far away from this one.
Seasons on Netflix: 7
Manhunt: Unabomber
With true crime stories being all the rage these days, the creative people in TV land have turned their attentions to story of the US domestic terrorist Ted Kaczynski, better known to most as the Unabomber. This dramatic retelling of the real-life events stars Paul Bettany as the Unabomber and Australia's own Sam Worthington as the FBI profiler who helped track him down. A gripping and sometimes harrowing series, Manhunt: Unabomber is consistent in its high level of quality throughout its entire run.
Seasons on Netflix: 1
Godless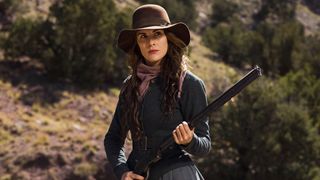 Need a badass western series to tide you over until Westworld returns next year? Well, saddle up pardner, because Netflix's new limited series Godless should keep your spurs from jingling and jangling. From Scott Frank, director of The Lookout and A Walk Among the Tombstones, comes Godless, a show that sees an outlaw chase his ex-partner into a New Mexico town populated entirely by women. Starring Jeff Daniels, Michelle Dockery and Scott McNairy, Godless is a gripping western that will shock and surprise you.
Seasons on Netflix: 1
The Sinner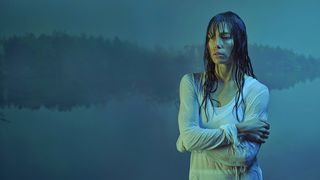 What causes a seemingly normal woman to violently murder a random person while out at the beach with her husband and newborn child? That is the premise behind The Sinner, a show which sees Jessica Biel take on a darker character than she ever has before. Bull Pullman also stars as an investigator who becomes obsessed with finding out where these violent fits of rage come from. Is there something hidden deep in her past that even she doesn't know about? Thrillingly told and terrifically acted, The Sinner is compelling viewing.
Seasons on Netflix: 1
Mindhunter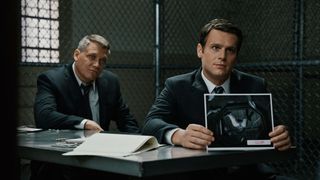 From David Fincher, director of such serial killer classics as Se7en and Zodiac, comes Mindhunter – a Netflix Original series that details how the FBI's profiling practices came into fruition. Academic and detail-oriented, the series sees its agents stare deep into the heart of darkness in order to better understand this new breed of demented killer that they've been tasked with chasing. Based on autobiographical accounts by FBI Agent John Douglas, who inspired the fictional character of Jack Crawford in Thomas Harris' seminal Hannibal books, Mindhunter is a gripping series that applies an analytical approach to a well-worn subject.
Seasons on Netflix: 1
Narcos
With its latest season, Netflix's hit series Narcos has left Colombia behind and spun off into a different story exploring the Mexican drug trade. While it occasionally crosses over into the world of Pablo Escobar and the Cali Cartel, Narcos: Mexico is its own story, following the rise of the Guadalajara Cartel, led by Miguel Ángel Félix Gallardo (Diego Luna). Meanwhile, American DEA agent Enrique 'Kiki' Camarena (Michael Peña) relocates his family to the city in order to track the cartel, expecting to investigate a bunch of disorganised traffickers. Unfortunately, he gets more than he bargained for with Gallardo, whose ambition sees him build an unrivalled Mexican drug empire. Once again based on a true story, Narco: Mexico is just as riveting as the show's previous seasons, only with an entirely different Mexican flavour. Also, you don't need to have seen the previous seasons to enjoy this one. Check out the trailer below.
Details: 4 seasons, 10 episodes per season, 60 minutes per episode
Ozark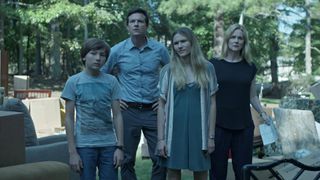 Though Netflix's new crime drama Ozark has understandably been compared to Breaking Bad, the show approaches similar themes in an entirely different and uniquely intense way. Chicago businessman Marty Bryde (Jason Bateman, who also directs some of the episodes) seems like a standup guy, but has actually spent years laundering drug money for a Mexican cartel. When it's revealed that his friend and business partner has been skimming money off the top, Marty finds himself in debt to a trigger-happy drug lord who has no qualms about murdering Marty's entire family, including wife Wendy (Laura Linney) and their two young children. Now, Marty's only chance at keeping his family alive is to move them to the Ozarks, a long coastline in Missouri that Marty believes is potential a goldmine, so that he can pay back the money that's owed. Gripping and very adult, Ozark will surely appeal to fans of shows like Fargo and the aforementioned Breaking Bad.
Seasons on Netflix: 1
The People vs O.J. Simpson: American Crime Story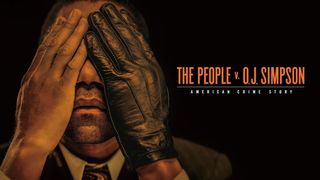 True crime fans, get ready for your newest obsession. The People vs O.J. Simpson: American Crime Story recounts the 1994-1995 murder trial involving all-star NFL legend O.J. Simpson, in which he was accused of the murders of his ex-wife, Nicole Brown, and her friend, Ronald Lyle Goldman. The first in a series of one-off stories, American Crime Story season one is an engrossing and terrifically-acted retelling of the infamous trial told from the perspectives of both the prosecution and the defence. Cuba Gooding Jr. gives a fantastic performance as O.J., while Sarah Paulson (as Marcia Clark), David Schwimmer (as Robert Kardashian) and John Travolta (as Robert Shapiro) provide exceptional support.
Seasons on Netflix: 1
Mad Men
Arguably one of the finest shows ever made, Mad Men is a brilliant time capsule that takes us on a journey through the ever-changing landscape that was 1960s America. Over the years, we get to see the country evolve through the eyes of the people who work at a swanky New York advertising agency – most notably our lead character Don Draper (John Hamm), a damaged individual with a hidden past and a drinking problem who is constantly engaging in infidelity. Through the show, we get some insight into the slow rise of power for women in the workplace while facing overt sexism, race relations and the evolution of the American family during the most tumultuous period in American history. Truly an outstanding, must-watch show.
Seasons on Netflix: 6
Suits
You've never seen a lawyer show like this before. Suits mostly avoids the 'courtroom drama' angle that law shows usually take, and instead focuses on the dealings behind the scenes. Mike Ross (Patrick J. Adams) is a brilliant man with a photographic memory who is wasting his life away as a petty drug dealer, until lawyer-extraordinaire Harvey Specter (Gabriel Macht) hires him to work at the most prestigious law firm in New York. Let's hope no one finds out about his lack of a law degree. Absolutely addictive.
Seasons on Netflix: 6
House of Cards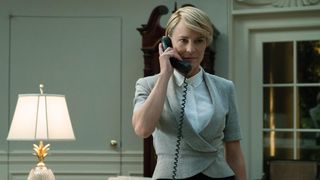 Funded completely by Netflix, House of Cards is an addictive series that sees a terrible man and his equally duplicitous wife manipulate their way into the Oval Office. It also boasts a visual style crafted by director David Fincher and immense acting by Kevin Spacey and Robin Wright. With allegations about Spacey coming to light recently, Netflix has dropped the actor from the show entirely, opting instead to put Wright front and centre for the show's final season. With five seasons currently available, Netflix's Card trick is still impressive and shows just how far Netflix has come, bringing the service worldwide critical acclaim and awards attention. With the world as focused on US politics as it is now, House of Cards is downright therapeutic entertainment. We can't wait to see how show fares without its former star.
Seasons on Netflix: 5
The Get Down
Reportedly Netflix's most expensive show ever, The Get Down is an absolutely dazzling look into the birth of hip hop music in the South Bronx during the late 1970s. The show effortlessly blends real life footage from the period with scenes from the show, mixing them together like a good DJ. Created by Baz Luhrmann (Moulin Rouge!), The Get Down is bursting with style, drama, colourful characters and fantastic music. If you have even the slightest interest in hip hop music, consider The Get Down required viewing. Unfortunately, the show was too big for Netflix to handle, which is why we only have a single two-part season to enjoy. Though we wish we could've followed these characters further, we're glad we got to spend time with them regardless.
Seasons on Netflix: 1