Marvel's Daredevil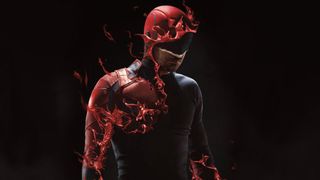 When Marvel revealed that it would be creating several Netflix shows tied directly into the Marvel Cinematic Universe, fanboys (like me) were over the moon. The fact that it would start by bringing Daredevil back to life (Evanescence pun completely intentional) after the much-maligned Ben Affleck film was more than we could have ever hoped for. This isn't some low-level player – Daredevil is a genuine fan favourite. And if you ask us, 'The Man Without Fear' is probably better suited to being the star of a series rather than another movie – especially as he'll eventually team up with Netflix's other Marvel heroes Jessica Jones, Iron Fist and Luke Cage in the Netflix miniseries, The Defenders. Though the series kicked off with a bang in the first season, Marvel matched it with its second season, which also included The Punisher and Elektra. In season 3, Matt Murdock has gone back to basics, returning to his old black costume and devoting himself entirely to being Daredevil. He'll have to take on Kingpin once again, as well as his comic arch-nemesis, Bullseye.
Details: 3 seasons, 13 episodes per season, 50 minutes per episode
Marvel's Iron FIst
While many Marvel fans found the first season of Netflix's Iron Fist underwhelming, steps have been taken to address the show's issues (the fight scenes, the lead character's personality), leading to a vastly superior second season overall. Danny Rand (Finn Jones), heir to the Rand Industries fortune, returns to New York City after being presumed dead for 15 years. During that time, Danny was being trained by monks, earning himself the title of the Immortal Iron Fist — protector of the mystical (and eternal) hidden city of K'un-Lun. Upon his return, Danny discovers that his company is secretly being controlled by The Hand, an order that has been at war with K'un-Lun for centuries. With the help of martial arts teacher Colleen Wing (Jessica Henwick), Danny must use his extremely powerful glowing fist to take down The Hand once and for all. In season 2, must taken down an old compatriot from K'un-Lun who embarks on a murderous rampage across New York.
Seasons on Netflix: 2
Marvel's Luke Cage
Netflix has been killing it with its Marvel shows so far, having already launched a number of top-tier shows including Daredevil and Jessica Jones. With Luke Cage, we got a new kind of hero — one who's proud to use to his powers in an effort to represent and protect his community. If you've watched Jessica Jones, you'll already be familiar with this literally unbreakable character, as he played a pivotal role in that show's first season. HIs own series, however, picks up some time after that, with Cage relocating from Hell's Kitchen to Harlem, and finding himself coming to blows with local gangsters. And, now that Luke Cage's second season has arrived on Netflix, it's time for Harlem's hero to once again re-enter our list of trending shows. Expect plenty of intense action with a real hip-hop flair. Unfortunately, Netflix has since cancelled the series after season 2, meaning fans will have to hope for more Luke Cage appearances in Netflix's other Marvel shows.
Series on Netflix: 2
Marvel's Jessica Jones
In retrospect, it would seem impossible for Marvel to surpass its first Netflix Original series, Daredevil, with a show about a hard drinking ex-superhero that's little known outside of comic book circles, but that's pretty much what it's done with Jessica Jones. Though the show doesn't quite reach the action heights of Daredevil, Jessica Jones manages to be even more compelling in terms of story and character. Based on the comic Alias by Brian Michael Bendis, the first season of the show sees private investigator Jessica Jones (Krysten Ritter), bar owner Luke Cage (Mike Colter) and celebrity Trish Walker (Rachael Taylor) do battle with a mind-controlling creep named Kilgrave (David Tennant), whose incredible obsession with Jessica is causing everyone around her to die. The second season follows on from the events of Marvel's The Defenders, and finds Jones delving into her past in order to make sense of her latest case. Dark, violent and quite sexual for a Marvel show, Jessica Jones is required viewing for fans of the MCU.
Seasons on Netflix: 2
Black Lightning
Tackling issues of race, crime and violence in his community, the DC Comics character Black Lightning makes an electrifying debut on television. Unlike most other superhero vigilantes, Black Lightning (Cress Williams) is a school principal and family man during the day, juggling a rocky marriage and two free-spirited daughters in the process. In this TV version, Black Lightning returns to the streets to fight crime after a forced retirement period. Using stories ripped from the headlines, Black Lightning feels more current than every other television show in DC's Arrowverse. While Arrow, Flash and Supergirl won't be making an appearance in the first season of Black Lightning, we can certainly expect a team-up somewhere down the line. Black Lightning is also considered a Netflix Original in Australia, so you can expected new episodes to be fast-tracked as they're aired in the States.
Seasons on Netflix: 1
Marvel's The Punisher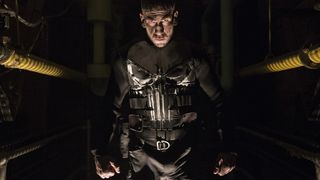 After a polarising first season, The Punisher is back his second (and possibly final) outing. Having already killed everyone involved in his family's death, Frank's attempts to lay low in season one are interrupted when he is dragged into a military conspiracy that he may or may not have been involved in. For season two, Frank is set to deal his own brand of justice in an all new adventure. Unfortunately, it appears the ghost of last season's big villain is back to haunt him. Though it can be slow-paced at times (please Netflix/Marvel, look up the phrase 'cut to the chase'), it is nonetheless a powerful and violent show that isn't afraid to deal with some heavy topics. As a study on the effects of PTSD, The Punisher is surprisingly poignant. It may not hit the heights of Daredevil or Jessica Jones, but The Punisher still makes for a welcome addition to Marvel's television landscape.
Details: 2 seasons, 13 episodes per season, 55 minutes per episode
Arrow
Though the show has had its ups and downs over the years, Arrow has probably remained the most consistently-watchable of all the DC Arrowverse shows to date. Missing for five years and presumed dead, rich-kid Oliver Queen (Stephen Amell) returns home to find his beloved Starling City overrun by crime and corruption. In an effort to fulfil a promise made to his dying father, Queen dons a hood, grabs a bow and arrow and becomes a deadly vigilante with one mission — to save his city. Of course, he can't do it alone, which is why Oliver recruits a team that includes John Diggle (David Ramsey) and Felicity Smoak (Emily Bett Rickards) among others. Feeling a bit more like Batman than the Green Arrow comics it's based on, Arrow is nevertheless an action-packed superhero series worth watching.
Seasons on Netflix: 5
Marvel's The Defenders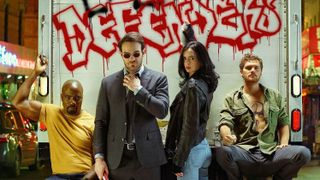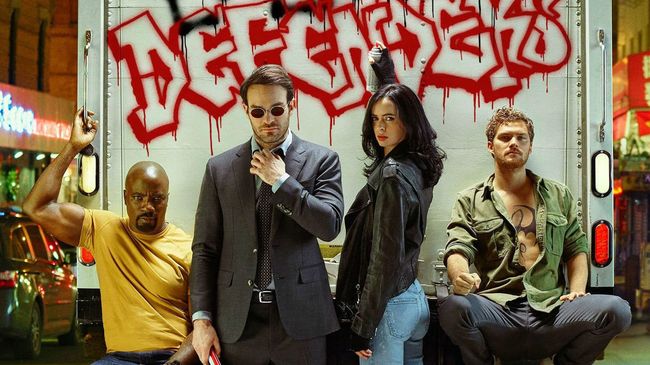 Everything has been leading to this – Marvel's insanely popular Netflix shows, each set in the greater Marvel Cinematic Universe, are finally colliding in The Defenders. Daredevil, Jessica Jones, Luke Cage and Iron Fist, all the lead heroes of their own respective shows, must now come together to stop a threat that aims to watch New York City fall. Think of them like the television equivalent of The Avengers, only more street-level. Will they be able to put aside their differences to fight as a team? Or will The Hand, the shadowy, ancient criminal organisation that featured in both Daredevil and Iron Fist, take one more step towards global domination? You'll have to binge-through this 8-episode special event to find out!
Seasons on Netflix: 1