The best productivity apps for iPhone
Our favorite iPhone apps for being productive with launchers, focus timers and to-do lists.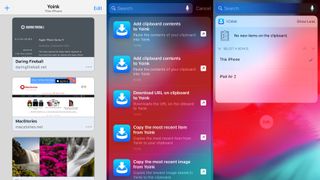 Yoink
Yoink can be thought of as a super-charged version of the clipboard. It's used to stash all kinds of things for later – text snippets, URLs, images, and even documents and emails. Items added to Yoink can be renamed, formed into groups called 'stacks', and previewed.
Files integration means you can get at everything you've stored in the app without actually going into Yoink itself. Siri Shortcuts support also means you can stash your clipboard's contents without first activating the app.
Cross-device capabilities round out a great app – iCloud sync allows you to get at Yoink content saved on any of your devices. And so although this is probably not an app you'll use every day, it's a massive time-saver when you need to collate files from disparate sources on mobile.
Launch Center Pro
Launch Center Pro resembles the iOS home screen, but it launches actions rather than apps. For example, instead of firing up Phone or Safari, Launch Center Pro can trigger a call to a specific person, or launch a particular website.
There are, naturally, some limitations. The Launch Center Pro website outlines supported apps and actions (click 'all' to see the full range); but you'll likely already own a bunch of these, and be able to think of ways the app can make using an iPhone easier for you.
You don't even have to launch the app either – shortcuts can be assigned to Today view widgets, or Quick Actions when you press down on the app's icon. In short, it's a great speed dial for your favorite app actions.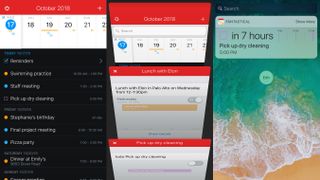 Fantastical 2
Fantastical 2 acts as a replacement for the iOS Calendar app. You might question the logic in buying something like this, but Fantastical 2 quickly pays for itself by making you more efficient.
This is apparent the second you check out the main view. Rather than having to laboriously tap each day to see its events, Fantastical 2 provides a scrollable feed, making it a cinch to see how your schedule looks into the future – and to quickly browse the past.
Reminders are integrated, too, and event input includes a powerful natural-language parser. As you tap in the likes of 'TechRadar lunch at 3pm on Friday', a live preview builds. And none of the data you add is locked in – Fantastical 2 works with your existing iCloud account, Google Calendar, or Exchange.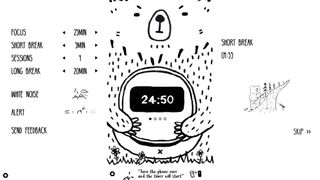 BFT - Bear Focus Timer
BFT - Bear Focus Timer is yet another app designed to make you use your iPhone less and concentrate more, but if you need a sense of focus and are easily distracted by your iPhone, it's one of the best of its kind.
First, it features a friendly bear, and who doesn't like bears? Secondly, the app's Pomodoro-style timers are adjustable, so you can fine-tune lengths for work, short breaks, session counts, and long breaks (recommended after several work/short break sessions).
The app's interface is the real star though, inviting you to turn your device upside-down to get the timer going. Pick up your phone and the timer stops, while the previously friendly bear scowls. It's amusing and chastising in equal measure, making you smile, flip your phone back, and listen to the app's helpful hubbub-drowning noise loops.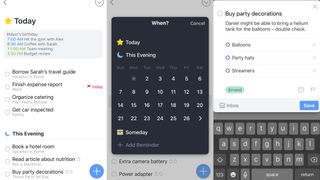 Things 3
Things 3 is a task manager that wants to help you get more done. The interface is sleek and the workflow is smart, helping you collect thoughts and plan your time efficiently.
The app's core is to-dos, but it allows you to add context, such as the time, date or location that you plan to carry the task out. Things 3 then populates a Today view with the day's tasks (cleverly grouping things you do at home under a This Evening heading), and puts later tasks in an Upcoming list.
The finer points of the app's design and interactions make it a joy to use. Animations are subtle, but colors are bold. Clever details are dotted about, like the ability to position a new entry by dragging the to-do button to a list.
Things 3 isn't cheap – especially if you also buy it on iPad and Mac – but the potential time savings make it good value.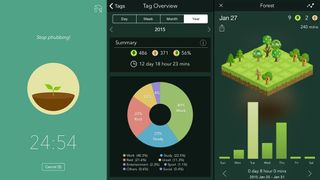 Forest
The idea behind Forest is to get you to leave your iPhone alone. It does this by having you plant a tiny sapling and set a timer. If you succeed in not using your iPhone until the timer's done, you get to plant what's now a little tree in a virtual forest. If you succumb to temptation, Forest mercilessly kills your tree, leaving a barren little twig.
Amusingly, if you try to trick the app by switching away, it'll immediately send a terse reminder to have you switch right back. But despite this somewhat gruff element, Forest ranks among the best gamified focus aids.
Over time, it's rewarding to see your forest grow, unlock new trees, and delve into detailed statistics. Also, using coins earned in-app, you can buy real trees for communities that need them. And all because you avoided Facebook for a few hours.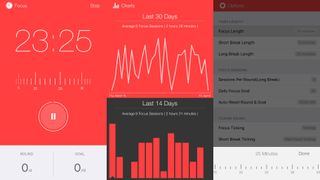 Focus Keeper
Focus and burnout are two commonplace issues for people in work. Too often, you can become distracted from tasks; but also there's the risk of working long hours without a break, leading to fatigue. Focus Keeper aims to deal with both.
The timer is loosely based around the Pomodoro Technique (a time management method), and recommends splitting your time between 25-minute work sprints and five-minute breaks. After four sessions, you take a longer break of about half an hour.
The app is clutter-free, and easy to use. The timer combines a minimal iOS-like design aesthetic with hints of a real-world timer's dial. You can delve into statistics, adjust work/break lengths, and choose alternate alarm and 'ticking' noises. Most importantly, however much this is all about psychology, it does work. Need convincing? Try the free version first.