The best entertainment apps for iPhone
Our favorite iPhone apps for having fun with your iPhone, whether stargazing, reading, watching TV or checking out Twitter.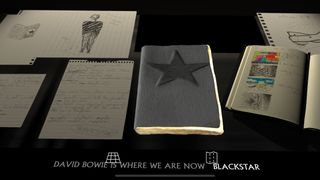 David Bowie is…
David Bowie is… reimagines a famous touring exhibition about a music industry icon as an augmented reality experience. You work your way through Bowie's life story, exploring videos, costumes, handwritten lyrics, and other objects, which sit before you in a pseudo-3D desk-bound view.
Although less directly immersive than Shepard Fairey – Damaged, it's arguably more accessible, simply due to Bowie's infusion into popular culture. And although there are limitations on the smaller screen – the slight awkwardness of a letterbox view; costumes looking a bit like videogame character clothing – this is a fascinating glimpse into one of pop music's most famous and influential artists.
Given the content lurking within, and its price tag being far less than a ticket to the original exhibition, it's a must-buy for fans and the merely curious alike.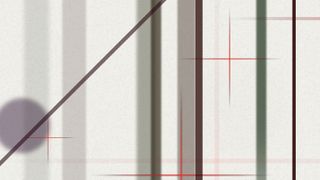 Bloom: 10 Worlds
Bloom: 10 Worlds is the follow-up to 2008's Bloom, in which you tapped the screen to play notes while dots of color emanated from your fingers like ripples in a pond. A decade later, 10 Worlds takes that app's premise and expands out what was effectively a single into a full album.
You get 10 distinct playgrounds to experiment with. Their sounds are varied, as are their visual effects. Some slash lines horizontally and vertically across the screen, while others soak the canvas in watercolor curtains.
Whether you want to interact or just let 10 Worlds play itself (which it starts doing when left alone for a short while), this is an enchanting ambient audio experience that breathes new life into what was already an iOS classic.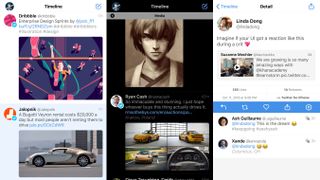 Tweetbot 5
Tweetbot 5 is a premium Twitter client, and in an era when Twitter seems to be doing its level best to grind third-party clients into dust, it might seem an odd recommendation. However, hampered though it may be in some areas, Tweetbot remains highly recommended for people who want to free themselves from Twitter noise.
This is especially apparent when exploring timelines: everything's in blissful reverse-chronological order; the Mentions tab isn't cluttered with like and retweet notifications; and you can swap out a toolbar tab for fast access to user-defined lists.
In other words, despite not having access to all of Twitter's toys, Tweetbot continues to offer the best iPhone Twitter experience for heavy users of the service – and anyone who prefers order over chaos.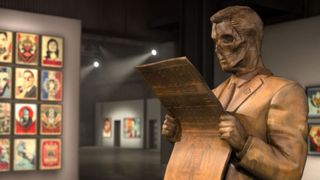 Shepard Fairey AR - Damaged
Shepard Fairey AR - Damaged is essentially an art exhibit crammed into your iPhone – and in a rather more literal sense than you might expect. If the name Shepard Fairey doesn't ring a bell, you'll likely recognize his most famous work – the iconic 'Hope' image of Barack Obama. In Damaged, he tackles the current political climate in a similarly arresting manner.
As a viewer, the AR bit of the app's name is important. This is no slideshow with written notes. Instead, the entire warehouse-sized show has been transformed into a virtual space you can explore with swipes and taps, or even by walking around yourself.
All the while, you can optionally take in Fairey's narration, giving you extra context behind the work in what's easily the best virtual art exhibit on the iPhone.
Infuse Pro 5
Infuse Pro 5 frees you from having to load videos on to your iPhone when you fancy watching them. Instead, films and shows can be streamed from wherever the files happen to be stored, which can be pretty much anywhere, such as a drive plugged into your router, Dropbox, a networked PC, or Plex.
Once you add a folder, Infuse figures out what's in it, and quickly downloads relevant cover art and metadata. It looks superb, and comes across a lot like a refined take on Netflix, but for your own personal movie and TV collection.
Assuming you have the network bandwidth, playback is seamless, regardless of the files you're working with. If you want to send footage elsewhere, there's Google Cast and AirPlay support, and Infuse will even download subtitles on request for when you're trying to watch something on the sly.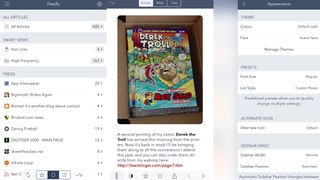 Fiery Feeds
Fiery Feeds is a powerful, usable, beautifully designed RSS reader. Once you're subscribed to some website feeds, Fiery Feeds pulls down headlines and synopses – all for free.
It's a great way to track sources you know and enjoy, so you never need miss anything important. You get a slew of options for customizing the visual appearance of the app, and many ways to share interesting content.
Pay the annual IAP ($9.99/£9.99/AU$14.99) and Fiery Feeds opens up further. You get a text view mode, which means synopses expand to full article feeds without you having to visit the original sites. The app also provides smart views – automatically generated feeds of 'must reads' and other interesting finds, bringing them to your attention when you're tight for time.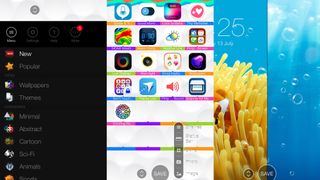 Pimp Your Screen
Pimp Your Screen is an app for customizing your iPhone. At its most basic, this means wallpaper. You select a category, swipe until you find something you like, tap to bring up a Home screen mock-up, and save the image to Photos when you're done.
However, Pimp Your Screen goes further than its contemporaries in key ways. There's a Themes section, which pairs matching lock and Home screen wallpapers. There are also 'makers' for both screen types, which enable you to combine components in a creative manner.
In the Lock Screen Maker, you can define a background, and add text. Swiping the status bar or clock adds a background for that area alone; swipe below the clock and a (static) calendar appears.
The Home Screen Maker adds a slew of virtual shelves and icon 'skins' to the status bar and page backgrounds. The results can vary from beautiful to eye-punchingly taste-free. Probably best if you try to veer toward the former.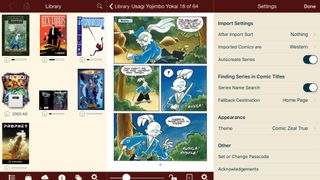 Comic Zeal
Comic Zeal is the best comic reader for iPhone. You import comics from cloud libraries or by dragging and dropping them to a special address in your web browser (sadly, there's no local network drive access), whereupon they're displayed as a grid or list.
Through slightly fiddly but powerful organizational tools, your collection can be categorized and tagged, making individual issues easy to access later.
The reading experience is the best bit, though. Whether you load a PDF, CBR or CBZ, Comic Zeal quickly renders pages. Page turn animations can be disabled, and you can use 'assisted panning' to efficiently read through zoomed pages that would otherwise be unreadable on an iPhone. There's also a single tap button for switching between single pages and double-page spreads.
Ultimately, comics are still best read on a larger display, but Comic Zeal shows iPhones needn't be left out when you're on the move and want your next superhero or indie comic fix.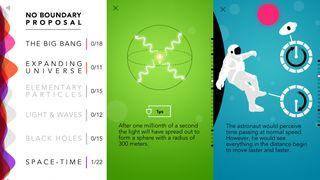 Stephen Hawking's Pocket Universe
One of the things the iPad's been really great at – with the right app installed – is making science approachable. But Stephen Hawking's Pocket Universe is, in many ways, more ambitious than iPad tomes.
That's because it attempts to bring accessibility to Stephen Hawking's phenomenal work on mind-bending topics such as space-time and the expanding universe - and squeeze everything into the much smaller screen of an iPhone.
Given such weighty subject matter, this is a surprisingly friendly digital book, broken down into easily digestible, bite-sized sections. Throughout, the app playfully animates, filling your screen with color and using illustration to aid understanding of the text.
Naturally, there's still the possibility of bafflement, but the app helpfully tracks what you've read, and is perfect brain food for filling journeys on the bus in a manner mindlessly scrolling through social feeds can never hope to compete with.
Reeder 3
In these days of flashy news apps like Flipboard, old-school RSS readers get something of a bad reputation. But there's something really handy about subscribing to your favourite sites, and knowing you'll get every article delivered in chronological order, for you to pick through at leisure.
On the iPhone, Reeder 3 remains an excellent app for browsing and reading feeds. The interface is straightforward, and a built-in Readability view enables you to quickly load the text and images from feeds that only otherwise supply you with brief synopses.
If you've got an iPhone that supports 3D Touch, you can use that for article previews in the articles list.