The best art and design apps for iPhone
Our favorite iPhone apps for painting, drawing, sketching, design and animation.
Linea Go
Linea Go is the mini-me to the impressive Linea Sketch for iPad. Despite the iPhone app's more limited canvas, it's still a great means of getting down sketches and visual notes.
Tools mostly live in pop-up panels at the bottom of the screen. You get five layers, a handful of pens and pencils, and a smart color picker that makes it a breeze to flick through related shades. You can switch backgrounds at any point, choosing from textures and guides (such as an isometric grid). Pressure sensitivity makes it a touch wearing to scribble with digital pencils when using a finger, but the pens and other tools work well.
The end results can look rather digital, but Linea Go wins out in terms of elegance and efficiency. With iCloud cross-device sync, it's a smart choice for iOS-based sketching.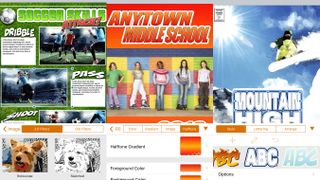 Comic Life 3
Comic Life 3 is for creating comics from photos and other images on your iPhone. Although it works best on the bigger screen of an iPad, it's surprisingly usable on an iPhone, not least due to the sheer speed at which you can put together a great page (or, if you're feeling ambitious, a full multi-page book).
Much of this is down to the app's varied templates, which get you up and running in no time. You can quickly import pictures into frames, add speech bubbles and sound effects, and then export the lot to a variety of different formats.
Oddly, the one thing the app does badly is comic-style filters – you're better off using Prisma for that. But for making custom comics from doodles or photos of amazing days out, Comic Life 3 can't be beaten.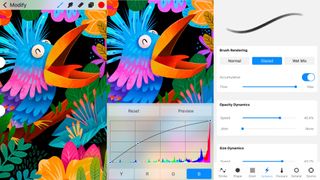 Procreate Pocket
Procreate Pocket is a great bet if you fancy dabbling in digital finger-painting. Whether you're a novice scribbler or a jobbing artist, this app's sleek interface wants to get out of your way and let you paint.
The toolbar that runs along the top of the display provides fast access to brushes. At the left of the screen are two sliders, for adjusting brush size and opacity. If you find them distracting, a four-finger tap puts you in full-screen mode, leaving you alone with your miniature masterpiece.
It all feels fluid and sleek, but there's depth here too. A fantastic brush editor (including custom grain sources) unleashes all kinds of creativity, and the layers system provides scope for more advanced compositions. And when you get really good, you can share time-lapse recordings created automatically by Procreate Pocket, and await glory when a TV network comes calling.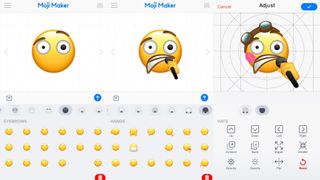 Moji Maker
Moji Maker is a construction kit for emoji. Because, as everyone knows, there can never be enough emoji in the world. On opening the app, you can tap Random to see what it comes up with, or begin with a clean slate. Loads of shapes are available, to which you add facial features, hats, and hands – everything from bushy beards to bizarre sci-fi shades.
As each element is added, you can pinch and drag to adjust its size and orientation. There's also a deeper – if slightly fiddly – Adjust screen for flipping elements and changing their position in the stack.
When you're done, you can save your creation for later use, either through Moji Maker's Messages app or keyboard extension, or by sharing oversized portraits that should certainly get a friend's attention. Or make them think giant emoji have invaded and finally taken over.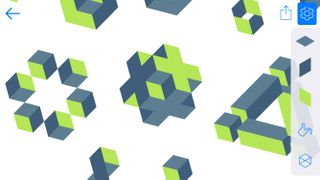 Isometric
What kind of art do you think you can make from the humble rhombus? That's the challenge you face when working with Isometric, which is – as its name suggests – designed for creating isometric artwork.
The app is very simple to use – you tap a rhombus to add it to the canvas, and can tap existing ones to rotate them. Shapes can be dragged together to make larger groups, and elements on the canvas can be colored and styled.
Isometric is especially well suited to abstract geometric art, and proves relaxing to use when stressed about the world and its problems.
But with a little planning, you can coax it towards more realistic, ambitious fare. Either way, the canvas can expand to a whopping 2048 x 2048, and you can export your angular masterpieces to Photos – or to vector formats with an additional IAP.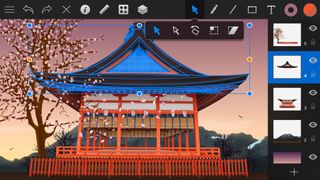 Graphic
On the iPad, Graphic resembles a touchscreen take on desktop vector powerhouse Adobe Illustrator. You might think you'd need to be mad to try and squeeze that into an iPhone, but Indeeo has succeeded in fine style.
The app, equally happy in portrait and landscape, is initially set up for vector-based sketching, with you scribbling freehand lines that can subsequently be tweaked and edited. Smartly, the app always lets you know what's going on under your finger, because Graphic shows that area elsewhere on the screen while you draw.
Delve deeper and you'll find a shape library, Bézier curves, a layers system and everything else you need to craft illustrations and logos on your iPhone. It can be a touch fiddly at times, but the powerful zoom and general friendliness, of what's a hugely powerful mobile app, help immeasurably.
Pixure
Head back to the 1980s and pixel art was just, well, art. Computer graphics were chunky due to technological limitations, not because of the aesthetic desires of creatives. Nonetheless, for a mix of reasons – nostalgia, primarily – pixel art remains popular in illustration and videogames.
On iPhone, Pixure is a great app for dabbling with pixel art. Along with prodding individual pixels using a pencil tool, there's a neat flood fill option and shape tools too. Layers provide scope for more complex art, as does the option to import an image from elsewhere as a starting point.
There's no lock-in either: you can export to a range of formats to share your miniature masterpiece, or work on it further elsewhere.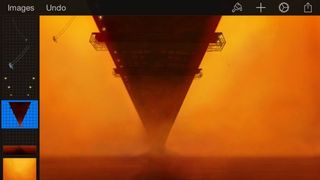 Pixelmator
Photoshop is so ingrained in people's minds when it comes to image editing that it's become a verb. Oddly, though, Adobe's largely abandoned high-end mobile apps, choosing instead to create simpler 'accessories' for the iPhone and iPad, augmenting rather than aping its desktop products. Valiantly filling the void is Pixelmator, a feature-rich and truly astonishing mobile Photoshop.
It's packed full of tools and adjustment options, and works well whether you're into digital painting or creating multi-layered photographic masterpieces. On iPhone, Pixelmator's naturally a bit cramped compared to using the app on iPad, but at the price it remains an insanely great bargain.