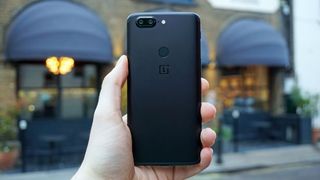 OnePlus 5T
Weight: 162g | Dimensions: 156.1 x 75 x 7.3mm | OS: Android 7.1.1 | Screen size: 6.01-inch | Resolution: 1080 x 2160 | CPU: Snapdragon 835 | RAM: 6/8GB | Storage: 64/128GB | Battery: 3,300mAh | Rear camera: 16MP + 20MP | Front camera: 16MP
Minimal bezel display
Processor
RAM and storage
Camera
Uninspiring design
The flagship killer of the year, the OnePlus 5 came with an already impressive dual camera setup, but with an update in the form of the OnePlus 5T, it's become a true flagship killer.
The reason for that, in part, is because the camera setup on the OnePlus 5T isn't the same as the one on its predecessor. While the now discontinued OnePlus 5 came with a secondary telephoto lens, the 5T doesn't and instead features a 20-megapixel snapper with an aperture size of f/1.7 and that improves its low-light shooting capacity.
Also, because of this little tweak, the camera can now capture more light and creates some better looking photographs in the price range.
There's not a lot that hasn't been said about the company's new flagship and it's currently selling via Amazon India and OnePlus' own store. The 64 and 128GB variants have been priced at Rs 32,999 and Rs 37,999, respectively.
Read the full review: OnePlus 5T review