Amazon Prime Day is fast approaching, and that means killer deals on cheap TVs. Leading up to big July event we'll be updating this page with the best TV sales from top retailers like Amazon and Walmart. This is an excellent time to find Black Friday like prices on top brand 4K TVs from brands like LG, Samsung, Sony, and more. You'll find massive discounts on 4K TVs, smart TVs, and different sizes and prices that fit all TV viewing needs.

You will find all of our curated deals below. We've divided them into three different size categories as well as our pick for the best cheap TV deal of the week. These days you really don't have to pay much more to get a Ultra HD 4K set instead of an older-style HD one. If you're after the hottest tech in TV though, you may want to take a look at the cheapest OLED TV prices.
Whether you want a small TV with a price tag to match or something to show all the colors of the rainbow (and a few million more) with HDR, we've found plenty of options. Read on to find the TV you want at a great price!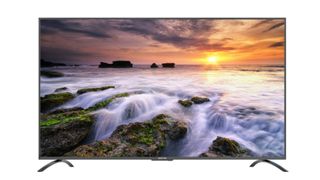 TechRadar's cheap TV deal of the week
40-49 inch
Cheap TV deals (40-49 inch)
50-59 inch
Cheap TV deals (50-59 inch):
60-85 inch
Cheap TV deals (60-85 inch):
More cheap TV sales:
Not found the right cheap TV for you today? Or maybe you'd prefer to directly browse the TVs at your favourite retailers instead of our highlights of the best cheap TV deals? We're updating this page on a regular basis, so you may have better look another day. If you want to take a look for yourself now though, here are the direct links to a the full collection of TV deals at multiple stores.
Learn more about Prime Day with our guide on Amazon Prime Day 2019: everything you need to know for the July deals event.