Best Apple Watch apps for news and sports
BBC News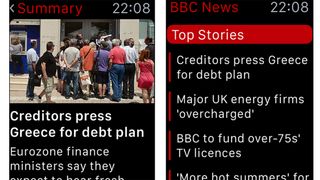 Of course, bigger screens such as phones and, you know, TVs are best for expansive looks at the news, so the Watch's little face is reserved for headlines and photos with BBC News. These appear in Glances and tapping on one takes you to a very slightly fuller version, and lets you access the other headlines.
You can create a personalised news list on the iPhone and these show up in the Watch app, too. Ideal for snacking on headlines and letting you follow up with the main story elsewhere.
NHL
NHL isn't just for American hockey fans, its app is one of the few legal ways to watch NHL games in the rest of the world.
The official NHL app has been given an extensive update for the 2018/2019 season, including the addition of Apple Watch support to display scoreboards and summaries and to notify you of the most exciting happenings. Sensibly there's also an option to turn off notifications if you can't tune in live and don't want to spoil your viewing later.
The main iPhone/iPad app is very comprehensive, offering highlights, radio broadcasts and video streams as well as tons of in-game information. For US fans actually visiting the games, it even shows you where to get food and drink in the arena. In a nice touch you can also customize the app to reflect your favorite team's colors.
High quality sports apps don't tend to come cheap, and NHL is no exception: if you want to access the NHL.tv video you'll pay £17.99/AU$27.49 per month to access the content from outside the US or $24.99 if you're a US customer. We're hoping the latest update crushes some of the bugs that seem to have plagued earlier versions of the app. There's nothing worse than an app that freezes just before something really exciting happens.
Best Apple Watch apps for math and money
Calzy 3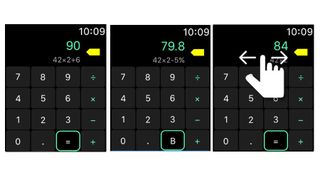 We've raved about the excellent PCalc calculator app, but Calzy is a worthy rival. The latest version, version 3, is a significant redesign that's been optimized for iOS 11.
The most obvious difference is that the operators – plus, minus and so on – are on the same screen as the numbers, and that means it's much faster to carry out multiple calculations, provided your fingers are fairly accurate: more buttons means a smaller tap area for each one.
It also shows you the running total as you go along, so for example if you're doing a calculation where it's this plus that times whatever you'll see the results as you tap. It's not as comprehensive as PCalc, but if all you need is a straightforward calculator on your wrist it's a good bit cheaper.
The main iPhone app, as you might expect, does a lot more than the Watch app. It has light and dark themes, a customizable keypad, Handoff support and even a searchable history of every calculation you've made. It also offers currency rounding to keep numbers to two decimal places, and you can tap and hold to edit part of a formula if you realize you've made a mistake halfway through.
PCalc
The apps we tend to love the most are the ones that solve real-world problems, and PCalc falls into that category. Yes, it's a fantastically useful calculator and scientific calculator, but much more importantly it prevents fisticuffs in restaurants.
That's because of its handy bill splitter. Simply tell it how much the bill comes to, how many people are paying and how big a tip you want to leave, and the Watch app calculates how much each person should hand over. It supports watchOS 3's Scribble feature too, so you don't need to dictate or tap on a tiny keypad if you've downed that second bottle of wine. Alternatively you can use the Digital Crown to enter the figure in the tip calculator.
That's not all the Watch app can do, though. It includes a converter for distances and other measurements, and if you Force Touch the app you'll see a Send To iPhone icon as well as the clear and undo buttons.
And on the iPhone the main app is a great tool for serious calculating (and quick sums: there's a mini-calculator if you Force Touch the app icon). It's not the cheapest calculator app, but it's worth the money.
Pennies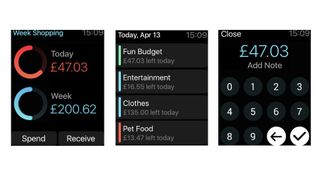 Pennies was a recent Apple Editor's Choice, for good reason: it's a very simple and effective budgeting app that allows you to get on top of your spending without having to spend too much time doing so.
You can set weekly, monthly, bi-weekly, bi-monthly, one-off and custom budgets, track in multiple currencies - great for holidays or business travel - and on the Watch, all you need to do is record how much you've spent against a particular budget, so for example if you have a shopping budget you'd tap it, tap Spend, and then enter the total.
The app then recalculates the amount you've got left, and if you wish you can have it displayed as a permanent Complication on the Watch face.
Pennies isn't interested in what you've bought; just what budget it should be allocated to. As the developer puts it, "it's all about keeping things easy and flexible so you can get on with having fun, spending what you want, and saving money at the end of the month."
If like us you find personal finance a mix of tedium and terror, Pennies might be the app that helps you take control of your cash.
XE Currency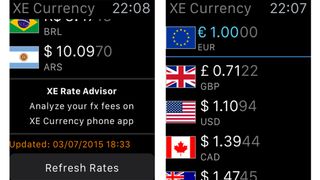 Currency converters abound on the iPhone and XE Currency is one of the best. While the Watch version doesn't have the calculator feature found on the phone, it's a clear chart of how many euros, Argentine pesos or Australian dollars a British pound buys.
You can add more currencies on the phone version – whatever's there is replicated on the Watch. A button at the base of the screen lets the iPhone app control the refresh rates, so you can avoid roaming charges.
Best Apple Watch apps for travel, weather and going out
Citymapper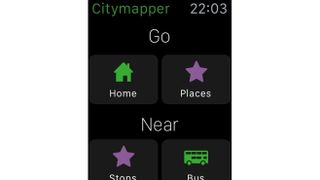 Citymapper is the pre-eminent public transport app, so no wonder it's an Apple Watch essential. It tells you how to get around selected cities including London, Manchester, Paris, Barcelona and New York.
As well as bus, train and subway times and directions, the Watch app even offers cycling routes and bike hire details such as London's rentable bikes. Once you've set up the journey on the phone, step-by-step notifications will appear on the Watch screen.
You can start journeys to home or previously saved destinations right from the Watch, and it will even help you find your way to nearby bus stops and train stations. Brilliant, just brilliant.
Transit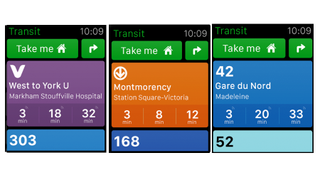 Transit is mainly for American users, but its city coverage extends to more than 50 non-US cities including London and Paris too. It's a public transport app, and it works on a simple and largely accurate assumption: when you use the app, you're in a hurry.
That means instant information for departures on nearby routes and a Take Me Home button that tells you how to get home as quickly and simply as possible. In a single screen it offers directions, details of the station, the next three departures and the number of the service.
Public transport tends to bring out the best in designers - think the simple genius of the London Underground map or the colorful signage on the New York subway - and that's definitely the case here.
Transit makes excellent use of color and typography to provide all the information you need in a very effective way.
It may only shave a few seconds off your travel time, but if you've ever harbored dark thoughts when someone at the gate in front of you is wasting time you'll know that for commuters, every single second counts. If you spend a lot of time traveling, you'll save a lot of time with Transit.
Microsoft Translator
You know you're living in interesting times when one of the best apps for an Apple device comes from Microsoft. But Translator is superb.
We refer to the Hitchhiker's Guide to The Galaxy in another entry, and Microsoft Translator is the closest we've come to its Babel Fish - a fish you stuck in your ear to translate the universe's many languages.
Translator sits on your wrist rather than in your ear canal, but it does much the same thing. Speak into your watch and you'll see the translation, and it remembers recent translations on Watch or phone so you can find them again easily. You can also pin translations for instant access to essential words or phrases.
It gets even better if you use it on your phone, because it can translate in real time as you message somebody. You'll see your typing with the translation in the same bubble, and it can even handle simplified Chinese and Arabic script.
The amount of thought that's gone into Translator is obvious. Want to translate a sign? Point your camera at it. Want to have a conversation in a language you don't speak? The phone display splits with your words facing you and the translation facing them.
Night Sky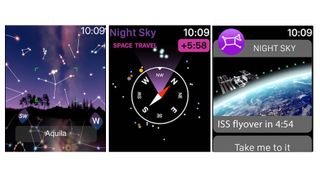 Night Sky is one of those gee-whiz apps that you use to show off your iPhone, and the introduction of a complication to let you know if the International Space Station was overhead was cute in a geeky way.
But the arrival of watchOS 4 has given the developers plenty of new toys to play with, and that means Night Sky is now one of those gee-whiz apps you use to show off your Apple Watch.
With this version of the app, your Watch now gets the same Sky Tracking features as the iPhone app has: you can now raise your wrist and identify the stars, planets and constellations around you.
There's a time travel feature too, so you can track how the various heavenly bodies will move. It's enormously clever and very impressive, and the main iPhone app isn't bad either, as its Sky View knows of 115,000 celestial objects and enables you to increase or decrease light pollution, explore animated 3D models and customize notifications.
If you sign up for the $1.99/£1.99/AU$2.99 monthly premium subscription you get access to worldwide sky tours that you can save for future use - for example if you're planning to visit a particular location in the near future.
Foursquare City Guide
Foursquare's mission has changed somewhat over the years: what started off based around location check-ins and "king of the castle" bragging had to change when Facebook promptly copied the idea.
Robbed of its raison d'être, these days Foursquare has separated the check-ins from the venue recommendations. Foursquare City Guide's job is to find decent bars and restaurants wherever you are in the world (if you still want to be the mayor of wherever, that's the companion app, Foursquare Swarm).
The main interface of City Guide has five tappable areas: Search, Favorites, Food, Coffee and Nightlife.
Tapping on the appropriate option takes you to a list of venues, but instead of just filtering by distance the app also filters by Foursquare user ratings - so a rating of 9.5 that's 500m away will appear below a 9.7 that's 100m further.
The list gives you the name, price bracket, average rating and distance for each venue, and if you tap on a venue you'll see reviews, photos, maps and other key information. The big selling point here is Foursquare's global reach: it's a really good app for travellers who don't want to spend their time in the hotel bar or eating in faceless chain restaurants.
ETA - Arrive on time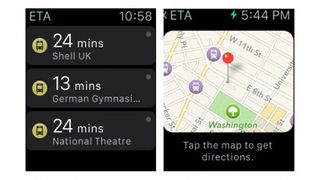 Like Citymapper, ETA will help you get somewhere. The title refers to its front-and-centre information. You add a location on the iPhone and save it. Then it'll give you timings for driving, walking or taking public transport.
Some watch faces allow it as a complication, where it'll show the time it'll take to your top saved route. It knows what traffic is like so allows extra time for a drive in rush hour, say. On the Watch app you tap the chosen saved destination and it'll take you through to Maps for directions.
Similarly, for public transport directions in select cities Maps will provide the directions.
iTranslate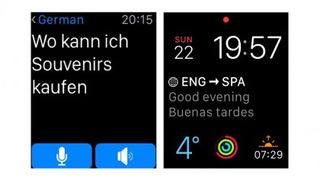 This powerful translation app works in 90 languages. It's free but for full Watch use you'll need the $6.99/£6.99/AU$10.99 in-app purchase which offers voice recognition and unlimited translations.
A Watch complication means you can tap on the screen to start translating straight away and if you'll let it, iTranslate will use your location to figure out what language it should be translating to or from.
It also responds to Time Travel so by winding the Digital Crown you can see phrases which change such as "Good afternoon" which is replaced by "Good evening" as you scroll forward.
Dark Sky Weather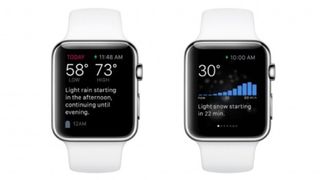 Dark Sky is the first app we put on any new Apple device, and the Apple Watch is no exception. In fact, we think Dark Sky is at its most useful when you're wearing it on your wrist.
What Dark Sky does seems very simple, but is actually very clever. It tells you what the weather's going to do - not in a vague sense, but as in telling you that it's going to bucket down in ten minutes and that the storm won't stop for an hour.
That means it's the perfect app for anybody who's thinking about going outside for any reason, or who's already outside and really ought to be getting inside in a big hurry.
In more dramatic climates it alerts of dangerous weather such as storms, and you can set it to notify you of specific kinds of weather that you select in the companion iPhone app.
We use it to decide if now is a good time to walk the dog, if it's time to get the kids back to the car or if we really shouldn't be going out dressed like that; you might use it when you're hiking or biking, or doing any other activity that could be affected by changes in the weather.
If you used Dark Sky in the early days of the Apple Watch and found it painfully slow and unresponsive, give it another go: the current version runs on the watch, not on the phone, and the difference in performance really is dramatic.
Yahoo Weather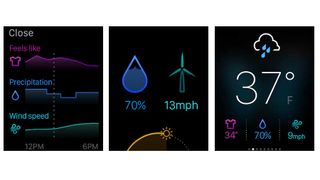 Dark Sky and CARROT Weather get all the reviews, but Yahoo's weather app is a lovely thing on the Apple Watch.
It takes the same colorful, minimalist approach as the iPhone/iPad app, with screens showing trend lines for temperature, precipitation and wind speed, along with sunrise and sunset times and where the sun is right now, whether it's going to rain and what the temperature highs and lows will be.
You don't get the right-now weather warnings of Dark Sky or the sass of CARROT, just a clear, easy to understand and really well-presented set of predictions.
It's not all sunshine and flowers, though. The host app is pretty big - 137MB, which is on the large side for a weather app, given that the UK Met Office app is 80MB and Dark Sky 20.8MB - and the accuracy of the weather forecasts seems to depend on where you live.
US users seem very happy with it, but UK users say it's a little pessimistic: while it rains a lot in Britain, it doesn't rain quite as often as Yahoo Weather says it will.
Then again, it's better to warn of rain and be pleasantly surprised than to predict good weather when the skies are about to open.
Circa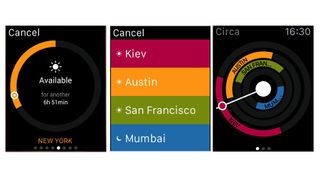 It's not a surprise that the Apple Watch attracts a lot of apps built around the idea of time, but few of them are as simple and as useful as Circa. It's designed for global travellers or people whose life involves communicating with people around the world, and answers a simple and important question: is this a good time?
It may be a simple question, but it's often a tough question to answer. If you've ever tried to find a time for a virtual meeting that works not just for you and your local colleagues but for colleagues halfway across the world you'll know how much of a pain in the neck it can be.
Are they EST or PST? Are they behind us or ahead of us? Circa remembers these things so you don't have to, offering crystal clear guides to when people are going to be available and when they should be in their bed.
It's a niche app, but many of the very best Apple Watch apps are: it's simple, beautifully designed and does exactly what it sets out to do. If you need this kind of thing, this is exactly what you need.
TripIt - Travel Organizer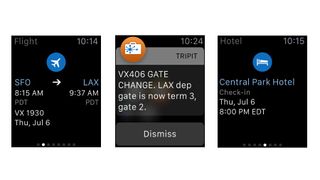 Whether you're a road warrior or an occasional holidayer, keeping track of the various aspects of your trip can be a pain. TripIt solves that by pulling all your travel-related documentation together.
All you need to do is send your travel confirmation emails - flights, hotels, car hire - to TripIt and the app will automatically organize them and tell you the information you need when you need it.
If you use Gmail, Outlook.com or Yahoo mail you can get TripIt to monitor your mailbox automatically, which makes things even easier. If you're in the US, it even tells you when it's time to head for the airport.
The phone app stores your itinerary and key documents, and the Watch app lets you know what's important right now - so if you're about to board a flight you'll see the flight number and departure time, if you're checking in you'll see a booking reference and so on.
Things get really clever with the Pro subscription ($48.99/£38.99/AU$77.99), which adds live flight notifications, seat tracking and alternative flight finding should your plans change.
That's probably unnecessary for most people, though: the free version of the app includes all the essentials you need for any kind of travel.
CARROT Weather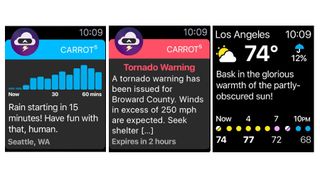 We've mentioned CARROT Weather before: it's our go-to app when we want the weather forecast delivered by a hyper-intelligent artificial entity that wishes we were dead. In this massive update the app becomes even more horrible, and we mean that in a good way.
There are complications for your Apple Watch face as well as a completely misanthropic Watch app with all the weather information you could possibly need, displayed silently or spoken aloud depending on your preferences.
We particularly like the way you can specify just how horrible CARROT is to you, along with its political leanings. And on the accompanying iPhone app there's a really fun feature that uses Apple's ARKit to bring the forecast into augmented reality.
The developers are upfront about their pricing: if you want to use Weather Underground data instead of the default Dark Sky and take advantage of its radar pictures too, those features cost the devs extra money so you'll need to pay another $9.99/£8.99/AU$14.49 per year for the Ultrapremium Club in-app purchase.
There's also a cheaper Premium Club ($3.99/£3.49/AU$5.49pa) that enables you to customize the complications, to receive weather alerts and to have background data updates. It's worth it.
Best Apple Watch apps for food and drink
Grocery - Smart Grocery List
It's hard to get excited about grocery shopping, we know, but we're all in favor of any app that makes it easier to ensure we actually get the things we need when we go shopping. Now in version 2, Grocery does just that.
As you'd expect from the name it's a grocery list app, but this particular app is built around Apple's own Reminders, so it's easy to access your lists and to share them online with others. It features Siri support so you can say things such as "Add eggs to my grocery list", and you can create Siri shortcuts for groups of items – which is handy if there are specific ingredients you tend to buy together for particular meals.
One of the cleverest features is the way Grocery analyses your shopping: as you tick off items it remembers the order in which you did them, so the next time you hit the shops your list will be in an order that reflects where things actually are in the shop rather than the order in which you remembered them. It does this on a per-store basis, and the different stores can be geofenced so that your Watch knows exactly where it is and where to find what you need.
Just Eat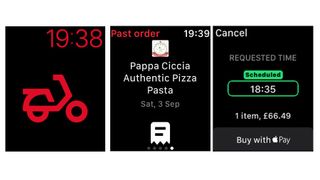 Proving that you should never underestimate our basic laziness, Just Eat created an app for people who couldn't be bothered using the telephone to call for a takeaway. Now, it's added an app for people who can't be bothered reaching for their iPhone to open the Just Eat app.
One day historians may look back on this as one of the key steps in the downfall of western civilisation. Then again, easy pizza!
The Just Eat app is UK-only - if you're in the US, try the Domino's Apple Watch app instead - and it enables you to choose, order and pay for takeaways from the comfort of your wrist thanks to Apple Pay integration.
You can also choose to collect instead of having the meal delivered, but let's be honest: if you can't be bothered getting your phone you're hardly going to want to go outside to collect your food - although if you're driving it's handy to order a pickup with a few taps.
The main iPhone/iPad app is much more attractive and informative, but when it comes to ordering regulars from your favorite local takeaways it doesn't get much easier than having Just Eat on your wrist.
Yelp
You've probably noticed something of a trend in our favorite apps: they tend to approach their mission by asking what useful things the watch can do rather than trying to cram an entire phone app into that tiny screen, irrespective of whether that's sane or useful. Yelp is a great example of an app that gets it right.
When you open it you'll see just four icons: Restaurants, Bars, Coffee & Tea, and Hot & New. Tapping on the one you're interested in then shows you a list sorted by distance, with the all-important star ratings and average cost listed on top of a photograph. Tap again and you'll get the opening hours and a map, and of course you can read the reviews too - that's what Yelp is all about.
It's particularly good for the kind of venues and experiences popular among bright young things in big cities, (the most committed Yelpers), but the database is truly enormous and doesn't turn into tumbleweed whenever you venture into the countryside. Yelp's app is very good for finding places in unfamiliar towns, or unfamiliar places in towns you know very well.

Chipotle
I sometimes wear my messy Chipotle burritos while scarfing down the healthy-ish Mexican platters, but I'm also purposely wearing Chipotle on my wrist to send order to the store via my Apple Watch.
While it's not the most groundbreak app, I can create a one-tap order with the Chipotle Apple Watch app and have my meal ready to go while I'm on the treadmill at the gym next door. It's as efficient as it is calorie rich. The best part is, I get the skip the always massive line.