Best Apple Watch games
Pokemon Go
Pokémon Go isn't a new app, and its Apple Watch companion app isn't exactly brilliant, as it needs the iPhone to be nearby in order to be useful. But that's about to change with a new future called Adventure Sync. It's a way of earning candy and hatching eggs in the Pokémon Go app without actually using the iPhone app.
Adventure Sync works by taking the Apple Health data your phone and watch generate and using that in the game. That means if you just go for a walk or a run wearing your Apple Watch, the distance you travel is recorded and then the Pokémon Go app can get that information to hatch more eggs and earn more candy. Nintendo promises a weekly activity summary, rewards for achieving specific milestones and ongoing progress monitoring, and you can opt in at any time.
The Watch app remains a companion app rather than an alternative to the iPhone app – it's more of an information app than something you play – but it's good to see a bit of lateral thinking when it comes to smartwatches. Using their data is much more interesting than trying to cram an entire iPhone app into a watch.
Tamagotchi Classic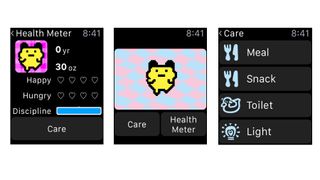 Readers of a certain age will remember Tamagotchi, the infuriatingly addictive electronic pets that took over the world in the late 1990s with their incessant demands for care and attention.
And now they're back! Back! BACK! And this time, they're on your wrist - which is fitting, because Tamagotchi is apparently a portmanteau of the Japanese words for egg and watch. If you've never used your watch to raise a virtual pet, here's your chance.
This app is the Tamagotchi L.i.f.e Gen1, and it uses the Apple Watch in several ways: when your Tamagotchi wants your attention it'll pop up on your wrist, you can monitor your Tamagotchi's health, and you can carry out care actions - such as feeding it a meal or making it go to the toilet.
There are two modes to choose from: toy mode, which recreates the originals, and App Mode, which adds special colors. The app also enables you to put multiple Tamagotchi into a gallery, where you can then take pictures of them, and save said digital snaps to your Camera Roll.
It's spectacularly pointless, of course, but it's also pretty cute and faithful to the original toys - so it's an app for rose-tinted spectacle wearers as well as for people who've never encountered Tamagotchi before.
Best Apple Watch apps for education and learning
Daily Dictionary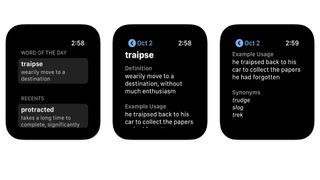 Daily Dictionary is a great example of the kind of apps that really work on your wrist: rather than blast you with notifications or try to cram tons of things into that relatively tiny screen, it delivers a little nugget of information that you might otherwise miss.
That nugget, of course, is a word. Every day, Daily Dictionary comes up with a new word. That can appear in your Apple Watch face's complication, or as a push notification, or you can call the app directly. The complication is well designed, as it also includes today's date, so you don't need to have as separate date complication, enabling you to use your limited complication space for something else.
The word selection is practical rather than esoteric. The aim is to provide you with words you'll actually use, so there's no jargon or scientific terms you're unlikely to use in your everyday conversations or writing. And the app enables you to see recent updates to catch up on any words you might have missed.
The core app is free, although a small purchase of just £2.99/$2.99/AU$4.49 a year unlocks the ability to customize the Apple Watch display.
Rosetta Stone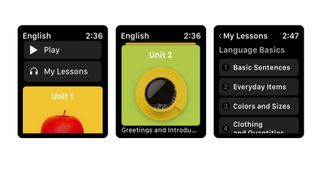 Rosetta Stone is one of the big brands in language learning, and its various apps have won shelves full of awards for its combination of effective teaching and user-friendly app design. The Apple Watch counterpart to its main iPhone app is a good example of how the Watch can be used to supplement more fully featured apps: it's tailored to the kinds of environments where the Apple Watch is the perfect device for a quick practice.
Rosetta Stone is all about real-life situations: ordering in restaurants, choosing things in shops, saying hello to people and so on. The Watch is ideally placed to practice that, and it's set out with sensible categories and simple and fast navigation to get you to the bit you need, with audio examples of how to do it.
The main thing to watch out for here is the price: while the app itself is free, it's useless without a language subscription. There are 24 languages to choose from and they start at $109.99/£93.99/AU$159.99 per year per language, with bundles for languages such as Spanish and French offering 5 levels for $199.99/£199.99/AU$319.99. Think of the app as a demo for the Rosetta Stone service rather than a stand-alone app.