Best Apple Watch apps for notes, passwords and making life easier
Google Keep
You may remember in 2017, when Google pulled its various Apple Watch apps. But now, it seems Google is back in the wristy business. This month the Google Keep app was updated with a new feature: support for the Apple Watch.
Google Keep is essentially Apple's Reminders for people who prefer Google's way of doing things, and like Reminders it uses the cloud to sync with desktop and online versions of the app. You can use it to create, edit and share notes and to-do lists, to include photos and audio in notes and in a clever touch, to record voice memos and have Google automatically turn those memos into editable, searchable text.
That feature is included in the Apple Watch app, but you can't use your Watch to edit existing notes – although you can create new ones either via your voice, via scribbling or by entering emoji. You can also archive or prioritize notes by using Force Touch.
The app keeps things simple by showing you the ten most recent notes, and while you can do dictation there's no Siri integration. There isn't a Watch face complication either. Here's hoping that Google adds such features in later versions – assuming, of course, it doesn't decide to stop supporting the Apple Watch in the future.
OmniFocus 3
The Omni Group is well-known and well-loved for its productivity apps, and version 3 of OmniFocus is available not just for iPhone and iPad but for the Apple Watch too. It's an extraordinarily useful project and task management app, but while it's very powerful it's also very easy to use.
It also manages to pack a lot of information into the screen of your Apple Watch with good use of icons, numbers and bulleted lists. You can display a quick overview as a complication in the Utility Watch face, or call up the app directly to get an instant picture of what you need to care about now and in the immediate future.
The standard and pro versions of the app are free trials, and you can then unlock Standard for $39.99/£38.99/AU$62.99. That gives you almost everything OmniFocus can do, but if you want to add customization options you can go Pro for $59.99/$54.99/AU$89.99 (if you go for Standard first and want to upgrade later, that's $19.99/£19.99/AU$30.99).
The customization enables you to create custom filters to create a custom perspective on your project, and you can reorder the Today's Forecast to give you the information you want exactly as you want it.
Calendars 5
You may know Readdle already: it's the developer behind the superb Spark email app, as well as the popular and useful PDF Expert. Calendars 5 has been around for a while, but the Apple Watch support only arrived in December 2018. As we've come to expect from Readdle apps it's well-designed and useful without unnecessary gimmicks or eye candy.
The app works as a Watch face complication and as a dedicated app. It also supports Siri, so you can ask it to tell you what you've got scheduled or create a new item with just your voice. The app works with both iCloud and Google calendars for easy syncing, and it works both online and offline.
The iPhone app is great too, with natural language input and support for the kinds of things you need a calendar app to do such as complex recurring events (for example, a class that runs every Tuesday, Friday and Sunday), custom alerts and event invitations.
The app also includes a good task manager that enables you to track and clear your various to-do and task lists. It's good on the iPad, too, where it takes full advantage of the big screen to give you a birds-eye view of your week or month.
HomeRun for HomeKit
HomeRun doesn't do much, but what it does do it does very well. It's a companion for Apple's HomeKit framework, which enables you to control various smart home devices, and it addresses one of the key problems with Apple's own Home app: Home is a bit of a mess, cramming lots of stuff on screen and making what should be really quite simple rather confusing.
HomeRun takes a different approach. Its interface uses icons rather than text, so for example if you want to change a smart thermostat you could choose to have buttons showing a thermometer: a blue one for colder and an orange one for warmer. And it focuses solely on scenes, with up to 12 scene icons shown on your Watch at once. Effectively it's a bunch of toggles: turn this on or off, turn that up or down, make that louder or quieter.
It's simple to use and just as simple to configure, with the iPhone app making it easy to create the scenes you want on your wrist. You can also create Apple Watch complications, so for example you might put an on/off toggle in the corner of one of your Watch faces for quick control of something.
Fantastical 2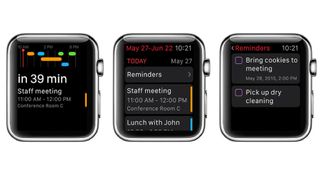 Getting Fantastical 2 up and running on your watch can be time consuming, but it's worth it: one of the very best iPhone calendar apps around develops even more powers when you add its app to your watch.
You can also add it as a complication, which means you'll see details of your schedule right there in the watch face.
To actually make it work you'll need to install Fantastical to your watch and then open the iPhone app, not the Apple Watch one. This is where you specify what information should be sent to the watch, and the options are extensive.
You can choose from events, calendars, reminders and lists, include a map of the event location, show end times and specify how reminders should appear, and you can even specify what should happen if you tap on the Fantastical 2 complication on your watch face.
It's that kind of thought and attention to detail that makes us love the app so much.
The best thing about Fantastical 2, though, is that it understands you. Force Touch the app, tap on Add Event and Siri starts listening.
It knows what you mean by "lunch with Dave", automatically putting the appointment at 12 noon, and it knows that if you say "to-do get dinner on the way home" you're adding an item to a to-do list. Siri's voice recognition performs brilliantly when it's limited to such a specific set of instructions.
SimpleCommands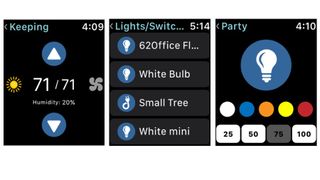 This is an intriguing one. SimpleCommands enables you to connect your Apple Watch to various other devices – LIFX lights, TP-link switches, Wink doors, Nest thermometers, Netatmo home automation and so on – and soon, services such as Spotify, Lyft, IFTTT, Todoist and Twitter.
Once you've established a connection, you can then control that connection via your iPhone or Watch (you need to set them up in the iPhone app first). Your Watch then becomes what the developer calls a listener.
All you then need to do to make something happen is tell the listener what to do. The main benefit is that to paraphrase Radiohead, everything's in its right place: whether it's your aircon or your lighting system, it's all done from a single app on your wrist.
Brilliant, right? Well, potentially. The list of coming soon connections is longer than the list of currently supported ones, and early adopters say it's a bit flaky: we're still in version one-point-something territory, so you should expect bugs.
But if you're fed up having to use different apps to control every different digital thing in your life, this could be the thing to make your digital life much more comfortable.
IFTTT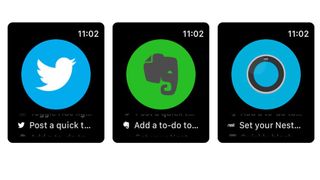 If This Then That, IFTTT for short, may be one of the most useful things on the internet. As the name suggests, it enables you to create scenarios where if this happens, it does that. And the 'that' can include all kinds of things, with a selection of connectors for software and hardware alike.
For example, you can automatically change your thermostat based on the weather forecast, or send someone a message when you're near the shops, or backup your photo collection to a cloud storage site at a particular time or when a particular event occurs. It's absolutely brilliant, and the main iPhone app enables you control more than 600 different apps as well as smart home devices such as Hue lights and Nest thermostats.
As you'd expect the Watch app doesn't do everything. What it does do is provide quick access to IFTTT functions you've already installed or created on your phone, so for example you might post a quick tweet or turn your smart lights on or off.
That simplicity is no bad thing, because of course the whole ethos of IFTTT is to reduce the amount of effort you use to communicate with your various bits of technology.
1Password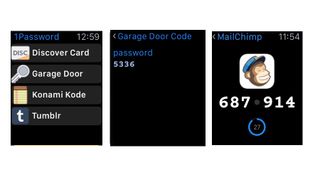 A reliable and secure password manager is a must-have in these days of security breaches and hacks, and 1Password is one of the best. And it turns out that it's also one of the best password managers you can use on your Apple Watch.
Our favorite apps don't just port entire iPhone apps across. They think about what you're actually likely to need on your wrist, and do that instead. In the case of 1Password that means you choose the pieces of information you want available on your Watch, so for example you might want details of a few logins, one credit card and a couple of notes, or perhaps the PIN codes for everyday locks.
If you've ever frantically scrolled through an iPhone app or contacts list to try and find the PIN for a bank card you don't use very often, the appeal should be obvious.
Where 1Password gets particularly clever is in its support for team and family accounts, so you can share sets of information with everybody who needs it. And if a site you use has been compromised, 1Password will alert you to change your password. It's great stuff, and comes with a glowing recommendation from Apple.
Drafts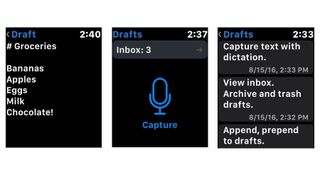 On the face of it, and by face we mean Apple Watch face, Drafts doesn't seem to offer much for six quidbucks: it enables you to dictate text and save it for later. But it turns out that it does an awful lot...it just does it in a really simple way.
On the iPhone, Drafts is designed to make it easy to capture ideas, thoughts, to-dos or anything else.
It has an email-style interface for easy navigation and it enables you to send your Drafts to a whole bunch of other apps and services: email, message, apps in your Share sheet, social media and so on.
It supports Markdown for easy formatting, and it hooks into the iMessage app to provide stored "snippets" of text and/or emoji for instant replies.
Bringing Drafts to the Watch makes it even faster. Tap on the microphone icon to capture and it does just that - but it also enables you to add to existing drafts using either your voice or the Scribble input, which means it's brilliant for those moments when you think of something really clever to write or something you'd missed from your to-do list. It's the kind of app you'll quickly learn to love.
Hours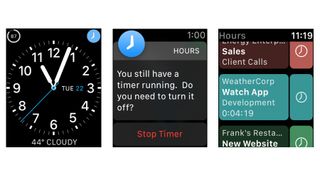 Many of us need to track the time we spend on specific tasks, but the team behind Hours rightly point out the three big pitfalls of time tracking: we forget to start tracking in the first place, forget to stop when we change tasks, or just forget to stop the timer(s) altogether. Hours hopes to address that by making it really, really easy to start and stop and switch.
The iPhone app is a very beautiful thing, with a visual timeline that makes it easy to see what you've been up to. The Watch interface is much simpler, but just as effective: you can see the list of tasks with a timer icon for each, and if you tap on a task you can add a verbal note as well as starting or stopping the timer.
There's a Complication for instant access, and the app will prompt you from time to time to see if you want to keep the selected timer running.
The standard version is free and ideal for self-employed or freelance types, but the $7.99/£5.99/AU$12.99 upgrade to Pro adds multi-device synchronization, web access, reporting and data visualizations, team creation and management, and online backup, which means it's a great team tool too.
Just Press Record
One of the most useful things about the Apple Watch is that it enables you to do things without having to take your phone out of your pocket or bag. Just Press Record brings that handiness to voice recording, enabling you to capture bright ideas, rambling monologues or memos when you're out and about.
The interface is just a big red button with a picture of a microphone on it, and as you might expect you tap it to start recording. The phone app can transcribe your recording to turn it into text - which means your recordings become searchable by keyword - and it recognises formatting commands such as "new paragraph" and "comma".
To use it is to feel like you're living in the future: we remember when dictation and transcription required a powerful PC and endless patience, and now you get much better results with a watch. Isn't technology brilliant?
In addition to its recording and transcription features, the app syncs automatically via iCloud, so you can access it on all your devices - including macOS, for which there's a separate app - and it uses the Watch's own local storage so that you can record even if your phone isn't currently connected.
Evernote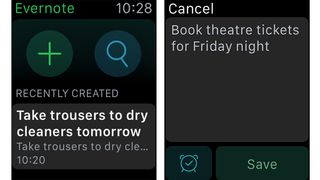 Organize your life better with Evernote, the brilliant note-taking app which saves photos, text, recipes, bookmarks, voice notes and more. On Apple Watch you can set reminders and check off tasks easily enough.
You can dictate new notes for those brilliant ideas you mustn't forget just by tapping the Plus button or Force Touching the screen. The Watch app can search existing notes using voice – though this wasn't as reliable as I'd have liked. Even so, if you're an Evernote fan it brings an extra level of convenience.
OneNote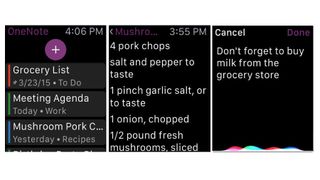 If there's one thing the App Store isn't short of, it's note-taking apps. But it's worth taking a look at OneNote, especially if you work across a range of Mac and PC devices, because as it syncs via Microsoft's cloud, it's a very good cross-platform app with particularly well-designed iPhone, iPad and Mac apps to organize pretty much everything.
We use it for shopping lists, to-do lists, random scribbled ideas in the wee small hours and anything else we think we might need to refer to later, and unlike some rival cross-platform services it's completely free. Microsoft hopes you'll like it so much you'll embrace Office, which is available for a very low price as part of a premium OneDrive plan.
Microsoft has become rather good at keeping its Watch apps simple, and OneNote is no exception: tap the cross icon to dictate a new note, or tap a notebook or note to see its contents.
And that's pretty much all it does - and that's all it needs to do, because any watch screen is poorly suited to complex tasks. We'd much rather have speed and simplicity than any ill-conceived bells and whistles.
Owaves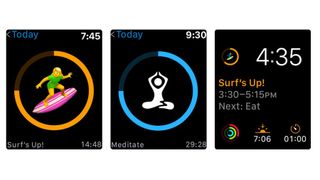 Owaves is an interesting app: it's a 24-hour day planner that's designed for people who want to focus on their physical and mental health. That means scheduling and prioritizing me-time and play time as well as work time, a kind of Getting Things Done for the mindfulness generation.
Owaves is based around what it describes as the five key ingredients for a happy life: sleep, nutrition, exercise, relaxation and social interactions. You can still schedule work things, chores and day to day admin, but they're not the sole focus as you'll find in other planning apps. The idea is to make room in your life for your life.
The bulk of the action - scheduling events, seeing your entire schedule and so on - happens on your iPhone, and the Watch app has been designed as a companion rather than a replacement: it tells you what's coming up rather than trying to replicate the main app's functions.
You can add it as a watch face complication, which is particularly good on the Modular watch face: if you make it the main complication in the center it's got room to tell you not just what you've scheduled now but also what you've got happening afterwards.
Voice in a Can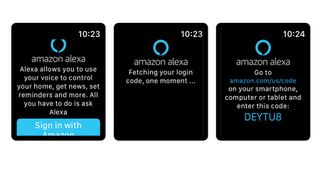 Voice in a Can is famous, or perhaps infamous: it hit the headlines because it brings Amazon's Alexa to the Apple Watch, something neither Amazon nor Apple have decided to do so far. That's an interesting idea, because in our experience Alexa is much more reliable than Siri on our various devices: she's much better at recognizing our commands and doing what we want. However, while the idea's interesting the execution isn't great.
The app works, but there are some important restrictions. You can't use it to control your music, play podcasts or make calls, and only some flash briefings work. If your watch goes into standby mode it drops the Alexa connection. The developers recommend extending the timeout period for apps on your Watch, which is effectively admitting that it just doesn't work quickly enough.
Until or unless Amazon or Apple offer Alexa support this is the only way to have Alexa on your wrist, and the app is a handy way of controlling smart home devices if you're committed more to Amazon than to Apple. However it's very limited, very much a side project for the developer and more of a proof of concept than an app you're going to use for everyday Alexa stuff.
Knock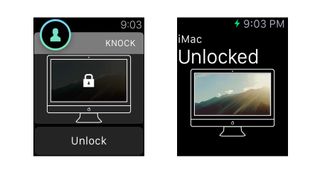 Passwords are essential, but they're also rubbish. The ones you can remember are easy to guess, the ones that are hard to guess are equally hard to remember, and if you do passwords properly it can be a pain to enter complicated strings of text and characters when you're in a hurry.
Wouldn't it be better if you could prove your identity to your Mac with your Watch? That's exactly what Knock does.
Knock is a simple idea brilliantly executed. Provided your Mac is of relatively recent vintage - an Air from 2011 or better, a MacBook Pro or iMac from late 2012, a 2013 or later Mac Pro and so on - you can use Knock to automatically unlock your Mac or Macs by tapping the Apple Watch app.
It's connecting via Bluetooth Low Energy - hence the reliance on relatively recent Macs; older ones don't have Bluetooth LE - which uses tiny amounts of energy, so you don't need to worry about the app killing your Watch's battery any more than usual, and it works instantly if your Mac isn't in sleep mode.
It may seem quite pricey for such a simple app, but think about how much time you spend locking and unlocking your Macs in a year.
Note that you may not need this if you have a recent Mac running macOS Sierra, as there's a similar feature built in, but Knock is compatible with slightly older Macs too.
Authy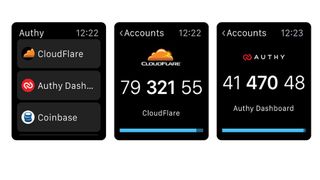 Passwords aren't good enough anymore. The easy ones are too easy to crack, and the hard ones keep getting compromised when big-name firms get hacked and all their customer data gets compromised.
You can make your various online services much more secure with two-factor authentication, which adds an extra level of security to everything, and that's what Authy offers.
The big benefit of Authy is that it isn't insecure like SMS is, so you can be sure that your two-factor authentication code isn't going to be intercepted and used by the bad guys.
Authy is compatible with Google Authenticator, so any service that accepts the Google tool will accept it – so you can use it not just with Google but with Microsoft and Amazon accounts too. There's a growing number of Authy-supporting websites as well.
As ever, the bulk of the work happens on the iPhone app, with the Watch component simply providing access to the time-limited tokens so that you can enter the appropriate code into the site you want to access. That's not a weakness: the whole point of two-factor authentication is to make life harder for the criminals without making it more annoying for you.
Find Near Me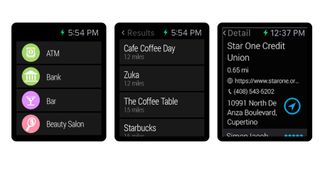 Guess what this does. Go on, guess. Yep: it finds things near you. Sadly that doesn't mean the TV remote, your keys or the gaming controller – whoever finds a way of doing that which doesn't involve sticking Bluetooth tags to everything will become a trillionaire – but it does mean cash machines, bars and coffee shops. The only in-app purchase is $2.99/£2.99/AU$4.49 to remove adverts from the iPhone app.
It works exactly like you'd expect. First, you choose the category of thing you want to find. Then, you scroll through the results. And to finish, you tap the one you want to find out more about. From there you can then be guided on foot, in the car or on your bike.
The app makes extensive use of Google Maps, and that means it's only as good as the Google Maps data: some users report inaccuracies such as long-shut businesses. If you're wondering why you can't just use Google Maps and cut out the middleman, it's because Google canned its Apple Watch app last year: if you want Google Maps on your wrist, you need a third-party app that hooks into it. Like this one.
Deliveries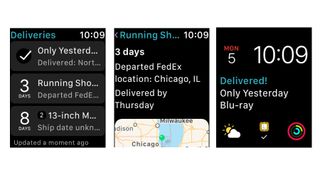 Is there anything more annoying than missing a delivery of something you're really excited about? Yes: there's missing a delivery of something that you really need to have in a hurry. Deliveries can help ensure that neither of those things happen to you.
It supports stacks of services including UPS, FedEx, US Postal Service, DHL, TNT, Canada Post, City Link and Royal Mail, can track packages, can add delivery dates to your calendar and can record past deliveries in case you need to refer to them later.
It's unnecessary for the odd package, but it's useful if you do a lot of online shopping or if you're in the middle of a project, such as furnishing a flat.
On the Watch the app acts as a ready reminder of what's in and what's incoming, so for example it'll show you if an item has just been delivered as well as the ETA of any other outstanding deliveries.
There's a Complication too, which works particularly well on the Utility watch face and shows you the most recent delivery. If you have the macOS version of the app too you can automatically sync between Mac and mobile via iCloud or the developer's own cloud sync service.
Clicker
We've described the iPhone as the Very Hungry Caterpillar of tech, munching its way through entire product categories as stand-alone devices become iOS apps. We're often delighted by the simplest things, and Clicker is one of those things.
It's a replacement for those hand-held clickers people use to count things, and it's appropriate for counting people, days, laps, drinks or anything else you might want to quantify.
To use it, just tap on the screen and tap again when you want another click. Haptic feedback means you don't need to look at the watch, and you don't need to have the clicker display all day: when you're ready for a new click you can pull it up from its Complication. You can record up to 2,147,483,647 taps.
And that's pretty much it: there are only two other options: subtract, to remove a mistaken click, and reset, to start again.
It's hardly a must-have but it's actually very handy, so for example we've seen users tracking how often they smoke during the day or how many glasses of water they've had. We wouldn't recommend using it for counting sheep, though - or at least, not on the first-generation Apple Watch, whose battery isn't really up to working nights.
Stocard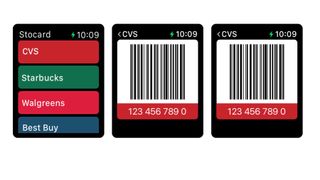 One of the things we hoped Apple's Wallet/Passbook app would deliver was an end to purses and wallets full of loyalty cards: our purse is so packed with the damn things that if we sit down with it in a back pocket one of our buttocks is a good six inches higher than the other. Wallet hasn't quite changed that yet, but Stocard has a pretty good try.
Stocard enables you to scan and store your loyalty cards (and some other cards such as some membership cards; generally speaking if it has a barcode or QR code on it, Stocard can probably digitize it), and then access them from your iPhone or Apple Watch when you're at the checkout.
Whether it works or not depends on the store infrastructure: until recently the self-scanners in Tesco didn't like it, but now that they've been upgraded they scan happily. The cards are automatically added to your Apple Wallet as well as kept inside the Stocard app.
The main benefit for you is convenience, as not only does Stocard reduce the amount of cards you have to carry without forcing you to miss out on loyalty points, but it also provides you with details of relevant special offers as you shop.