Best Apple Watch apps for photo and video
GoPro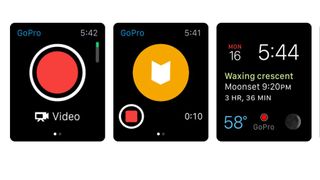 The GoPro app used to be called Capture, but its new name suits it better: after all, what else would you call the companion app for GoPro cameras? Like most camera apps for the Apple Watch, the bits you can do on your wrist are fairly limited. It's really just a viewfinder and remote control, which is perfectly useful if hardly revolutionary.
The main iPhone app is more ambitious. It features Quikstories, which automatically turns your GoPro footage into a finished video complete with effects and background music. You can view the images and video you've captured on your camera, trim videos down and share to social media or via text or email.
One nice feature is the ability to overlay data such as GPS paths and locations on top of your footage. You can even detail the G-force you felt when you were doing whatever extreme thing you've been recording. There's also video stabilization for Fusion cameras and the ability to turn 360-degree photos into videos.
It's pretty good, but make sure your camera is compatible. The app is currently limited to Fusion, HERO6, HERO5, HERO4, HERO Session, HERO+ LCD and HERO+ cameras.
Camera Plus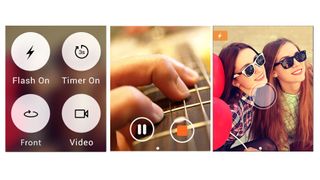 While using Apple's Watch as a remote control or viewfinder can be handy - we can't be the only ones who use it to see what's on top of cupboards or to read the meters when there's loads of stuff between them and us - the app has always felt as if it could do more. That's where Camera Plus comes in.
As an iPhone/iPad app it's an interesting and fun alternative to the iOS 11 default, with a useful feature that enables you to control the camera on one iOS device with the Camera Plus app on another. It adds an extra function to the Watch too.
The Apple Watch bit is obviously a lot less ambitious, but it's still useful. As with the Apple app, you can remote control the iPhone or iPad camera, turn the flash on or off, use a countdown timer and switch between the front and rear cameras. But where the Apple app offers the ability to turn Live Photos on or off, Camera Plus gives you the option to switch between photo and video.
The main iOS app is clearly the driver here, with some fun and useful features including flexible flash levels for better exposure and the aforementioned iOS-to-iOS remote control. But the Watch app is a handy, or perhaps wristy, companion.
HomeCam for HomeKit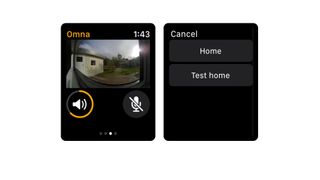 You can probably guess what this one does from the title: it's an app for cameras that use Apple's HomeKit. The app is a remote viewer that enables you to check multiple cameras simultaneously, and if your hardware supports features such as temperature and air quality monitoring you can then take action by invoking other HomeKit devices such as connected air conditioners or heating.
It can also combine data from multiple devices together, so for example you could overlay temperature data over a live camera feed, and it's fully compatible with the new Siri Shortcuts feature in iOS 12, which enables you to create automated actions. You can also use it to control HomeKit features such as the lighting in a room, and you can add a Today widget for even faster access from your lock screen.
The main action happens in the iPhone and iPad app, largely because of screen real estate: the Watch has many good features, but a giant screen isn't one of them. That means the Watch app shows a single-camera view.
It can use your Watch's microphone and speaker as an intercom (again, if your camera hardware supports audio), but it's best suited for quick camera checking when your iPhone isn't handy.
FiLMiC Pro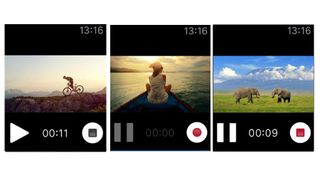 Here's an odd one: FiLMiC Pro has a distinctly average App Store rating of 2.3 out of 5 at time of writing, and yet the developers' shelves are groaning under the weight of the app's many awards from reputable websites and publications who say that for video, it's the best thing since bread came sliced. What's going on?
The short answer is that when you have hardly any reviews, one or two disgruntled users can send your rating down the drain. That's clearly what's happening here.
Negatives first. FiLMiC Pro costs more money than many apps, and it can kill your phone battery in prolonged use. But it's an incredibly powerful iOS camera app used by film-makers, journalists and hobbyists alike. Pair it with a decent editor and your iPhone is a pro-level film studio.
The Watch app is really just a remote for the main event. You can record, pause and resume your recording and see what the phone camera's pointing at, and you can play back what you've just recorded. It's not really different from Apple's own camera Watch app.
But the app it connects to is a powerhouse: people complaining about the price tag should really be marveling that it's possible to get something so good for so little money.