Best Apple Watch sleep apps
It's worth noting that there aren't a lot of apps for sleep tracking, as the Apple Watch can't really last overnight on battery.
That said, there are some clever apps to do it, and many people are now on their sequel Apple Watch and can even have one for the day and one for the night - so sleep tracking with your 'Night Watch' is possible.
Sleep Watch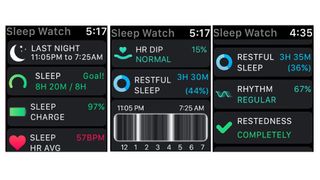 The massively improved battery life of the current generation Apple Watch makes it much better for sleep tracking: you can now wear your Watch in bed, pop it off while you get ready for work or school and leave home with a full charge for getting on with your day.
And that means there's been an influx of new sleep apps, many of which take the basic idea of sleep monitoring and add additional reporting and insight.
When you use Sleep Watch you'll get used to the daily question, how well rested do you feel? The app tracks that as well as your heart rate and the quality of your sleep to give an indication of how good or otherwise your sleep has been.
It offers daily sleep briefings (we'd love an abusive CARROT-style AI for the days when the report clearly says we're knackered) and trend analysis, and it highlights whether your heart rate is dropping normally during rest - a potential warning sign if it isn't.
It'd be good if we could also add blame, such as a heavy night out causing us to get up all through the night, but maybe that'll be in a future version.
Best Apple Watch apps for music, podcasts and audiobooks
Pandora
Spotify isn't the only streaming music giant to bring offline listening to the Apple Watch. If you're in the US (the service isn't currently available to international listeners) Pandora does it too. It has released a brand new app that enables you to listen offline, and rate and control your music without having to reach for your phone.
The app itself is free, but you'll need a paid-for Plus or Premium subscription to use it: like Spotify, the free tier doesn't support offline music. Offline listening requires watchOS 5 or later. Plus subscriptions are currently $4.99 per month and Premium subscriptions are $12.99.
The updated iPhone app brings support for Siri Shortcuts, and it also integrates with the Messages app so that you can send and receive songs without leaving the Messages app. There's even an Apple TV app that uses the same subscription.
Pandora is a good way to get hold of not just music but podcasts too. Discovering new content, whether music or podcasts, is simple thanks to a good selection of recommendations and playlists, and if you go for the Plus subscription you can create unlimited personalized stations as well as up to four stations for offline listening.
Pocket Casts
Pocket Casts is a firm favorite among podcast users, with 8 years of constant improvements under its belt. Now in its seventh incarnation, it's one of the best ways to stay on top of your podcast pile. It's also eminently sociable with support not just for the Apple Watch but for Chromecast, Sonos, CarPlay and AirPlay.
Although the app is perfect for beginners, there's a lot here for serious listeners, including excellent filters, automatic downloads, listening history and extensive notifications.
Version 7 enables you to listen to individual episodes without subscribing, streamlines the user interface, has excellent archiving that retains your playback history and supports Siri Shortcuts. There's been a big effort to improve discovery, so the app makes it much easier to find new podcasts it thinks you'll like as well as the podcasts you've found for yourself.
As with other apps of this ilk most of the heavy lifting is done by the iPhone app, with the Watch app there to provide access to the features that make sense on your wrist: playback control, of course, but also speeding the podcast up or down, trimming silence and boosting the volume. You can see what's next, browse new releases and scroll through the podcast charts too.
Spotify Music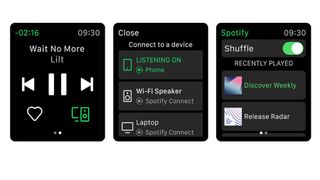 At last! Spotify finally makes its way to the Apple Watch with an app that does everything you might expect it to do. It plays music! It pauses music! It connects to other devices via the magic of Spotify Connect! It gives you playlists! It has a shuffle button!
The one thing it doesn't do, though, is stream: the music you hear via your Watch is coming from your iPhone, not directly to the Apple Watch. We'd expect that to change in future versions of the app. It hasn't been optimized for the larger display of the Apple Watch 4 either, so it looks a bit odd on the most recent models.
We're big fans of and subscribers to Spotify: its catalog is enormous and it's enormously sociable too, with apps for every conceivable platform. Being able to pay once for an ad-free subscription that works on your phone, tablet, Watch, TV, console and in the car is a fantastic thing.
While the ad-funded version isn't too annoying we think the higher quality and convenient offline listening features (already available on iPhone but coming soon to the Watch app too) of the paid-for Premium version are well worth the money.
djay 2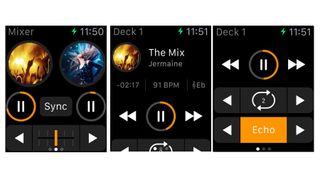 We're big fans of Algoriddim's clever DJ app, and it's a particularly fun thing to have on your iPhone: its clever algorithms and straightforward interface make it easy to mix like the pros, its Spotify Premium integration means your DJ box is almost infinite and its Automix feature does a really good job of working out the best places to transition and the right fades and effects to apply.
But sometimes you want to take part without necessarily firing up the full djay app on your phone, for example if you're in party mode and want to quickly change tracks or just show off a bit.
Enter the Apple Watch app, which enables you to DJ in much the same way as you would if you were a giant in a world of really tiny people: don't expect to do much scratching, but you can fade from one track to another, pause and sync, add special effects or turn Automix on and off. It's effectively Apple Music's watch integration brought to the world of DJing, and that means it's an absolute hoot.
The watch integration is little more than a remote control, but that's okay: the main app is really clever and enormous fun.
Overcast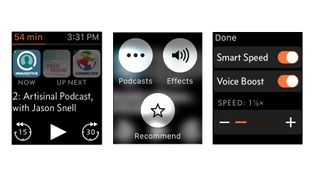 If you love to listen to podcasts and you don't already have Overcast, you're in for a nice surprise: it's a superb app, and its Watch integration is particularly well thought out.
In addition to the usual controls and lists of shows and episodes, it gives you quick access to two really useful features: Smart Speed, which can make the podcast play more quickly without turning into Alvin and the Chipmunks; and Voice Boost, which can make indistinct speech noticeably clearer and compensate for podcasters who can't pick a single spot in front of the mic.
If you've ever strained to hear something only for the host to move closer to the mic and nearly blow your eardrums out, you should be rushing to the App Store already
Overcast is free, or $9.99/£8.99/AU$12.99 without the ads. We'd recommend going for the ad-free version, because while the advertising isn't too invasive this is an app that's been put together by people who really care about the end user experience, and paying for the full app is a great way to ensure that they'll keep on caring.
Castro Podcasts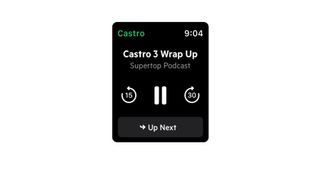 The Castro podcast app has been around for a while and has developed a loyal fanbase, and it's just been given a major overhaul as well as an Apple Watch companion app.
On your wrist it's really very simple: it enables you to move around the audio, change the volume or move between episodes.
On the iPhone the main app has been completely rebuilt with a brand-new playback engine to significantly boost speed and responsiveness, and the player screen now incorporates AirPlay controls for easier streaming to compatible hardware.
It's a very good app, and there are extra features if you go for the optional Castro Plus subscription, including getting rid of silent sections, mixing stereo down to mono, episode limits to prevent your device from downloading entire volumes of podcasts, and automatic start positions to skip past standard intros and other pre-content content.
You can set these preferences on a per-podcast basis, which is a really useful option for power podcast users. You can try Castro Plus for a week before deciding whether to get it, and it's available as a quarterly or yearly sub.
Audible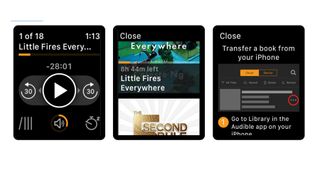 You may know Audible already: it's the Amazon-owned audiobook service that enables you to devour books on the move, in bed or anywhere else you can get comfortable. The catalog is vast, books are often narrated by very big names and the overall quality is very high. And now, you can use it without taking your phone with you thanks to its Apple Watch app.
The app is compatible with every Apple Watch made so far and enables you to transfer audiobooks to your Watch, provided of course that you have enough available storage.
It's important to note that Audible doesn't stream to your watch: you need to sync your audiobook(s) from your iPhone, which can take a while over the Watch's desperately slow connection. But once the book has been transferred you can play, pause, fast forward and rewind. You could listen via the Watch's speaker but we wouldn't recommend it; Audible is best experienced on a decent pair of wireless headphones.
We think the Audible Watch app is best suited to environments where you don't want to have your phone: the gym is the one that springs immediately to mind: we can't be the only people who'd rather listen to a book than pumping techno on a treadmill.