Our favorite Android apps for working out, reducing stress and crafting meals.
SnoreFree
$9.99/£9.99 per month
Curing snoring can be a tricky task, as the cause and effective remedies vary from person to person and often prove elusive.
One unusual approach that you might not have tried is mouth exercises designed specifically to reduce or completely stop your snoring. As you've probably guessed by now, SnoreFree contains exactly these exercises.
Created by Viennese speech therapist Dario Lindes, these exercises have apparently led to an over 80% success rate over the many years he's been using them.
Each technique is explained in detail and accompanied by a demonstration video, so they're easy to get to grips with, and you'll be guided through a 10-15 minute routine every day. You do have to pay a moderately expensive subscription to use SnoreFree, but discounts are available if you commit for a year, and you can test out some of the exercises for free.
SuperBetter
Free
SuperBetter isn't new, in fact it has been changing people's lives for years now, but the fact that it's capable of doing that makes it well worth highlighting.
The Android app essentially gamifies the process of looking after your physical and mental wellbeing, providing you with quests, power ups and bad guys to beat, all of which take the form of small tasks, such as drinking a glass of water, or walking around the block, or things to avoid, such as overeating.
Completing the challenges awards you achievements, unlocks new challenges, and helps level you up – in game, and in real life.
Sticking with SuperBetter can help you build good habits, kerb bad ones and generally become happier and healthier.
Brightmind
Free + $94.99/£87.99 yearly subscription
Meditation apps have flourished on mobile. At this point there's quite a large number of high quality ones, but whether you're looking for a change or haven't quite found one that's the right fit yet, Brightmind could be worth a look.
This Android app aims to tailor the experience to your needs more than some other meditation apps, as you can pick whether you want a male or female voice guiding you, and tell the app what your main goal with meditating is, be it to relieve stress, communicate better, or a number of other things. Doing this lets the app highlight meditation courses that it thinks are most relevant to you.
Once you actually get down to meditating, you can also choose the duration of the meditation, and if you don't want a guided experience there's also a self-guided meditation mode, which lets you pick a duration and optionally add interval bells.
Brightmind contains hundreds of meditations, but most of them require a subscription. This costs $94.99/£87.99 per year. The app supposedly also offers a monthly subscription, but we can't work out how to access it. It does at least give you a seven-day free trial before charging you for the year though.
FibriCheck
Starts at €3.99 (around $4.50 / £3.50 / AU$6.50) per month
Recent Apple Watches and the Samsung Galaxy Watch Active 2 have an ECG (electrocardiogram) built in, but phones so far are left out. FibriCheck though promises to be just as good, and it works on Android handsets with no special hardware.
By placing your finger on your phone's camera, the FibriCheck app can measure your heart's rhythm and detect any abnormalities – which could be signs of atrial fibrillation, among other things.
The app generates an instant report that you can download and – if you wish – share with your doctor, and optionally you can also get your measurements reviewed in-app by medical experts (though this costs more).
After a 1-day free trial, which is worth doing just to get a one-off reading, you'll have to pay a monthly subscription to keep using Fibricheck. The basic subscription starts at €3.99 (around $4.50 / £3.50 / AU$6.50) per month, while getting a review of each reading by medical experts along with a more detailed report starts at €10.99 (roughly $12 / £10 / AU$18). In both cases that's if you commit to a year upfront. The prices go up if you pay monthly.
It's not cheap then, but it is a remarkable feature to have access to on your smartphone. And if you're skeptical of the accuracy it might reassure you to know that FibriCheck has been CE-certified and FDA-approved.
Mission Adventure
Free + various IAP
Mission Adventure aims to turn any walk into a mission, or, er, an adventure. Aimed primarily at young children, it allows a route setter (that's you) to create a walking route on a map of the area around you.
The route will have a number of markers on it, and at each marker part of a story will unfold. For free you get access to a swashbuckling tale, where players will interact with pirates and explore the seas by walking (or sometimes running) from one marker to another, and by answering nautical questions.
The story has three chapters, with each walk forming one chapter. There are then two additional stories that can be purchased for $2.99/£2.99 at the time of writing. So there's not a ton of content, but stories can play out differently based on the decisions you make and whether you get questions right or wrong. The developers also have more story packs in the works. In fact, by the time you read this, some might be available.
And while it lasts, Mission Adventure has the potential to be a lot of fun for youngsters, and a useful tool for getting them out of the house – if not away from screens.
Wisdo
Free
Many of us have struggles in our lives, but you don't need to struggle alone. With Wisdo, you can join one or more groups focused on an issue you might be facing, such as anxiety, depression, or eating disorders. Though there are also groups for things like learning to meditate and becoming an activist, so it's not all directly tied to health.
You can optionally share more details of what you've been through on your profile, while within groups you can post messages, and read and reply to other people's posts, offering support and guidance.
You can also have private conversations with people in the app, with the idea being that people who have been through the things you're struggling with can help guide you, or vice versa.
It's an app that's clearly connected with a lot of people – so much so that it's a '2019 Google Play Award Winner' for 'Social Impact', so if you think you could use a friendly ear – or offer one – then it's definitely worth downloading.
Bedtime Creatures
Free + various IAP
Bedtime Creatures is an app that plays relaxing music and nature sounds to help you chill out, sleep, or to drown out background noise.
Lots of other apps have a similar goal, but Bedtime Creatures is unusually cute and colorful. Each sound has a related animated scene with a cartoon animal, including a raccoon by a campfire, a panda in a bamboo forest and several others.
Each scene has its own music and background audio, and you can unlock additional sounds to add to the mix using gems. You'll also need gems to unlock additional scenes. These gems can be bought, but you start off with enough for a few scenes or a bunch of additional sounds and simply launching the app sometimes rewards you with gems.
You can also customize the appearance of the animals with clothes, which can be bought with a second currency earned over time through simply using the app. Though this currency can also be gained by watching adverts (which are never forced on you) or swapping gems for it.
Having two currencies in what's ultimately quite a simple app seems excessive, but since everything ultimately can be obtained with gems and nothing is vastly expensive at the moment, you can just buy a pack of gems, unlock everything you're interested in and ignore the rest.
FreeMind Meditations
Free + $10.99/£9.99 monthly subscription
FreeMind Meditations is one of many meditation apps on Google Play, but it aims to stand out through its use of music.
The meditations include bespoke 'MetaMusic' created by film composers and professional musicians, and beyond being enjoyable to listen to while meditating, this music includes trigger sounds that supposedly evoke specific states of mind and help you engage more deeply and easily with the meditations.
We can't say with any certainty how well this worked for us, but it definitely doesn't detract from the experience and if you struggle to get into meditations usually, FreeMind might be the solution.
That aside, this has most of what you'd expect from a mediation app, including a large library of meditations covering various topics. There are more than 250 in all, but only 14 are free – the rest require a subscription.
Breeze
Free + £4.79 (around $6.35) monthly subscription
Breeze is a relaxation app that packs in so many features, it can easily replace several others on your phone.
It offers various guided meditations and relaxation exercises, as well as soothing audio of numerous kinds, including ASMR and nature sounds, all of which can be set to play for a duration of your choice.
There are even bedtime stories here, which will probably mostly be of interest to younger listeners, given that the books chosen are things like The Little Prince and Alice's Adventures in Wonderland.
You can also have Breeze automatically wake you up to soothing sounds and set it to remind you to take a break during the day.
There's a lot here and much of it is free, but for the full selection of sounds, meditations and stories, and to remove adverts, you'll have to pay a monthly subscription. This usually costs £4.79 (around $6.35), but the first month is half price.
We'd say that if you're mostly interested in just one particular part of Breeze – say the meditations or soothing sounds, then you can find better or cheaper options elsewhere, but if you like the bulk of what Breeze has to offer then the subscription should be worthwhile.
Shine – Self-Care & Meditation
Free or $9.99/£9.49 per month / $53.99/£50.99 per year
Shine is a self-care app that combines a number of things other apps specialize in.
You can start by 'checking in' every day, saying something that you're grateful for and something that you're doing to make yourself happy. This is a small thing, but by thinking about what's good in our lives we really can feel better about them.
Shine will also send you a motivational text every week day, but the bulk of the app is a selection of articles and audio tracks covering a variety of topics. Some of these are meditations, but there's also content on everything from improving sleep to avoiding burn out.
As with many self-help apps, much of this is hidden behind a paywall, with Shine costing $9.99/£9.49 per month or $53.99/£50.99 per year to unlock everything. That's not cheap, but there's quite a lot of content, including seven-day audio challenges that provide a deep dive on a specific topic.
QuitNow!
Free + $3.95/£3.95
Quitting smoking is always going to be hard, but there are tools to help, including QuitNow!. The app first asks you how many cigarettes you smoke a day, how long ago you had your last one, how long you've been smoking, and a few other things.
It then shows you a dashboard, complete with the amount of time since your last cigarette, which constantly counts up in seconds. You can also see how many cigarettes you've avoided and how much money you've saved based on that.
A second screen shows how close you are to achieving certain health milestones, such as a lowered risk of sudden death and improved physical condition (all of which is based on World Health Organization data).
There are also achievements to unlock, such as one for going without a cigarette for two days, and a community page, where you can post your progress and encourage others.
That's all free, but for a one-off fee of $3.95/£3.95 you can access 55 more achievements, a better community chat screen, custom achievements and more, as well as getting rid of adverts. If you're serious about quitting and the app is helping, then that's probably a price worth paying.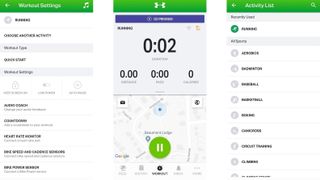 Endomondo
Free + £9.99 (roughly $13) monthly subscription
If you run, cycle or even like to track your walks then there's a good chance you've come across Endomondo before. As one of the oldest, biggest and best apps in the business - it stays that way thanks to regular updates; at the time of writing the app was updated less than two weeks ago.
Even if you don't run or cycle you might still want to check out Endomondo, as - despite its GPS-tracking specialities - it can also track more than 60 other sports, such as golf, climbing and ice skating.
Alongside route and distance tracking, Endomondo can also track your speed, pace, calories and more. Ff you're doing a sport that can't be tracked with GPS then you can manually enter your workout, so you've still got a log of your achievements.
Additionally, you can link Endomondo to heart rate monitors and cadence sensors to incorporate their data into your records. The app can also be connected to auxiliary fitness accounts such as Google Fit, Garmin Connect and Polar Flow, so all your health and fitness data will be in sync.
Endomondo also lets you create goals for individual workouts or for your week, so you have targets to hit - the app will even alert you when you achieve a personal best. Plus, you can create and participate in challenges against friends and other users of the app.
And if all that isn't enough then you can also subscribe to Endomondo Premium, which adds heart rate zone analysis, interval training, personal training plans, access to advanced statistics (such as how far you've run in total each month), and more.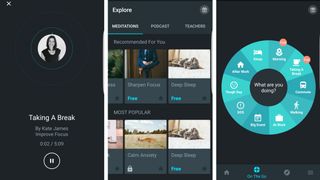 Simple Habit
Free + $9.99/£9.99 monthly subscription
Meditation apps are meant, among other things, to relax and de-stress us, but if you're anything like us they run the risk of doing the opposite, becoming chores that we feel guilty for neglecting.
Simple Habit doesn't completely solve that problem, but it gets some way there, by offering short 5-minute meditations, that you can easily fit in at any point during your day.
Other meditation apps have short sessions too, but there are usually only a few of them, mixed in with longer meditations, while they're all short in Simple Habit (though we do have to point out some stretch beyond 5 minutes to cater for those that do want a bit more relaxation).
Simple Habit also has a variety of different teachers to guide you, so if you don't get on with one (or just get bored of their voice) there are plenty of others to choose from.
The rest of the app is as you'd expect, with meditations designed around specific life circumstances, goals or moods, and a simple interface that doesn't get in the way.
Like Headspace, most of the meditations are locked behind a subscription, but you can listen to a handful for free to see if Simple Habit is for you.