The best of the rest, and coming soon
Batman: The Animated Series
You've seen all the Nolan and Burton Bat flicks, and you're wisely avoiding the new Batfleck films. If you're still hankering for a Batman fix, you could do far, far worse than jumping into Batman: The Animated Series. Kicking off back in 1992, it bridges the gap of the Burton aesthetic and the comic book series, and is regarded by Batman fans as having perhaps the definitive onscreen take on the Dark Knight.
It's ostensibly a kids cartoon, but the ongoing storylines are captivating and stylishly noir-like in delivery. And to cap things off, the voice cast is superb – Kevin Conroy is an assuredly-good Batman (reprising the role for the recent Batman: Arkham games), while Star Wars' own Mark Hamill is a fantastically unhinged Joker.
Seasons on Amazon Prime Video: 4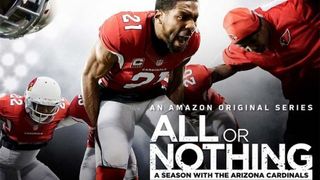 All Or Nothing
Anyone who wants something to fill their Friday Nights Lights hole need to look no further. This documentary is a superb look at how gruelling a season of American football is. It gives the viewer unprecedented access to the coaches, the staff and, most importantly, the players and it's a fantastic watch. Tying the whole thing together is also some superb narration from Mad Men's Jon Hamm.
NEW ENTRY: Grand Prix Driver
This new Amazon Original documentary takes viewers underneath the glitz and glamour that is the surface of Formula 1, to explore the inner-workings of the 2017 McLaren team. Narrated by Michael Douglas, this documentary follows rookie driver Stoffel Vandoorne over four episodes, as he and his team prepare for the 2017 Formula 1 World Championship.
Season on Amazon Prime Video: 1
NEW ENTRY: Grimm
Merge a fairy tale fantasy with a police drama and you get Grimm. It's all about Nick Burkhardt, a detective based in Portland in the US who discovers he's a Grimm. Which basically means he's a kind of mystical guardian who must keep the peace between humans and creatures called Wesen. As you might expect, a lot of the characters are inspired by Grimms' Fairy Tales, but the show draws from many other sources too to create a story that's a little like Buffy The Vampire Slayer, but with fairy tale creatures.
Seasons on Amazon Prime Video: 6
Coming soon to Amazon Prime: Oasis
The works of Michel Faber nearly always translate well to the big and small screen. The Crimson Petal and the White was given a great mini series adaptation by the Beeb in 2001. And Under The Skin is one of the most inventive films ever made. Another one of his works, The Book of Strange Things, has been given the Amazon Originals Pilot treatment. Called Oasis, the show is a twisty opaque look at a priest who is living in a human colony on another planet. Richard Madden, last seen in Game of Thrones, stars.