How to speed up your Wi-Fi
Quick and easy tweaks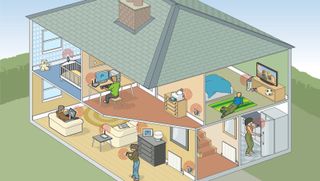 Speeding up Wi-Fi
Today's WiFi networks are more powerful than ever, but you can still encounter problems at the edges of your network's range, where 'dead spots' see a weak or non-existent signal.
This might be down to the placement of your router, but it can also be caused by interference from other networks where they overlap.
Most network interference occurs when competing networks are transmitting on the same channel. If you know who's transmitting on which channel, you may be able to improve matters by switching your own network to a less congested one.
In this tutorial, we'll show you how to use a free app called WiFi Analyzer to not only measure your own network's signal strength at various points in your home, but also analyse which channels are being overused, enabling you to find your own sweet spot among all that competition.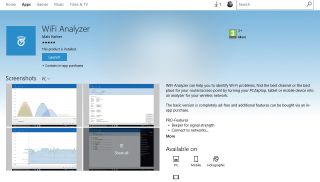 1. Get WiFi Analyzer
Open the Microsoft Store and search for 'WiFi Analyzer' – don't confuse it with WiFi Analyzer Tool, so verify it's published by Matt Hafner before clicking the 'Install' button.
Once downloaded and installed, click the 'Launch' or 'Open' button to get started with using it. You'll first be prompted to select your location – choose 'Europe' and click or tap 'Close'.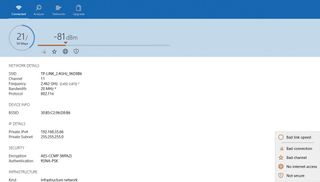 2. Review current network settings
WiFi Analyzer will first check your local network settings, which it'll display under the 'Connected' section.
It basically gives you an indication of your network's strength and whether or not there are other networks interfering with your signal.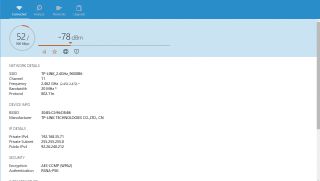 3. Analyse network interference
Where multiple network signals overlap, interference can occur if they're using the same channel to broadcast on.
In areas where the signal is weak, look to see if the star symbol beneath the dBm line turns orange (it may flicker as the signal fluctuates, or be a permanent fixture if it's particularly weak).
If it does, you may be able to improve performance by switching channel.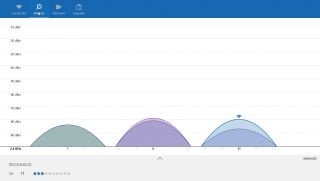 4. Review overlapping signals
Switch to the 'Analyze' tab to view a graph depicting all detected networks, complete with their signal strength and what channel they reside on.
Most networks broadcast on channels 1, 6 or 11, so you'll probably see a number of overlapping signals, with your own network identified by the Wi-Fi symbol above it.
Tap the 'View' button to show extra detail, such as each network's SSID (the name that the network is called).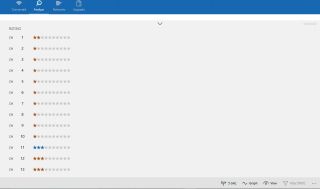 5. Show more info
Beneath this main view is the currently recommended channel, complete with a star rating based on the signal strength.
This may indicate the channel you're currently on is the best one, but tap it and you'll get a list of ratings for all available channels.
Look for the channels with the highest ratings, then make a note of them should you wish to try a different one.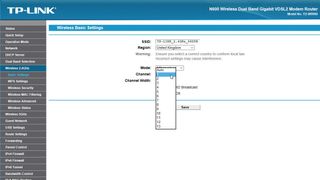 6. Switch channel
If you want to experiment with a different channel to see if it improves performance, you'll need to consult your router's documentation to find out how to change the channel.
In most cases, this involves logging into its web-based interface and locating the appropriate section. Select your channel, click 'Save' and wait while your network adjusts to the change.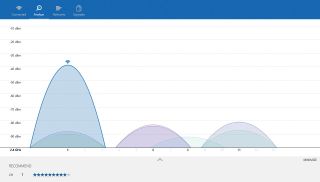 7. Test change
You can then return to WiFi Analyzer and see if your changes have helped improve the signal strength and quality of the connection.
If it makes things worse, switch back or try a different channel. To avoid overlapping interference from other channels, switch between channels 1, 6 or 11 on a traditional 2.4GHz network (depending on which has the least congestion).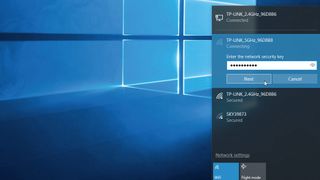 8. Switch to 5GHz
If you have a dual-band router, switch on the 5GHz network and move compatible devices over to it.
Not only does this ease congestion on your own network, the 5GHz network is less commonly used, so there's less competition from other networks.
If your PC has a 5GHz-compatible adapter, check for interference from WiFi Analyzer via the Analyze section – click '5GHz'.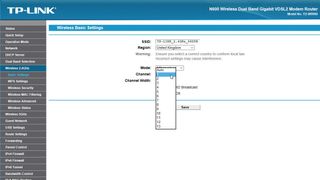 9. Switch channel (again)
Unlike 2.4GHz networks, channels don't overlap on 5GHz networks, so if you're sharing a channel with another network, you can switch to any different channel.
Use the graph in WiFi Analyzer to identify the least congested channel available, then use your router's own configuration utility to manually switch channel. Once done, check the results in WiFi Analyzer.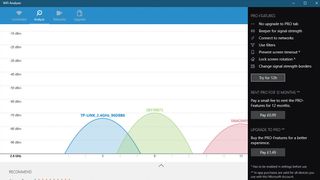 10. Your network, decongested
It's worth testing your signal in different areas of your home – you may find what works in one area won't work in another due to the presence (and strength) of different networks.
For extra tools, such as a handy beeper for indicating your network's signal strength, try the Pro version: tap '…' and choose 'Upgrade to PRO > Try for 12h'.