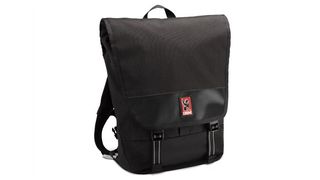 Introduction
Your laptop is likely to be an expensive piece of equipment, so it pays to put the device in a carrying bag which will protect it sufficiently. But whether you're packing a tiny MacBook Air, a super-slim Ultrabook or a huge 17-inch laptop, there are lots of other considerations to take into account when buying a laptop bag aside from mere protection.
For example, you have to bear in mind issues like comfort, and things like adjustable straps for certain types of bag, particularly if you'll be carrying your hardware a long way. You also need to consider the appearance of your laptop bag – not just how smart it looks, but also how tempting it might seem to would-be thieves.
We'll discuss these and other issues such as build quality in the course of this slideshow, so dive on in, and by the end of this article you'll have gained a much better idea of what type of laptop bag you should purchase.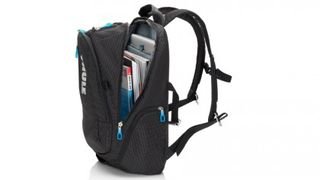 Size and style
You can put a laptop in any bag, backpack or holdall. So why buy a bag designed specifically for the purpose? Laptops come in sizes from 11-inches to 17-inches, and there are bags specifically designed to take each and every size. Though most offer a compartment that's designed to hold a laptop that, for example, is 'up to' 17-inches in size, go for as close to the size you need as possible. An 11-inch model will rattle around a compartment sized for a larger laptop.
Style is up to you, but do make a decision about what kind of bag suits your lifestyle. Are you a backpack wearer or an over-the-shoulder messenger bag person? Most people prefer one or the other, not both. Think about where you're going to be using it – backpacks are great for getting through airports quickly and for trips where you might be doing a lot of walking, while messenger bags can look more formal and professional during conferences or at meetings.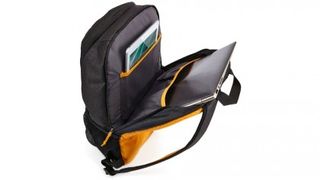 Pockets and protection
The whole point of a laptop bag is to protect your device, and that means having as snug a fit as possible. As well as looking for laptop compartments designed specifically for the size of your laptop, choose a laptop bag that uses soft but firm fabrics for the lining, much as you would expect to find inside a laptop sleeve, such as neoprene (the stuff used to make wetsuits) or faux-felt.
A good laptop bag will house not just your laptop, but your entire gadget arsenal. Look for an easily accessible pocket on the front containing at least two smartphone-sized pouches – one is really useful for storing a portable battery – as well as a pen-holder or two. There should also be space for a coiled pair of earphones, and a clip somewhere to attach house keys. An additional pouch or pocket, or at the very least some room in the main compartment, should be able to store power cables and adaptors.
It's also becoming increasingly common to find a hard-shell compartment for storing sunglasses, which can easily become a casualty of a crush if you stash a lot of electronics in your laptop bag.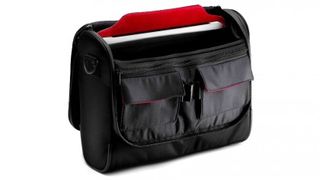 Comfort and versatility
If the style of laptop bag you choose needs carrying, the quality of the shoulder straps is all-important. You need something that's easy to carry, not painful and awkward.
If it's a backpack, look at the two shoulders straps, which should be padded and adjustable, but also shaped so they curve from a join at the top of the bag to the sides at the bottom. Avoid models that have a tab at the top that lengthens the straps and pushes the entire strap system – and the bag itself – lower down your back; such models are surprisingly common, but will make you tired much more quickly.
For messenger bags, choose products with a shoulder strap that's both adjustable and features a shaped, padded section that sits on your shoulder, which doesn't shift about as you walk. A grab handle is also useful if you'd like to make it look like a briefcase now and again, perhaps for business meetings. It's also useful for getting through airport security, and anywhere else where you need to grab and go. If there's a handle, the shoulder strap should be easy to attach and remove, with D-rings at each end that clip on and off easily.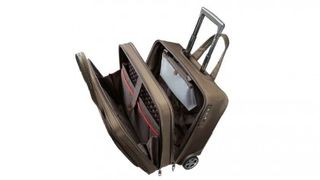 Build quality
Build quality is crucial if you want your bag to last. Make sure zips are good quality – metallic if possible for both the zipper and the teeth. Avoid small, plastic zips. Their inevitable destruction will leave the whole bag useless.
Make sure the bag uses fabric that's hard-wearing and water-resistant, such as ripstop nylon, ballistic nylon or neoprene. However, bear in mind that the better made, and more padded a laptop bag, the heavier it is likely to be before you even insert a 1kg laptop. Conversely, leather or suede look great, but they're heavy without being particularly waterproof or protective. Still, the best laptop bags have padding only where it counts, with no wastage of weight.
The more hiking-orientated bags, though often aimed at 'urban adventuring', often include a rain cover squeezed into a stuff-sack somewhere on the bag's undercarriage, which adds peace of mind in a downpour wherever you are.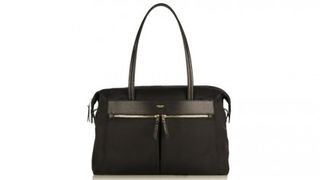 Disguising your valuables
You love your laptop, and you want to show it off to the world to let them know which tech tribe you're part of. If that's you, it's time to grow up and get your priorities right – if your laptop is your major productivity tool, you need to keep it safe. That means making it look as if you're not packing any gadgetry, let alone the latest and very obviously expensive Ultrabook.
As well as choosing a bag that has padding in case of bumps and drops, it's a great idea to disguise your laptop. There was a time when all laptop bags looked the same, making them easy targets for thieves and scoundrels. That's not the case anymore, with dozens of new designs that are more generic. From the distressed leather satchel and canvas bags with buckles to the classic ladies handbag or totes that look like you're going shopping, it's possible to arm yourself with a laptop and much more without anyone noticing.
If you're packing an Apple MacBook, camouflage is all-important since all models are recognisably expensive. Effecting a disguise will also avoid the inevitable "is that the latest MacBook Air?" questions from fan-boys and passers-by in cafes and coffee shops, which could alert others to exactly how much your laptop is worth.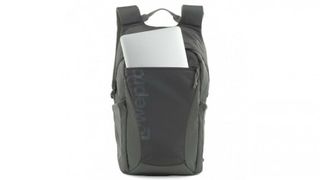 Travelling with tech
Though there are hundreds of laptop bags to choose from, most concentrate solely on the job at hand. However, if you're travelling with multiple gadgets, it's wise to choose something that can take everything.
Camera backpacks aimed at D-SLR owners have recently swapped from catering to those with multiple lenses to photographers travelling with laptops and tablets. You'd now be hard-pushed to find a camera backpack without a padded section for at least one of those devices.
For frequent travellers, airline cabin-sized roll-on luggage is worth considering; you'll almost always find a laptop compartment on the front for easy access. If you are after roll-on luggage, always test the strength of the retractable handle and, most importantly, that the wheels are strong and larger than you would like – go for small wheels and you'll be constantly preventing it from falling sideways as you pull it along.