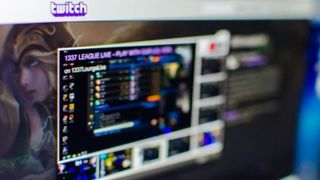 Getting started with livestreaming
Watching other people play games used to be the exclusive realm of the "Let's Play," but live streaming gameplay has offered a new way to view your favorite titles. Improved hardware, faster internet connections, and the immediacy that comes with live broadcasting have all made streaming gameplay possible and popular.
From streamers who have garnered tens of thousands of viewers to the eSports events attracting millions of viewers, Twitch has become the go to place for live games broadcasting. If you want to get noticed, Twitch is the place where the crowds are. Beyond its sheer popularity,, it's also the easiest way to get started with streaming.
Thankfully, jumping into streaming games yourself is a fairly simple process. Right now, Sony's PS4, Microsoft's Xbox One, and the venerable PC can all stream without any extra hardware. All you need is Twitch.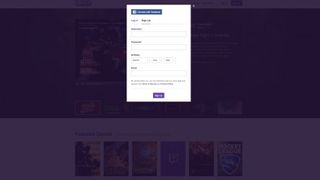 Sign up with Twitch
Of course, the first step to becoming the next Twitch superstar is to sign up for the service. Creating a Twitch account is no different from a thousand other online accounts you've likely set up in the past, but resist the temptation to sign-in with your Facebook or other social media account.
While this method certainly streamlines the signup process, you can avoid headaches and have all your devices live harmoniously under one simple, standalone Twitch username and password.
Once you've signed up with Twitch, the three platforms have different pathways to get you streaming. Basically, the only commonality they share is prompting you for login credentials.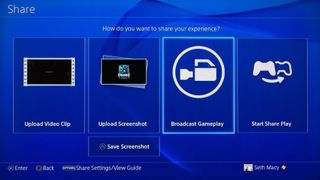 Twitch on PS4
The PS4 had a big advantage out the gate with built-in Twitch streaming, which the Xbox One eventually added post-launch with a patch. Both consoles allow you to record and share games, but the PS4 is arguably the easier of the two to set up and to use.
The Share button on the left side of the controller touchpad brings up the option to broadcast gameplay. Selecting that gives you the choice to stream through Twitch as well as Ustream, another streaming service that isn't as heavily focused on gaming.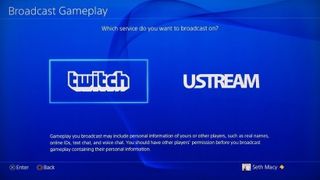 Setting your stream in motion
Selecting Twitch on the PS4 will prompt you for your username and password. After you've logged in, you're given a few configuration options. If you have a PlayStation Camera, you can set it to record your lovely face, which will appear picture-in-picture during your livestreams.
There are also options for sound, so viewers can hear you provide commentary (or cursing) as you play. Note: Video and sound require separate hardware depending on the platform. Picture-in-picture video on PS4 requires a PlayStation Camera for video, while the Xbox One requires Kinect, and the PC requires a web camera. Recording and broadcasting your voice also requires a microphone compatible with your platform.
You can choose the quality of your broadcast, depending on your internet connection. Streaming over a wired connection is definitely recommended for more throughput and because of its reliability. If you want to stream over a wired connection on the PS4, you need to go into the network settings on the console and change the setting from wireless to LAN. The PS4 doesn't do this automatically, so you could be denying your viewers the best experience without realizing it.
Once you've set it up, beginning your streams is as easy as hitting the Share button on the PS4 controller, choosing "Twitch," and going to town on it. The Twitch chat window will live on the side of your screen, and the gameplay window will be sized appropriately to maintain the aspect ratio.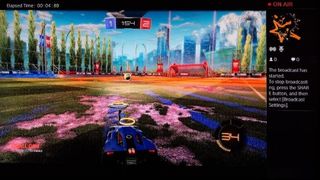 Broadcast Gameplay
Once you're in a game and your Twitch account is in place, streaming is a simple matter of hitting the Share button, selecting "Broadcast Gameplay" and then choosing Twitch as your streaming option.
From there, you can give your broadcast a title and advertise your link on social media. Assuming you've connected your social media accounts on the PS4, there are options to post a link to your stream on Facebook and Twitter. Your Twitch stream also shows up on your profile for your PlayStation Network friends to see on the PS4 home screen.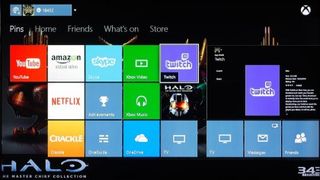 Twitch on Xbox One
Streaming on the Xbox One isn't quite as easy as it is on PS4, but it's nothing to fear. While the Xbox One lacks the lovely Share button that's built into the PS4 controller, the Xbox One does have Kinect functionality for Twitch.
Assuming you own a Kinect 2.0, starting your Xbox One live-streaming experience is a matter of saying "Xbox, broadcast." Starting up Twitch sans Kinect is a simple matter of opening the Twitch app.
Speaking of which, unlike the PS4, you will need to visit the Xbox Store apps section to download the Twitch app before you can begin, as it isn't included with the Xbox One. Setting it up is essentially the same as setting up Twitch on the PS4.
After logging in with your username and password, you'll need to visit twitch.tv/activate to enter the code displayed on your Xbox screen. After that, your Xbox One will be successfully linked to your Twitch account.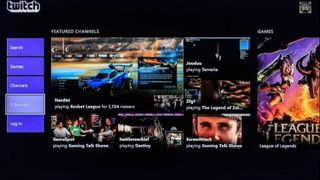 Aren't you glad you got a Kinect?
If you have Kinect, you can set it to pick up your voice as well as record video. Footage from the Kinect will appear as a picture-in-picture for your viewers, so they can watch your expressions, or lack thereof, as you play.
Once the Twitch app is running, you'll find the chat window on one side of the screen, and the gameplay will automatically resize to fit the window. The chat and Twitch interface can be hidden by using the somewhat unintuitive, but easy to use, Xbox Snap feature.
The Twitch app on Xbox One also allows you to watch other people's broadcasts on your television, and you can find content either by searching games or specific channels. The Xbox One lacks the options to notify your friends and fans of your broadcast over Facebook and Twitter. Fortunately, though, Twitch has the option built-in, which we'll get to later.
The Xbox One also encourages fans to join in. Viewers of your stream can send a party request through the Xbox One to join your raid, multiplayer match or what have you.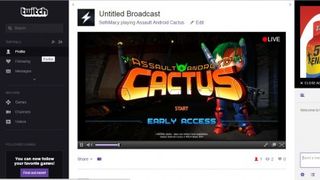 PC: More options
Of the three gaming platforms with built-in streaming, PC is perhaps the most daunting to set up, but if you're playing on PC, you probably aren't afraid of a few configuration options.
The first thing you need to figure out before streaming your PC games is whether your rig can handle it. Twitch officially recommends the minimum specs of an Intel Core i5-4670 or AMD equivalent, at least 8GB of RAM, and Windows 7 Home Premium or newer.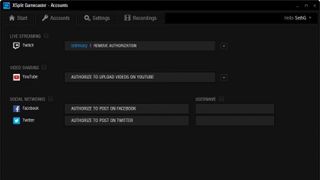 Choosing the right software
Once you've determined that your computer can handle Twitch streaming, the next step is to decide on broadcasting software. According to Twitch's website, Xsplit Broadcaster is the most popular software currently used to broadcast, but there are many others, like Open Broadcaster Software and FFSplit.
If you have a Nvidia graphics card that supports the GeForce Experience application, you can also use ShadowPlay. The Nvidia application is yet another game recorder and broadcaster that can stream to Twitch.
While each solution has its own set of dials and knobs that can be adjusted, they all operate in essentially the same way. You enter your Twitch login credentials, set a hotkey combination to turn streaming on or off, and you're ready to start streaming.
One minor annoyance that might crop up is needing to keep a browser window open to see the chat window on your stream. If you aren't a fan of cluttered desktops, you can always download the Twitch app to your mobile device and monitor the chat window from there.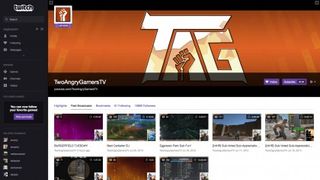 Other things you should know about Twitch streaming
You don't need web hosting to broadcast or to save your gameplay sessions. Twitch will archive your streams for up to two weeks with a basic account. You can also export your broadcast archives to YouTube by linking your account in the Twitch's settings under connections.
The Twitch connections page also has your social media options. You can link Facebook and Twitter to your Twitch account so when you start a stream, it automatically sends out a notification to your social media feeds. This is a great tool for helping build an audience as it automates your advertising and let's your friends know exactly when they can tune-in.
Twitch has a paid option known as Twitch Turbo. This $9 USD option removes ads from streams you watch, offers extended chat options like custom colors and emoticons, and provides a badge overlay for your streams to let everyone know you're a Turbo member.
Turbo subscribers also get 60 days archiving for their streams, a huge increase over the 14-day standard archive with a free account.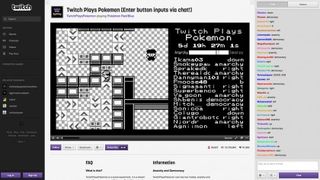 The really hard part
Setting up the hardware and software is the easy part. Now that you're live and streaming out your games, the hard part is building an audience. While we'll save building a huge audience for another how to, here are some helpful tips to build your fanbase.
If you have something entertaining to offer, people will take notice. It also helps if you play a game that's fun for people to watch, such as Super Meat Boy or Five Nights at Freddy's.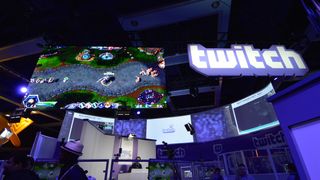 Be entertaining
It's not enough to just be good at a game to build an audience. People want to be entertained. If you really want to gain a following on Twitch, you need to strike a balance between game choice, game skill, and personality.
Of the three, personality is arguably the most important, followed by game skill. If you need some inspiration, the good news is that there are lots of streamers on Twitch right now that you can watch and learn from.
Hearthstone player Amaz is both extremely skilled and fun to watch, TotalBiscuit offers some hilarious and often controversial commentary and Two Angry Gamers didn't earn their name for their calm disposition. If you find a popular Twitch streamer you particularly enjoy, trying to figure out what it is that makes their show work will help you find your own hook.