When to buy your new TV
TV prices vary a lot over the course of the year. While it can be tempting to rush out and by the latest and greatest sets when they're hot off the production line, like many other consumer electronics it can pay off big time if you're willing to hold off on your purchase for a few months.
There are a couple of key points to consider when trying to get a TV for the best possible price. You might have to be a little more patient, but if you're willing to play the long game you can end up with an astonishing TV at a fraction of the price it would have been new.
Last year's sets can be a bargain
Unlike headphones or speakers, which tend to have models that stick around for a few years before their manufacturers replace them, television line-ups tend to be replaced like clockwork once a year.
However, while sets do tend to get better from year to year, often the changes are incremental. This means you can get a very similar experience by opting for last year's televisions.
You'll have to be careful if you choose to go down this route, because while a lot of changes in TV tech are incremental, there are a couple of key areas that are anything but.
Take HDR as an example. Certainly the technology existed in 2016, and the difference between 2016's HDR and 2017's is nowhere near as big as the difference between HDR and SDR.
However, in 2016 many fewer sets were equipped with the technology in the first place, meaning you have to pay slightly closer attention to the specs than you'd have to with a 2017 set.
The simplest way to do this is by looking out for the UHD Premium specification, which will ensure that any television you buy is compatible with the next generation of TV technologies.
So long as it meets the UHD Premium requirements, a 2016 set can prove to be an absolute bargain.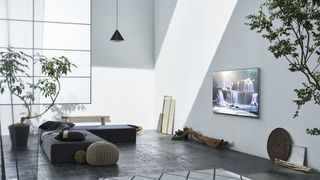 Timing is crucial
Aside from which year's televisions you buy, there are also a key couple of periods throughout the year when retailers are very keen to discount their wares.
With televisions these periods often come around the start of major sporting tournaments, where retailers will discount televisions that they advertise are the best way to watch the action.
However, when it comes to televisions, the biggest day of the year is undoubtedly Black Friday, when retailers often discount this year's models to lure in customers and, in the US at least, to clear out stock post-Thanksgiving.
Amazon Prime Day is also another source of some tasty bargains, so be sure to keep an eye out to see if any of your preferred sets receive a discount.
The amount of deals scrambling for your attention on these days can be overwhelming, but keep your eyes trained on TechRadar where we'll be hunting around for the best deals on the day.
Always check historical pricing
Retailers will often happily boast about what a saving they're offering compared to a television's initial price, but often these sets were heavily discounted before they were technically in a sale.
This isn't necessarily a problem if the price is still good, but what's especially important is finding out whether the set has actually been discounted by more in the past. In these cases you might be best off waiting to see if it hits that same price again.
In all cases, it's never a bad idea to check what price the television has been sold for in the past. The site CamelCamelCamel is excellent for this purpose. Just put in the URL of a product you're thinking of buying, and the site will tell you how cheap it's been in the past.
If you're prepared to wait, then you can even use CamelCamelCamel to set up price alerts to have it automatically notify you when a television drops to a certain price.
Don't just buy a television because the retailer says it's discounted. Always do your research first to work out how good a discount is really being offered.