More Black Friday deals
Discover even more great deals in our Black Friday hub
More deals by product type
1. Laptop deals
2. 4K TV deals
3. Gaming deals
4. Nintendo Switch deals
5. PS4 deals
6. Xbox One deals
7. Smartphone deals
8. Camera deals
9. PC peripherals & components
More deals by retailer
1. Amazon Australia deals
2. Harvey Norman deals
3. JB Hi-Fi deals
4. Dell deals
5. Microsoft deals
6. eBay Australia deals
7. Mwave deals
Last year, the Nintendo Switch was only six months old when Black Friday rolled around, so the sales we saw were rather limited. The price of the console barely budged from its retail value and bundles typically only saved you $10 or $20. This year, we're anticipating that to change quite a bit.
If you've held out this long for the portable hybrid console, then you should definitely hold out until the Black Friday discounts see Nintendo's latest console drop well below the $400 mark, and bundled games like Super Mario Party and Super Smash Bros Ultimate get thrown into the mix.
Because we've already got our finger on the pulse when it comes to Nintendo Switch deals in Australia, we'll be keeping up to speed with all the best Switch console, hardware, and bundle deals rolling through this Cyber Monday, so stick with TechRadar to keep on top of the savings and snatch up a bargain.
Best Nintendo Switch console deals
Nintendo Switch console | was $469 now $398
While the really good Black Friday deals have ended, but you can still snag a console for less than the $469 RRP on Cyber Monday at two major retailers, with Harvey Norman offering both the Grey and Neon editions for $398, and Amazon offering the Grey version for the same $398 price.View Deal
We're currently looking for the best Nintendo Switch console deals for you this Cyber Monday. Stay tuned!
Best Nintendo Switch game deals
Diablo 3 Eternal Collection (NS) | was $89.95 now $62
Blizzard's classic dungeon crawler has made its way to Nintendo Switch, letting players finally enjoy the game while on the move! Originally $89.95, Gamesmen currently has it for just $62.View Deal
So what will the hottest games be around Black Friday?
While the Switch doesn't boast quite the array of titles that grace the PS4 and Xbox One, Nintendo's first-party published lineup of exclusives is seriously strong at the moment, and they rarely dip below their retail price after launching. Super Mario Odyssey, Splatoon 2, Mario Kart 8: Deluxe, The Legend of Zelda: Breath of the Wild are all still often found at full price, years after release, and even when bundled with the console there's usually only a measly discount. Newer titles like Super Mario Party and the upcoming Super Smash Bros Ultimate will likely suffer the same fate, but if you're lucky you could see all these titles come down a little for Black Friday bundles and sales.
There will be two new Pokemon games released just before Black Friday too, in the shape of Pokemon Let's Go, Pikachu and Pokemon Let's Go, Eevee. If either of those are two are on your Christmas list, we wouldn't hang about as we expect them to sell out by the Holidays. If you've not bought one by Cyber Monday, we'd at least be sure to pick one up by the end of November to avoid the last-minute panic buying in December.
Can I get any of these games in bundles?
You certainly can, although the bundles we've seen so far have been a little weak on the discounts. With that said, if you happen to be waiting for a Switch due to a certain game, there is no better way to jump in than by saving a few dollars on the two items combined, and given the top-notch quality of these titles, you're unlikely to go wrong with a bundle.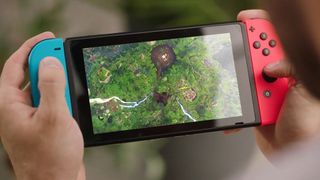 Who usually has the best bundles?
So far we've seen Amazon offer up some truly excellent savings on the console itself, consistently offering the best price on the device sans-games, but when it comes to bundles, the playing field is wide open.
Between the likes of JB Hi-Fi, Harvey Norman, Big W, EB Games, and eBay, we've seen bundles come and go that slightly rival each other, but rarely is one retailer a clear lead on the others.
Regardless, you've found the right place for checking out Switch savings during Black Friday – right here on TechRadar. Throughout the days and weeks leading up to the sales, we'll be keeping this page loaded with deals and discounts on the Switch and its games and hardware, and all the way through the sale period itself. So stick around!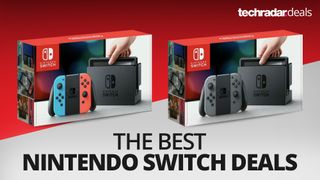 Black Friday Nintendo Switch bundle predictions
Ok, let's do this. What prices do we expect, or really hope, to see Black Friday Nintendo Switch deals go for? Well, let's be optimistic and say that last year's discounts weren't nearly as much as we'll see this year. We reckon you'll be seeing the console itself go for $350 in at least one place, while we may be getting a real juicy bundle with a triple-A title for around the $400 mark.
This is a tasty treat compared to the $469 retail price that seems to be sticking pretty much everywhere else, and with the major games rarely dropping below the $80 mark, a tight bundle would make all the difference.
This may not seem like a huge hit to the price, but considering how well the Switch has been selling regardless of its strictly rigid pricing, we can't see the prices ducking too much lower than that.
But we know there will be some treasure, hidden amongst all the bloated bundles and we'll be right there to highlight them for you.
What Nintendo Switch deals are there right now?