Searching for the best games 2019? Then look no further. We're nearing the end of the year and it would be fair it's been an interesting year for PC games and console gaming.
While we expected highly anticipated titles such as Anthem and Crackdown 3 to be big hitters, they managed to fall just short of the mark. Meanwhile, the likes of Apex Legends came out of the blue to go toe-to-toe with battle royale behemoths PlayerUnknown's Battlegrounds and Fortnite Battle Royale.
We've also seen the latest instalations in long-running series like Gears of War and Borderlands - with Gears 5 and Borderlands 3 releasing (mostly) to critical acclaim.
Only looking for the best games of the year? You're in luck. We've gathered together this list of our favorite games of 2019 so far - the titles that we at TechRadar awarded a four star and up review score.
We'll be updating this list with the most recent releases, so check back to see it the latest games have made the cut. Without further ado, here are the best games of 2019.
Death Stranding
Death Stranding is a wonderfully ambitious stride in design that combines affecting performances with a compellingly original narrative structure. Its seemingly monotonous premise only further catapults it from ordinary to extraordinary, and its singular sense of self marks it as a distinctly paramount game in this cultural moment:
Dazzling visuals
Real emotional momentum
Complex but intuitive mechanics
Captivating acting performances
Cohesive narrative
Combat starts out sluggish
Death Stranding had us worried for a bit. When Kojima Productions' first title was announced back at E3 2016, it did so to a confused and excited crowd. And the path to launch didn't see these feelings change much – they just swayed more into the confusion side.
We seen bottled babies, sea otter costumes and even the appearance of Conan O'Brien, and every new trailer filled us more with fear than hype. But it was all worth it.
Death Stranding is an incredible title that is equally beautiful and unique. Without giving away too much, the premise is that you step into the shoes of deliveryman Sam Bridges (played by Norman Reedus) who delivers special cargo in the wake of the Death Stranding - a mysterious phenomenon that wiped out many innocent lives. But obviously, it's not all that simple.
Here's what we said in our full Death Stranding review:
"Death Stranding is a game where monotony is innately imbued with intangible subjects of the extraordinary. On paper, the premise shouldn't work. A deliveryman, a ruined world, a convoluted plot centered around dejection and the abnormal Weird. In execution, however, it's perfect, unwaveringly confident in itself and assured of its place in the zeitgeist."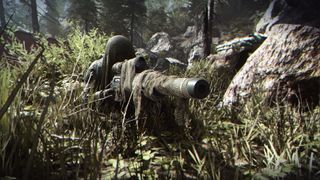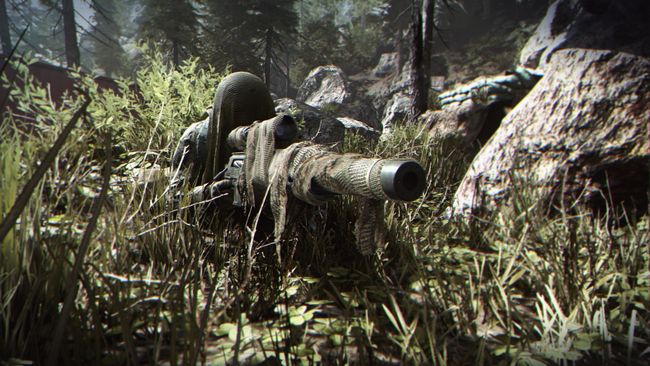 Call of Duty: Modern Warfare (2019)
Call of Duty: Modern Warfare (2019) sees the franchise move back in a promising direction, flaunting stunning graphics, fast-paced action and more multiplayer modes than you can shake a stick at. But the biggest change is in tone, with the campaign shifting to darker, more mature content that has split opinion and tests player's morals. It's uncomfortable at times, but it's the most thought-provoking instalation the series has seen yet - for better or worse:
Nvidia ray tracing on PC
Provocative - more strategy and thought required
Change in tone and format
Plenty of multiplayer modes
Mechanics largely unchanged
Provocative - hits close to home
Rewrites history in some places
Call of Duty: Modern Warfare (2019) is something of a reset for the bestselling FPS franchise – removing the frills of zombies, jetpacks, double-jumps and futuristic gadgetry for a grounded take on what military engagement actually looks like in the 21st century.
Modern Warfare is all about the gritty realities of war this time out, with the 'modern' of the 'Modern Warfare' title referring to the gear, weapons and gadgetry being used today in the Middle East and Russia, rather than the far-flung fantasies of science fiction.
Here's what we said in our full Call of Duty: Modern Warfare review:
"As a game, it's the best the franchise has ever been. It's a wonderfully tight shooter, with impressive graphics and plenty of much-needed feature additions that shift the series in a promising direction.
The change to a darker, more mature tone is what the series needed but the aforementioned issues mean that it falls short in that regard. There's still a way to go."
However, if you love Call of Duty primarily first-person shooter - with little interest in its narrative - then you will probably enjoy Modern Warfare.
FIFA 20
By listening to player feedback and implementing some inspired changes, EA has made FIFA 20 feel like a worthwhile content package for patch note-scouring series veterans and an enticing entry point for first-timers and rule breakers who like a little fun to go with their soccer:
Volta soccer is a neon revelation
Admirable pace
Zany modifiers
Electric soundtrack
Career Mode still needs a revamp
Visual upgrades are negligible
As sure as the sun will rise, EA will release a new FIFA every year. And this year's offering, FIFA 20 is probably the most refined we've seen the beautiful game to date.
With this year's iteration of the stalwart series, EA appears to have made some bold strides in the right direction, especially when it comes to giving players what they've been asking for in terms of game modes and statistical tinkering FIFA 20 offers tougher defenders, sharpshooting strikers and a new tiki taka 'Volta Football' street and indoor five-a-side mode - not to mention the classic features we have come to expect.
Here's what we said in our full FIFA 20 review:
"With a fantastic new way to play in Volta, a light-hearted set of modes for couch co-op and some clever, nuanced gameplay tweaks that coax out a more fair and rewarding game of soccer, this is definitely not an inbetween year or an easy skip if you're a franchise fan. In fact, it might be the best FIFA game in a good few years, achieved mainly by responding to fan feedback with healthy design decisions."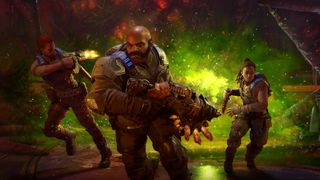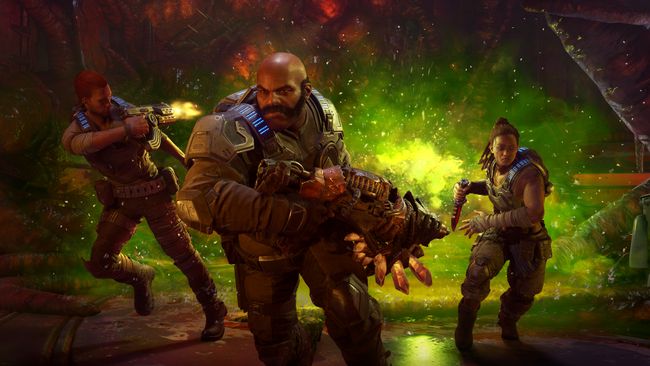 Gears 5
Gears 5 proves that when it comes to heart-pumping firefights and slick shooting mechanics, it is still king. But while we appreciate The Coalition experimenting with open-world elements and trying to build a deeper narrative, it doesn't always stick the landing:
Visually intoxicating
Plenty of multiplayer modes
New mechanics make it feel fresh
More areas to explore and lore to uncover
Open world elements feel off
Doesn't flesh out narrative to full extent
We've been waiting a while to see a new Gears title, and Gears 5 certainly didn't disappoint.
Players step into the shoes of Kait Diaz for the first time who, following the events of Gears of War 4, is trying to come to terms with the death of her mother, unravel the twisted roots of her family tree and deal with her own personal baggage. Meanwhile, humanity is being threatened once more - this time by the Swarm, the successor to the Locust horde.
Here's what we said in our Gears 5 review:
"Gears 5 is the best we've seen the series to date and cements Gears of War's place as arguably the greatest shooter on the market. It's hard to find a title with sleeker shooting mechanics, more multiplayer modes, adrenaline-pumping firefights and a campaign that has you enthralled from start to finish."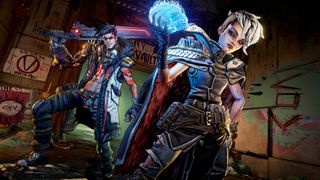 Borderlands 3
A franchise unwilling to innovate is no bad thing - Borderlands 3 is a rollicking good time which offers plenty of content and surprising depth:
New locations to visit
Incredible arsenal of weapons
Surprisingly varied endgame
Deep RPG systems
Not all that funny
Poor vehicle combat
Borderlands is back and it's bigger than ever. After a considerable hiatus, it's time to return to Pandora and rip, tear, shoot and loot your way to victory.
For the uninitiated, the Borderlands franchise is built upon the pursuit of gear. Players earn loot at an almost obscene rate, constantly unlocking new weapons and abilities with which to battle through stylized environments. While Borderlands 3 doesn't offer that much in terms of new few, those who have played they previous instalments are unlikely to be disappointed.
Here's what we said in our full Borderlands 3 review:
"Borderlands 3 feels like a time capsule of sorts. Despite the prevalence of on-going service games and shared world shooters like The Division or Destiny, Gearbox Software's first game in three years feels refreshingly comfortable - the videogame equivalent of your favorite movie being on TV on a rainy afternoon. It arguably doesn't offer a great deal that's new, but with each journey through it you'll come to appreciate it more."
Control
Control's inspired narrative is framed by cinematic visuals, clever environment design and a set of standout performances, the experience complemented by a deeply satisfying combat system that makes for an electrifying, unmissable narrative juggernaut that will invade your dreams and probe your psyche:
Stunning particle effects
Inspired art direction
Seamlessly melding live-action and voice-over performances
Mixes crunchy gunplay with satisfying psychic
Starts quite slow
A few structural compromises.
The dark horse of 2019, Remedy Entertainment's Control is an action-adventure with a difference.
Control sees you stepping into the shoes of Jessie Faden, the newest director of the clandestine Federal Bureau of Control (FBC) - a Government agency which researches, and ultimately aims to control, paranormal activity. But Jessie's new role has a few issues not exactly laid out in the job description, including the uprising of a paranormal force known only as the Hiss.
The affinity with which Remedy has courted multiple difficult genres both in film and in games with Control and still managed to deliver a mind-bending story evocative of True Detective and Twin Peaks is absolutely remarkable.
Here's what we said in our full Control review:
"Control feels like what would happen if David Lynch licked a Petri dish full of Jungian psychology and SCP entries. The resulting hallucination would be Remedy's latest mystery. It's the videogame that connoisseurs of absurd cinema and the surreal have been waiting for."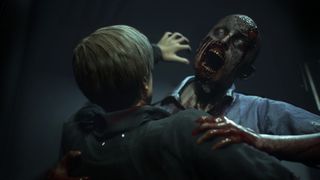 Resident Evil 2 remake
Resident Evil 2 elevates the grandeur of the original game into a masterful modern survival horror experience. Its finely detailed and gorgeous environment demands exploration, as long as you've got the stomach for it:
Stunning RE Engine Graphics
Masterful environment design
Heaps of replay value
Voice acting falters at times
Trapped by original story
Arguably the first big release of 2019, Resident Evil 2 remake kicked this year off with a bang.
A remake of the 1998 Resident Evil 2 game, Capcom's nostalgic offering sees players returning to Raccoon City, as either police officer Leon Kennedy or student Claire Redfield, and attempt to survive the zombie apocalypse.
In classic Resident Evil style, it's not all as simple as it appears. This is no mere hack n' slash survival game, instead forcing you to navigate the maze of Raccoon City Police Department solving some serious headscratchers. And we love it.
Here's what we said in our full Resident Evil 2 remake review:
"It proves that when Resident Evil 2 released back in 1998, the core elements in its DNA were timeless. This remake understands this but injects the source material with just enough genius to make it perfectly palatable for a modern audience, placing a brilliant game back into the hands of a new generation who more than deserve to catch up."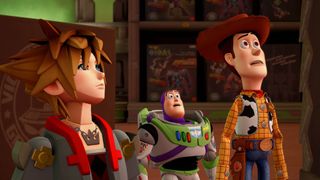 Kingdom Hearts 3
Kingdom Hearts 3 is a charming and action-packed adventure, marrying the fantastical nature of Final Fantasy with the magical familiarity of Disney in worlds that are almost indistinguishable from the films they depict. However, the convoluted story and slow-burning intro could be enough to deter new players from giving the series a chance:
Stunning and vibrant worlds
New combat features
New side-missions and challenges
Convoluted story
Slow-burning introduction
Fans of Kingdom Hearts have been waiting 14 years for the third 'core' game in the series that sees Final Fantasy meet Disney - and it did not disappoint.
Charming, feel-good and full of action-packed fun, Kingdom Hearts 3 sees Sora and friends searching for the seven Guardians of Light in an effort to stop the evil Xehanort's plan to bring about a second Keyblade War.
Kingdom Hearts 3 isn't everyone's cup of tea, but there's no denying that the graphically stunning and wholesome title is one of 2019's best games.
Here's what we said in our full Kingdom Hearts 3 review:
"Kingdom Hearts 3 has everything you could want from a Kingdom Hearts game: charm, adventure, vibrant worlds to explore, and quirky Disney characters to interact with. It's been 14 years since the last core game in the franchise released, and Square Enix has proved that a sequel has been worth the wait.
"However, while fans of the series may be delighted, new players may struggle to wrap their heads around the storyline, and the bizarre nature of Kingdom Hearts as a whole. My advice? Go in with no preconceptions, and with a childlike sense of wonder, and try not to think too much about why Donald Duck is suddenly a mage."
Far Cry New Dawn
Far Cry New Dawn's more lighthearted approach to world-building and more streamlined approach to mission design creates one of the series' most accessible entries yet. While smaller in scope, the addition of the new Expeditions and a more in-depth crafting system makes this more than a simple spin-off:
A more fun and colourful setting
Lots of crafting options
Expedition missions are great
Far Cry on a smaller scale
Still same old Far Cry formula
Twins are forgettable foils
Far Cry 5 was a bit of a disappointment, but it seems Ubisoft got the formula right with Far Cry New Dawn - even if it's essentially a repaint of its predecessor.
The post-apocalyptic Far Cry title sees us returning to Hope County following the events of Far Cry 5 (we're trying not to spoil it). But essentially it's your job to try and rebuild the county, which is a re-imagined version of the previous game's map. That means you'll encounter some familiar faces and locations.
Here's what we said in our full Far Cry New Dawn review:
"Far Cry New Dawn is just the tonic the series needed to break away from the increasingly grim tone it fell into with Far Cry 5.
"With its bright colours, tweaked and engaging combat and rewarding crafting system, you're getting a fun and over-the-top sequel-come-spinoff that takes all the best bits from the previous game and taps back into the ultraviolent silliness that made Far Cry 3 such a breath of fresh air for the franchise. There's life in Hope County yet."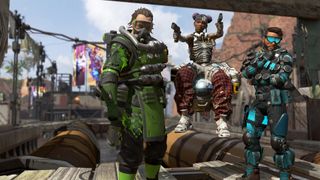 Apex Legends
Apex Legends is an engrossing, revamped take on battle royale that as it stands cannot be beat for its attention, detail and care:
Fun, fluid gameplay
Ingenious Ping System
Stellar lineup of personalities
A few weapons need refining
Battle Pass mundane
Apex Legends came out of the blue and stole our battle-hardened hearts. This class-based, squad shooter competes with the likes of Fortnite and PUBG, and in some areas surpasses them both to be one of the best battle royale shooters in 2019.
Here's what we said in our full Apex Legends review:
"Truth be told, the Battle Royale movement has never quite grabbed me. I dabbled in PUBG and spent a dozen hours or so with Fortnite, yet nothing ever quite stuck the landing. Apex though, has got me hook, line and sinker. Featuring intuitive controls, an outstanding comms system and remarkable rogue's gallery, Respawn has created what feels like the AAA outing for the genre."
Devil May Cry 5
Devil May Cry 5 is a magnificently over-the-top action game that serves as a good reminder of just how important showing off is:
Great character variety
Beautiful visuals
Exceptional soundtrack
Story has some moments of poor pacing
New players will feel a little lost
After making a quick detour in spin-off territory with 2013's DMC: Devil May Cry, the series has returned to its core series in a spectacular, engrossing way with the fifth installment of the main series.
Following three different protagonists each with their own set of moves and tactics, Devil May Cry 5 has stylized, addicting combat in spades and a plot line that caters
to both new and the old players. It's a tricky feat, but DMC5 pulls it off.
Here's what we said in our full Devil May Cry 5 review:
"Devil May Cry 5 is the action game equivalent of a grown-up goth kid. It looks better than it ever has before, it works a lot harder than it used to, and it still has the same music taste.
"Each fight is a genuine joy to get stuck into and seeing your rank climb and hearing the music swell never gets old. It does absolutely everything right for long-time fans when it comes to the story. Yet, the self-contained story is easy enough to follow for newcomers. The gameplay is the best it has ever been by a long shot too. So, while a devil may well cry, it won't be because of this hellishly fun game."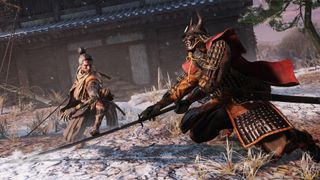 Sekiro: Shadows Die Twice
FromSoftware's latest offering is more punishing than we've seen before, but rare moments of success are extremely rewarding . Set against a background that balances brutality and beauty, Sekiro is one of this year's must-have titles – if you have the patience for it:
More punishing than ever
Shinobi Deathblows are satisfying
Combat is smooth and rewarding
...Yep, more punishing than ever
Not for those without patience
Accept you may never finish it
Despite knowing full-well what kind of game Sekiro: Shadows Die Twice was going to be, we weren't prepared for it. The game perfects From Software's patience-based gameplay model that rewards players from learning patterns and brutally punishes them for their mistakes. Couple that rewarding gameplay loop with a great setting of the Sengoku era of Japan and a compelling character, and you set the stage for one of this year's best games, hand-down. (Get it?)
Here's what we said in our full Sekiro: Shadows Die Twice review:
"Sekiro: Shadows Die Twice is not for those who are looking for an easy ride. If you aren't someone who enjoys challenge in their games, then this is not the title for you. Seriously. You need to accept that you may not ever finish Sekiro.
"However, if you aren't one to shy away from a challenge then you might just love it. Sekiro will infuriate you, push the limits of your patience and somehow have you coming back for more. After a few much-needed breaks.
"FromSoftware has created a title that somehow takes its beloved formula and ramps it up more than ever before, without losing the authentic gothic tone its games are known for. It's definitely one to beat this year."
Dauntless
Forward-thinking additions like cross-play at launch and a stacked battle pass make Dauntless an enticing world to jump into, and one that'll only grow in the months and years to come:
Excellent action
Varied enemy design
Plenty of content
Non-intrusive microtransactions
Shallow world-building
Overly small environments
Dauntless is a new free-to-play sensation from the team at Phoenix Labs. Following the Monster Hunter formula, Dauntless sees you jumping into the boots of a customized slayer. Your job is simple: accept quests, hunt Behemoths, get paid and do it over again.
While the core loop may mirror Monster Hunter, there are some key differences such as the fact the game is free, has cross-play, and encourages you to mix up your playstyle wherever possible. It's these aspects that truly make Dauntless shine and stands out to us as one of the best games of 2019.
Here's what we said in our full Dauntless review:
"All told, there's more content in Dauntless, a free-to-play title, than many full-priced titles in today's market. It doesn't have the depth of Monster Hunter, but it offers a much more accessible jumping on point with inventive monster designs and exciting but easy to learn combat."