Yotaphone
This is where this dual-screen adventure started, the original Yotaphone was never meant for the mass market, it was a proof of concept for the Russian firm to build on.
The concept nature was apparent from the cheese wedge shape and poor battery life to the odd camera placement and rear display which just had a touch sensitive strip.
If you're really keen to see where the adventure started then you can still pick the original up, but the Yotaphone 2 is better in almost every way - apart from the camera.
HTC One M8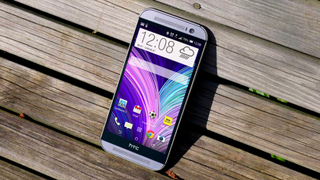 The HTC One M8 is actually cheaper than the Yotaphone 2, but sports a premium body and stronger set of specs.
It offers the best all round smartphone experience on the market, so if you're looking for the best bang for your buck at the top, your search is over.
The Ultrapixel duo-camera won't be for everyone, but it does make it stand out from the snappers on the Samsung, Sony and LG devices.
Front facing BoomSound speakers kick out decent quality audio, the full HD display is a joy to use and the powerful processor not only runs Android smoothly, it's also pretty good for battery life too.
While it may not have the novelty of two screens, the One M8 provides a stronger smartphone offering.
OnePlus One
Like the YotaPhone 2, the OnePlus One comes from a relatively unknown brand, so you can be pretty sure your mates won't have one.
The hook here though is the price - it'll cost you half of what the Yotaphone 2 will and it arguably has a better spec line up with a 5.5-inch full HD display, 2.5GHz Snapdragon 801 processor, 3GB of RAM, 13MP rear camera and Android KitKat.
It's trickier to get hold of with a limited invite-only system which is punctuated every now and then by general sale windows, but get hold of one and you'll be grabbing yourself a bargain.
Sony Xperia Z3 Compact
Sony's latest small form flagship is a little bit cheaper than the Yotaphone 2 and comes with some real high end specs.
It may be the smaller brother of the Xperia Z3 with a 4.6-inch 720p display but it still packs some top end specs including a Qualcomm Snapdragon 801 processor, 2GB of RAM and that famous 20.7MP Sony sensor.
Design wise it's premium with a glass back and IP68 dust and water protection. It's a shame there's only 16GB of onboard storage but there's microSD support up to 128GB and an impressive 2600mAh battery to make up for it.
In the end the Xperia Z3 Compact has some impressive specs to look into but is it more important to you than having an eink display on the back? That you'll need to decide.