Battery life
3,300mAh battery plus greater optimization gives solid battery life
Can last around a day with auto brightness on
Battery life is one of the few areas where a flagship phone can stand out from its rivals in 2017, and the OnePlus 5 needs to be able to survive at least a full day on a single charge.
On paper, compared to the OnePlus 3T the OnePlus 5 looks like a downgrade, with the former sporting a 3,400mAh battery while the latter features a 3,300mAh battery.
The processing tech used inside this phone is newer though, and much more efficient in terms of power consumption, and we think you'll notice that in day to day battery life.
The OnePlus 5 will keep pace with a lot of the devices you'll find on the market today. We typically found it lasting us the full day, maybe dying at around 10pm with hard use.
For one day we used the phone with the brightness cranked up to full and it died around 8:30pm, which wasn't good enough. We then tried auto brightness, which was a lot better – if you stick to auto brightness you're a lot more likely to make it to the end of the day with some charge left in the tank.
During our battery test, where we turn the screen up to full brightness and play a 90-minute Full HD video clip, the OnePlus 5 only lost 12% of its charge. That's slightly better than the OnePlus 3T, which lost 13%, and noticeably better than the Samsung Galaxy S8, which lost 19%.
There's fast-charging tech here – OnePlus's version is called Dash Charge – which means you'll be able to pump some juice into your phone very quickly if you need to. OnePlus continues to claim that it's fast enough to get you a full charge in the time it takes you to get a shower, but that's not strictly true.
Unless you're taking a long and relaxing bubble bath, you'll likely only get enough charge for a few hours – but it's certainly better than your phone dying on you when you need it.
For those times when you really are gasping for battery life the OnePlus 5 also comes with a battery-saving mode; we found that this really restricted what apps we could open, but it will prolong battery life on the phone and that's all you need when you're clinging onto the last dregs of power.
OnePlus isn't offering the best battery life on the market here, but it's a similar level to most of the flagship competition, and unless you're a power user you'll probably get through a whole day of using the OnePlus 5 and still have a little leftover before you plug in overnight.
Camera
First OnePlus phone to feature a dual-lens camera
16MP + 20MP lens on rear offer lossless zoom feature
16MP front-facing camera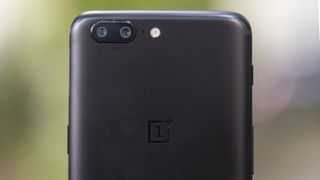 Perhaps OnePlus's crowning glory, the camera has been through a number of improvements for the OnePlus 5. OnePlus has been criticized in the past for its lack of innovation in this area, and it's now delivered a dual-lens sensor.
The two sensors that comprise the rear camera are made by Sony. The primary camera is 16MP, and there's also a 20MP telephoto lens.
The main camera lens has a super-wide aperture of f/1.7, which ensures that photos are bright without being overexposed. The telephoto lens then has an aperture of f/2.6.
Unlike on the Huawei P10, however, where one of the sensors is monochrome for improved contrast, the two color sensors here are designed to offer improved zoom performance, enabling you to zoom in on subjects with minimal loss of image quality.
During our testing we found this to work very well, and if you've always been disappointed with the zoom on your phone camera you'll likely be pleasantly surprised by what the OnePlus 5 is able to do here.
That said, it's not going to give you the same level of zoom quality as a DSLR, and it's not going to revolutionize the way phone cameras work – but it's a very useful feature to have when you want to shoot objects that are far away.
The OnePlus 5 rear camera also comes with a Portrait mode, which allows you to get beautiful shots of people using the two-lens setup. It means you can place your subject in the foreground of the image and then blur out the background, complete with attractive 'bokeh' effects.
This is especially useful when you're taking shots of people, but you can use it on objects as well. It allows you to create some interesting effects, but you can't make as many tweaks to the image after you've taken it as you can on the Huawei P10.
Image 1 of 2
Image 2 of 2
On Huawei's device you can adjust which areas are in and out of focus after you've taken the image, but here you've got to wait for the camera to focus, and there's no changing the focal point later. That's a bit of a shame, but if you get it right the first time you won't be disappointed with the Portrait Mode.
If you're a camera fan, there's also the Pro mode on the OnePlus 5, where you can deep dive into the camera settings. This allows you to play around with the focus, white balance, ISO and much more.
There's also a useful spirit level-like feature within Pro mode, which displays a green line to make sure you're keeping your photos straight – we found it a useful feature when shooting subjects such as architecture.
This is only available in Pro mode though, so you won't be able to combine the level feature with Portrait mode, although it's less essential for people shots.
As on previous OnePlus phones you can also shoot in raw with the OnePlus 5, allowing you to tweak your photos further when you upload them to your computer.
Swipe left in the camera UI and you'll be greeted with video recording on the OnePlus 5. You've got four quality options here: 720p, 1080p, 1080p at 60 frames per second or 4K video recording.
4K video won't be useful to you unless you have a 4K device on which to play the videos you shoot, but the other three modes work well, enabling you to record video that looks as good as that from most other flagship phones on the market today.
It's worth noting that currently the OnePlus 5 doesn't offer any video stabilization for 4K video recording, but company co-founder Carl Pei has confirmed that this will be brought to the handset via a software update.
There are also time-lapse, slow motion and panorama modes, which all do exactly what they say and work with relatively little fuss.
We did find a quirk with the OnePlus 5 though, as it appeared to stop saving videos after shooting the first few. We tried resetting the phone, but the same thing happened – after the first few videos, the OnePlus 5 refused to save any more.
The OnePlus 5 we had in for review was running final software, so we hope this bug gets fixed quickly with an update.
On the front of the OnePlus 5 is a 16MP selfie shooter. A lot of the features of the rear camera are available here, although you won't be able to use the Portrait mode.
This phone will be capable of giving you some of the sharpest selfie shots on the market, and it can also record video in 1080p, which is a big benefit if you plan to record your face often.
Camera samples
Image 1 of 6
Image 2 of 6
Image 3 of 6
Image 4 of 6
Image 5 of 6
Image 6 of 6