Three cameras
The Google Pixel 3 has the best smartphone camera in the world. It's not because the photos it takes are dramatically better — but they're just marginally better.
The bigger deal is that Google's 12.2MP camera is more consistent. We got more detailed, sharper, and slightly brighter photos from this Pixel 3 camera than the warmer iPhone XS and the Samsung Galaxy Note 9 cameras. There's less noise than the Pixel 2 and everything wasn't over-sharpened like the Huawei P20 Pro camera.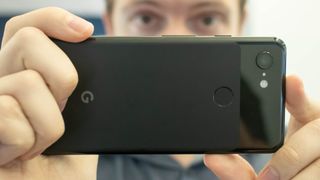 A lot of this has to do with what's happening behind the scenes. The f/1.8 aperture isn't record-breaking, but Google's camera-dedicated Pixel Visual Core chip and its machine-learning software help deliver this single-lens rear camera its wow factor.
Image 1 of 11
Image 2 of 11
Image 3 of 11
Image 4 of 11
Image 5 of 11
Image 6 of 11
Image 7 of 11
Image 8 of 11
Image 9 of 11
Image 10 of 11
Image 11 of 11
New software perks like Top Shot help avoid closed eyes by picking the right photo, while Night Sight has spruced up our low-light shots, making us favor using the Google Pixel 3 for nighttime pictures. Google aim is to eliminate the need for photo-distorting (and often photo-ruining) flash.
Super Res Zoom helps mitigate the fact that there's no telephoto lens here, with the ability to use backend software to improve digitally zoom. The fact that the camera captures larger 1.4 micron pixels and has optical image stabilization (OIS) is also a difference maker.
Selfie cameras
The same general photo consistency comes to the front-facing 8MP cameras. They reliably took photos with better HDR and less noise. One camera had a normal 75 degree field of view and the other has a wider 97 degree field of view.
Image 1 of 6
Image 2 of 6
Image 3 of 6
Image 4 of 6
Image 5 of 6
Image 6 of 6
The wide-angle selfies are effective at telling more about who you're with and what you're posing in front of, so much so that Google refers to this secondary lens as it's Group Selfie Camera.
The LG V10 introduced us to this wide selfie camera idea, and the LG V40 continues the trend. Google's wide-angle photos are better, though they do have some caveats. The aperture is f/2.2 using this lens (vs f1.8 on the normal lens) but you won't notice a big difference in good lighting. The bigger caveat to the Group Selfie Camera is barrel distortion around the edges.
Holding the phone just right helps capture more of what's around you, whether you're posing in front of a tall building or taking a crowded selfie. We posed in front of a distant Hollywood sign, and got an LA-emblazoned T-Shirt in the photo. With any normal selfie camera, the T-Shirt or the Hollywood sign would be cut out.
Here's the problem: Holding in the wrong way takes unflattering photos that make you look like you've been through a funhouse mirror. You may be able to capture more of what's above you, but when more of your shirt fans out, you look like you've put on some awkward weight. Holding the phone out further or at a different angle usually helps. Taking selfies is a skill. Taking wide selfies will earn you another millennial merit badge.
The Pixel 3 shoots impressive 4K video with a mix of optical image stabilization (OIS) and electronic software stabilization. Everything looks smooth, making the need for something like the DJI Osmo 2 gimbal less of a necessity. You won't, however, find the 4K to shoot 60 frames per second. Google has capped video at this max resolution at 30fps.