10:41 AM: One of the many Google Assistant ecosystem is OpenTable, the restaurant reservation app and service. With Allo integration, it lets you reserve a restaurant and let everyone know without you having to switch all all of the time. Down with seeing the home screen every five seconds between apps!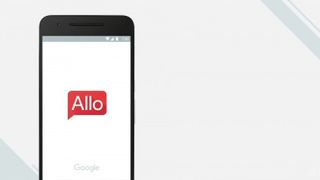 10:38 AM: Dog photo? Google Allo might know the dog breed and whether or not it knows the dog is cute. That's how advanced the Allo Smart Reply feature is. Food? It might suggest Yummy. We're all now 14-years old in the eyes of Allo.
10:36 AM: Google Allo learns over time with custom suggestions, predicting what will be said next. Even emojis will be suggested based on the context of your conversation. "Emojis say 1,000 words," Google joked.
10:34 AM: The great thing about Allo isn't just emojis and those weird-looking Google stickers. It'll integrate with Google Assistant. Microsoft is planning to do the same thing with Skype, but people actually use Google's messaging service outside of work. Sorry, Skype team.
10:33 AM: Google just announced a new messaging app called Allo. It brings all the richness of Google right into your chat. This is exciting because Google has an inferior bunch of messaging apps next to iMessages. Hopefully it brings Hangouts and Messenger into the folder instead of creating a third Google-made messaging app.
10:30 AM: And there they are: WhatsApp, ticketmaster, Strava and Uber are among the official partners flashed on the Google IO keynote screen. Now we're onto Google Photos, another algorithm-based service from Google.
10:28 AM: The Google IO keynote is running through videos of people of using a Google Assistant-powered Google Home speaker through their everyday life. It knows your schedule, the traffic, news and trivia as you begin your morning. Google says it wants to work with partners, so expect Uber, Philips Hue and other smart home and services to integrate from Google Home, just like they have done with Amazon Echo.
10:21 AM: Google Home is a small, elegant-looking white speaker. Much smaller than Amazon Echo, and if it has Google's intelligence behind it, it may be smarter by leaps and bounds. Google Home promises to build on Chromecast and Chromecast Audio.
10:20 AM: Google Home will be available later this year. It's a device! Enjoy music and entertainment and manage everyday tasks. Kids and adults can use its voice recognition, so it's "fun for the whole family," as they say.
10:18 AM: Google is determined to make your home smarter, and Google Assistant will be a part of that. He even gave a shout out to the team behind Amazon Echo. He's invited up Mario from the Chromecast team. Looks like Nest won't be involved in this one, like the rumors suggest.
10:15 AM: Google is really taking on Microsoft's bots with Google Assist through engaging conversations with bots. While Sundar says "every conversation is different" for billions of users around the word, every example I've seen of bots involves people ordering movie tickets. Let's get beyond that trope, please!
10:12 AM: Google Assistant once again pushing to define "it," which has historically been hard to do for computers, according to Sundar. But it's pioneering conversational understanding. Asking Google Assistant "Who is the director of The Revenant" followed by "Show me his movies" will understand who "his" refers to.
10:10: AM: Google Assistant is the first major announcement of our Google IO 2016 liveblog. Sundar says the company wants to help you do things in the real world. it's conversational, gets things done and supposed to be "in your world," which likely means it'll be personal to you. After all, Google has all of your data, so it'll know way more about you than your best friend.