Best network monitoring tools
Read on for our detailed analysis of each tool
Although the headline-grabbing aspects of IT security usually involve cyber-wars, digital espionage and ferocious malware attacks, there is always less glamorous work taking place behind the scenes to keep company data and users safe.
And much of this involves network monitoring. The IT administrators and software developers who ensure systems stay updated, behavior across IT infrastructure is carefully examined, and outages are kept to a minimum may not grab the cyber-security limelight like those specialising in antivirus and similar areas, but their work is fundamental to the running of organizations both big and small.
Thankfully, there are a host of services that make their job a whole lot easier and more efficient, and we've run through the very best of them so you can find the perfect network monitoring tools for your organization.
Free-to-use network monitoring platform
Completely free
Good range of features
Dashboard feature currently unavailable
Who said network security software couldn't get a little spicy? The first platform on our red-hot run-down is Spiceworks, which promises to keep you fully up to date on "the network happenings you care about most."
Among Spiceworks' features are an IP lookup tool to trace and identify unknown IP addresses in the network, a subnet calculator for creating new subnets and converting CIDR (classless inter-domain routing) notation to an IP range, a traceroute tool for troubleshooting connection issues, and an interactive outage heatmap.
Looking at potential drawbacks, it's been commented that older plugins may no longer work with newer versions of the software, while the handy connectivity dashboard feature is not currently available for new Spiceworks users at the time of writing.
However, for an easy-to-use, completely free application that makes money through ads rather than your organization's subscription, it's hard to get too hung up the negative aspects here.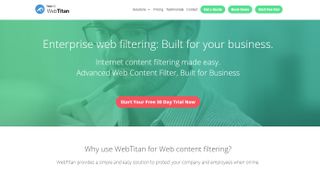 Adaptable web access policies
Strong range of analytics tools
Multi-faceted approach to handling security
WebTitan supplies businesses of all sizes with a suite of security and monitoring platforms that give a wide range of powers to IT administrators.
Doing the job of 'Big Brother' is WebTitan Cloud, a filtering solution for organizations to monitor, control and protect their online users from web content. The platform's policy engine enables admins to block access to certain web pages among certain users, while adjusting the policy for other departments in the organization.
It also includes a reporting section which covers behavior-based analysis, trend reports, security reports, and more. These reports can even be scheduled, sending the insights directly to the team members who need them.
Away from the cloud-based platform, WebTitan packages also offer DNS-based web filters that block malware, phishing attempts and ransomware. The software's creators, TitanHQ, claims its filters identify 60,000 malware variants every day and says the platform is well suited to educational institutions and wifi providers, as well as businesses.
To get a quote for a WebTitan package for your organization, follow the link below.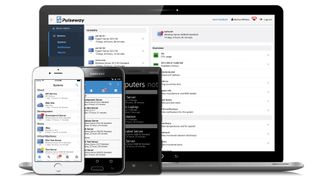 Features galore to keep your fingers on the network pulse
Lots of third party integrations
Flexible packages
Disaster recovery capabilities
Pulseway helps system administrators and IT departments stay right across their organization's network by offering a real-time overview of all the machines under operation. It works for Windows, Linux and Mac devices and can be used on mobile devices for full administrative control form the palm of your hand.
On top of its main dashboard for remote desktop control, patch management, white labelling and advanced automation, Pulseway offers: a business management integration that includes functions for ticketing, project management, accounting, CRM, time-tracking, invoicing, billing and help desk support; an antivirus integration powered by Webroot and Kaspersky for end-to-end protection; and a storage integration for business continuity and disaster recovery in the event of lost data and outages. Other third-party tie-ins include Slack, Pagerduty, Zendesk and IT Glue.
Personal use of Pulseway (across two devices) is free, while subscriptions for larger teams vary depending on the number of machines and whether the platform is used as on premise or as an SaaS (software as a service). Full pricing details can be found via the link below.
Cloud-based, scalable SaaS
Flexible deployment options
Easy to use
Range of features could be more extensive
Atera combines remote monitoring and management (RMM) with professional services automation (PSA) in a business management platform that's made and operated in the cloud. The creators claim its cloud DNA and scalable SaaS packages make it extra fast for onboarding and rolling out in new organizations.
The Atera platform offers IT administrators a range of features to stay on top of their network. These include remote access of computers, desktops, servers, apps and files, real time alerts on events like user log-ins, software updates, VMware and IP monitoring, IT automation and patch management, and analytics tools to dig into data and records. For those looking to expand the remit of the platform, integrations include CRM and service desk tools.
Simplicity and ease-of use is the name of the game here, but for those well acquainted with platforms of this nature who really want to push their monitoring software to its limit, the range of features with Atera may feel somewhat limited. But with flexible pricing options available, IT administrators may be able to find the package that suits the needs of their organization.
Pricing starts at $79 (£60) per user, per month.
Audit-focused network control
Handy for ticking compliance boxes
Wide range of integrations
Not supported on mobile
Netwrix Auditor is all about giving maximum visibility of IT infrastructure changes, data access and system configurations to the IT administrators of your organization. Another key component is Netwrix's security analytics technology, which monitors your IT environment and enables you to detect threats or anomalous user behaviour.
Among the platform's features is the option to automate auditing and reporting tasks to save time manually poring over logs of data, plus the ability to maintain a complete audit trail that can be archived for more than ten years. By maintaining such evidence, Netwrix Auditor enables users to prove their business adheres to and is compliant with PCI DSS, HIPAA, SOX, and FERPA standards, among others.
Potentially relieving concerns about integration, Netwrix supports auditing on a wide selection of IT systems, including Active Directory, Office 365, Windows file servers, Oracle DB and VMware. Unlike some of the other services we've seen, Netwrix doesn't support mobile use so it may not be the platform for you if you're reliant on quick check-ups on the move via phone or tablet.
You can get a quote on a Netwrix subscription via the link below.
Best of the rest
Auvik is made exclusively for managed service providers (MSP). Based in the cloud, it enables remote monitoring and management, provides insight into client networks, and automates time-consuming tasks like device configuration and backing up data.
Like any good dog, Datadog is good at retrieving things. In this case, information about your systems, clusters and infrastructure – no matter how disparate it is – and bringing it all into one site to help you analyze and secure the data of your organization.
Panopta is all about meticulous scrutiny of your network to identify outages as quick as possible. Via 24 monitoring locations across North and South America, Europa and Asia, Panopta ensures all outages are detected no matter the duration, so your team can act fast.
Working in a similar vein, Paessler monitors your IT infrastructure to identify problems "before users even notice," it claims. A whole range of network components are covered by its monitoring systems, including LANs, WANs, servers, websites and applications.
Another strong player in this field is OpsGenie. This operations management service is based in the cloud and its alert notifications extend to mobile as well as desktop, so you can receive network updates via email, SMS and voice calls no matter where you are.