The best Netflix Originals movies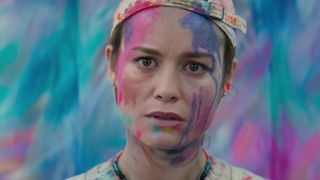 Brie Larson may have just dazzled us all (and kicked some serious ass) as Captain Marvel, but to show that she can do more than grapple with the Kree and fly through the air, she's also now directing too. Unicorn Store is Larson's directorial debut and it's about a painter who adopts a unicorn. It's quirky and whimsical and although lots of publications are unfairly comparing it to Captain Marvel – it literally couldn't be more different – it's a nice watch for the weekend.
Bird Box
Everyone is talking about Bird Box right now, not least because of the spate of dangerous copycat challenges it has inspired on social media platforms. Starring Sandra Bullock, this sci-fi flick follows her and her children as they battle a mysterious phenomenon causes mass suicides once witnessed.
Okja
Okja is a fantastic movie that proves Netflix really does know what it's doing when it comes to commissioning films. Made by Bong Joon Ho, one of the greatest directors around, the film is the strange tale of a little girl and her best friend, a giant animal called Okja. The friendship is threatened when a CEO (a superb Tilda Swinton) wants to take Okja for nefarious means. The whole movie may well be an ode to animal activism but it's such a refreshing movie that you don't mind it preaching to you on occasion. Now you have this on-board Netflix, can you please grab the UK rights for Snowpiercer - another superb Bong Joon Ho movie that never saw the light of day in Britain.
The Ballad of Buster Scruggs
This anthology of six short films by the Coen brothers takes places in the 19th-century Old West in the years after the American Civil War. Starring James Franco, Tom Waits, and Zoe Kazan, the Ballad Of Buster Scruggs switches rapidly between sentimental, pastoral scenes of the West and brutal violence.
Annihilation
This is exactly the sort of movie that Netflix should be making. It's uncompromising sci-fi that has a smart smattering of horror running through it. Based on the hit series of books The Southern Reach Trilogy, the movie focuses on a group of scientists who go into Area X, a quarantined section of Earth where strange things are going on. Natalie Portman is superb and refreshing in the lead role.
Roma
From the director of Gravity and Children of Men, Alfonso Cuarón, Roma is the story of a housekeeper Cleo, as she and her family come up against social hierarchy and political turmoil in 1970's Mexico. This semi-autobiographical film is said to be inspired by Cuarón's own upbringing, and has been widely acknowledged as one of the best films of 2018, winning two Golden Globes for Best Director and Best Foreign Language Film.