Your smartphone has revolutionised everything. From the way you work to how you shop, it's now the weapon of choice for most of life's battles. With innovations in motion-sensing, the arrival of Bluetooth LE and improved GPS chips, it now even has the power to transform you from sofa-dweller to marathon machine. That's right, even you. Thanks to lighter handsets, more powerful processing and better sensors, smartphone-powered fitness has exploded. Continue reading...
Get marathon fit with your smartphone: Pt 2
Build up to your first 5K run
So you've done the hard part. You've successfully taken the first steps on your journey to becoming a fitter, leaner running machine. By now you'll have logged a few runs on your Endomondo app and be able to confidently run for a full thirty minutes. Now it's time to move up a gear and start thinking about your first race. Continue reading...
The wearable tech that got pulses racing at CES 2014
There's a big future in small devices
It might not look like it, but we stand on the verge of another mobile revolution, the likes of which we haven't seen since Apple launched the iPhone in 2007. Give it a year (maybe two) and wearable technology could be everywhere, in all shapes and sizes, and capable of far more than counting steps or guessing how well you slept last night. Continue reading...
Leaving Las Vegas: the best tech take-aways from CES 2014
Big tablets, tiny PCs, wonderful wearables and super-smart cars
It's time to look back on the most wonderful time of the year. No, not Christmas - CES 2014! The annual show is where electronics firms show off their most exciting new stuff, and while bendy TVs and Bluetooth toothbrushes have hogged the headlines, we saw plenty of things to get really excited about. Continue reading...
This week's hottest reviews...
Asus Transformer Book T100
This hybrid Windows 8 tablet/laptop is beyond reasonably priced
The T100 is a versatile laptop and tablet hybrid that arrives with full Windows 8.1 and an eye-catching price tag, making it a winner. That said, be aware of its cramped keyboard and average internal horsepower. Read: Asus Transformer Book T100 review
PlayStation Now
Stream PS3 games to your PlayStation 4 console? Yes please
Despite all the unknowns and the graphical half step backwards, PlayStation Now is one of the most exciting bits of gaming news to come out of CES. As life-long gamers, we sorely miss backwards compatibility. Having Sony's amazing back catalog at my disposal would be incredible, especially for a flat fee. This could be the Netflix of video games, and I'm excited to hear more about the lineup, and when I'll be able to play The Last of Us on my Vita. Sony has a closed beta planned for the end of January; expect more news once that kicks off. Hands on: PlayStation Now review
Valve's Steam pad
Can it really replace the mouse and keyboard in PC gaming?
Valve's Steam Box controller is impressively precise and uniquely creative. Playing with one for just a short while reminded us of the first time we used the single analog stick on the Nintendo 64. Tangling up an AT-AT with my tow cable in Shadows of the Empire was difficult, frustrating at times, but we could sense miles of gaming depth just below the surface. If it catches on it could be a sea change for all gaming, not just on PCs. Hands on: Steam Machine Controller review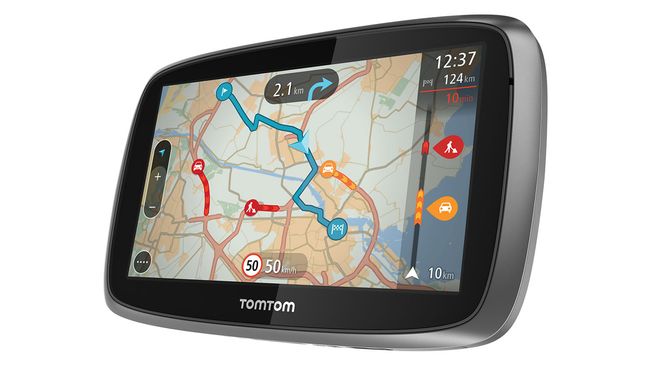 TomTom Go 5000
The five-inch member of TomTom's new range is pure navigation at its best
Dedicated navigation devices have gone through something of a crisis of confidence. That's thanks to the rise of the smartphone. With almost everyone now toting smartphones with navigation ability, who needs a TomTom? For a while, it seemed like the answer was every more complex nav devices that mirrored the functionality of smartphones. But TomTom's latest have proved what a dead end that idea is. The real answer is to makes navs so good at actually being navigation devices, they're worth having as well as a smartphone. The TomTom Go 5000 does just that. It's very probably our favourite navigation device. Read: TomTom Go 5000 review