Maneuvering the curvacious corners of Yas Island Marina Circuit in Abu Dhabi at 140 miles an hour in a rare sports car is any adrenaline junkie's dream, though likely never more than a fleeting midday fancy for most of us.
Enter Forza Motorsport 5, a launch day game destined for the Xbox One and a title bound to fulfill a championship series fantasy or two. We put the peddle to the metal in the heart-thumping, smile-cracking racer at a recent Xbox One Games Preview Showcase hosted by Microsoft in San Francisco. Continue reading...
Google: the Nexus 5 has lost your X-Factor
What's the point in Google's Nexus device program these days?
I mean that literally - what is the point in it?
I used to know, but now, I just don't get it. Is it a developer device?
Is it a consumer item? Is it both? What day is it?
Google's only just announced the new Nexus 5 and for the first time since the Nexus One joined the party, I wasn't excited in the least. I know that puts me in the minority because the Nexus 5 section of this site was getting some serious hits in the build up to the announcement and launch, but WTF?! Continue reading...
This week's hottest reviews...
Apple iPad Air
Probably the best tablet ever made by Apple or anyone else
Make no mistake - Apple has finally nailed the tablet with a great combination of specs, power and a decent OS. It's a joy to hold the iPad Air. From the clever construction to the fast processor to the improved user interface, Apple has found an answer to every criticism we had of the device and then some.
The fact it's not even more expensive than its large-screen brethren is really impressive for an Apple product, and the suite of apps that are now free, coupled with the excellent App Store and premium build, make this a no brainer for anyone looking to enter the tablet market.
We'd advise that you get the largest capacity your budget can manage - although at the top end you're verging on Macbook territory, so make sure you're ready to use a tablet and think about getting an external keyboard to make full use of the extra apps you've now got.
You've seen the score, and for those keeping tabs you'll realise this is TechRadar's first five-star tablet. It's a device with almost no flaws - it's not just Apple's best tablet, it's the only tablet you should be considering this Christmas if you're keen on a larger screen. iPad Air review
AMD Radeon R9 290
Forget the 290X, this is the real star in AMD's Radeon stable
No sooner had we put the finishing touches to our R9 290X review but the red-tinged graphics gurus go and release another new card based on the exact same GPU. So here it is, the Radeon R9 290, another new graphics card based on the Hawaii silicon. And it's a bit of a doozy.
We would bet that when anybody who dropped a lot of money on an R9 290X is probably going to be cursing vociferously. At a far cheaper price point all you're really losing out on is the 'X' in the title – the actual gaming performance has barely suffered at all. AMD Radeon R9 290 review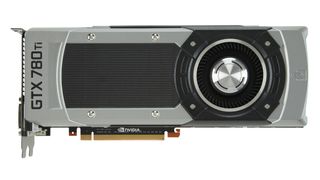 Nvidia GeForce GTX 780 Ti
Nvidia aims its bug guns at AMD's Hawaii cards and wins on power at least
Desirability is something the Radeon cards, with their toy-town plastic shrouds and noisy fans, just don't have. They may be quick and fantastic value, but where the vast majority of gamers were desperate to get their mitts on a Titan they'll now be after a GTX 780 Ti.
Those people wont have changed their targets to either of the more-affordable, but almost-as-quick Radeons. Nvidia GeForce GTX 780 Ti review
PlayJam GameStick
The latest Android console doesn't quite get the formula right
The thing with is, while there's much about the GameStick that's inoffensive, that's really the best we have to say about it. It offers nothing meaningfully unique, and is almost universally either a little behind or considerably behind other consoles in other areas. There's the potential for something good in the idea for the GameStick, but it remains unrealised here. PlayJam GameStick review
Apple iMac 21-inch
Apple's popular desktop gets a late 2013 refresh
While the 2013 update is a welcome refresh, it's also nothing radical. Perhaps this is unsurprising coming less than a year after the radical redesign of late 2012. But it's nonetheless welcome, with a switch to Haswell processors and, for the more expensive 21.5-inch version, Nvidia 7 Series graphics.
We're not too happy about the discrete GPU vanishing from the entry-level, 2.7GHz model, though. With the 2.9GHz version costing only slightly more, we think it represents better value for money. 21-inch Apple iMac review
Apple iMac 27-inch
Apple's large-screen all-in-one desktop Mac also gets some welcome upddates
The 2013 refresh is a solid, if unremarkable, update for Apple's most popular desktop computer. It wasn't a radical overhaul, but nor did it need to be. Instead, the specifications got a welcome boost while retaining the well received form factor of the previous generation.
The £50 increase in the cost of the more expensive 27-inch model is simply inflationary, while the £100 price hike for the cheaper one is justified by the advances it makes. An excellent refresh. 27-inch Apple iMac review
This week's most-watched videos...
iPad Air review...
Google Nexus 5 hands-on...
Android Kitkat walkthrough guide...