13. Moonrise Kingdom
Starting September 16, Moonrise Kingdom will be the only Wes Anderson film available on Netflix. And while that sounds somewhat depressing, it's anything but. By limiting us to a single Anderson flick at a time, Netflix is slowly building our palette for the director's dry wit, exceptional pacing and phenomenal casting that seems to permeate each film under his supervision. Wonderfully smart and expertly crafted, Moonrise Kingdom might not overtake The Grand Budapest Hotel or The Royal Tenenbaums as our favorite Wes Anderson films, but that doesn't make it any less of an excellent movie on its own.
IMDB Rating: 7.8, Rotten Tomatoes: 94%
14. The Fundamentals of Caring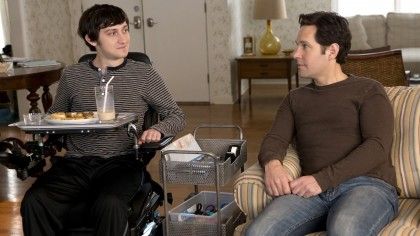 The Fundamentals of Caring is proof that you can take actor Paul Rudd, put him in literally any movie about any subject and he automatically makes it 10 to 20 times better. With any other actor in the leading role, The Fundamentals of Caring – based on the book by Jonathan Evison – would've likely had no lasting appeal. And yet, with Rudd behind the wheel of the ship the film becomes a comical road trip movie with a compelling twist that's one part Eurotrip and two parts 50/50. The stakes here are that Rudd is taking care of an emotionally sheltered, physically handicapped teen whose bark is fiercer than his bite. The friendship the two form ultimately help the other grow out of their shells. It may come off as trite, cliché and over-wrought at times, but if you stick through the saccharine, there's a well-crafted story here that might melt your heart.
IMDB Rating: 7.4, Rotten Tomatoes: 79%
15. Rogue One: A Star Wars Story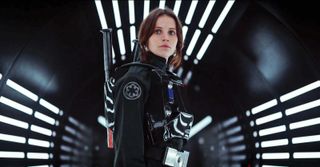 If you would've told us that there'd be Star Wars spin-off films a decade ago, and that those films were actually better than some of the main entries in the series, we wouldn't believe you. But then again, it doesn't take much to beat out Star Wars Episode I, does it? Rogue One is entirely its own thing and stands on its own two feet. Sure, you'll still see Vader walking about and the calculated Grand Moff Tarkin scheming his grand schemes, but Rogue One becomes its own living and breathing story, full of new characters that improve the Star Wars universe as well as expand upon it.
IMDB Rating: 7.9, Rotten Tomatoes: 85%
16. Jiro Dreams of Sushi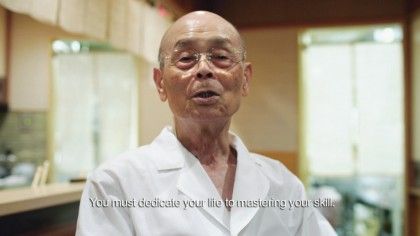 Jiro Dreams of Sushi is the uplifting documentary of one man who never gave up on his … uh, dreams. Jiro became the first three-star Michelin sushi chef in Japan and has been called a national treasure, all the while honing his mantra of being his best self. Jiro's commitment to his craft that carries the film – but it's his two sons, both famous sushi chefs like their father that make the film one of the best documentaries ever made. If you're hungry for a bit of inspiration in an evermore depressing world, pull up a seat.
IMDB Rating: 7.9, Rotten Tomatoes: 99%