Interested in giving NFC a shot? First, you need to find out if your device is compatible with contactless payment terminals and passive NFC tags detailed above.
The good news? The list of compatible devices is staggering and growing with time. It's safe to say, if you've purchased a smartphone in the last year or two, you should be ready to go.
A few examples of recent NFC-equipped smartphones: Nexus 6, Sony Xperia Z3, iPhone 6, Samsung Galaxy Note 4, LG G3, HTC One M9.
You'll probably also be in good shape if you've bought a tablet recently. The Google Nexus 9, iPad Mini 3 and iPad Air 2 each have the capability out of the box.
Looking forward, NFC chips will also be in more smartwatches and fitness trackers. Apple is including NFC support in its Apple Watch so that users can pay for goodies using Apple Pay with a tap of the wrist.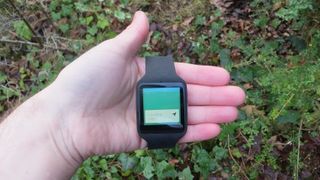 On the Android side of things, Sony has also done the same with its Sony SmartWatch 3 wearable, which offers similar implementation using Android Wear, plus a few fun features, like tapping a phone to the watch to power it on.
Vulnerability and security
The magic of NFC occurs in the free and open air, so it's easy to get wrapped up in the idea that your data can be nabbed by anyone who tries to intercept. It can really happen, but it doesn't have to happen to you.
Let's first tackle this scary issue with the point that NFC chips in your cards or phones can't be skimmed unless they are within mere centimeters of a potential thief. That's just the way the technology works. I don't know about you, but there aren't that many things that get close to me.
There are skeezers out there who try to ruin it for everyone with NFC skimming apps that rip your personal information, including your address and account details. But they are having an increasingly tough time with that goal, as apps like Apple Pay and Google Wallet are implementing some clever safeguards to protect users.
According to Apple, their commerce app, Apple Pay, stores payment information on the device exclusively, encrypting the card information only for use by the merchant and payment network for verification. The information does not live in the cloud, nor does it live in the iOS source code. Lose your phone? You can erase your precious financial deets manually using the "Find my iPhone" feature.
Google utilizes SSL (secure socket layer) technology to protect your financial information on Google Wallet. They recommend a more practical approach in making sure your details stay safe: use a passcode on your phone. Additionally, on Google's Wallet FAQ, it states that the NFC antennae in Android phones is only activated when the screen is both on and unlocked.
If you're using a credit or debit card with NFC capabilities, your best bet for protecting yourself is by getting a sleeve to go over your card. These deflect radio frequencies to attracting the attention of your card's NFC chip. If you're short on cash, word is Altoid tins apparently do the job on the cheap. It'll also leave your cards smelling fresh, but use this option as a last resort.
Let us know if you have any other tips for staying secure with an NFC-enabled device, or on a lighter note, any other fun uses of NFC we haven't mentioned.