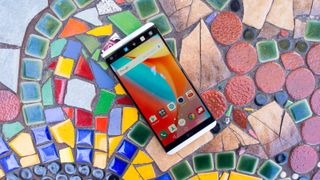 9: LG V20
LG's dual-screen creation is back and better than ever
Weight: 174g | Dimensions: 159.7 x 78.1 x 7.6 mm | OS: Android Nougat | Screen size: 5.7-inch | Resolution: 1440 x 2560 | CPU: Snapdragon 820 | RAM: 4GB | Storage: 64GB | Battery: 3,200mAh | Rear camera: 16MP/8MP | Front camera: 5MP
Removable battery
Audiophile-grade hardware
Varying use of the second screen
Disappointing camera performance
LG loves being different. We saw that last year with the LG G5 and its short-lived modular accessory program. Now, the LG V20 has topped it. (We'll have to see how the LG G6 fares coming up.)
As a successor to the LG V10, it's an improvement in nearly every way. The V20 does good to slim down and shape-up with a stellar design without losing the military-grade durability we loved from the predecessor.
What's notable about the V20, other than the fact that it was one of the first phones to launch with Android Nougat, is that it has two screens. As if the main 5.7-inch Quad HD display wasn't enough real estate for your fingers, there's also a small, rectangular display that can show off your favorite apps or a personal reminder.
For some, the novelty of the second screen may wear away. But even if it does, you're still left with a modern smartphone that doesn't slouch on specs.
The V20 features 4GB of RAM, 64GB of onboard storage with microSD support and a respectable, but outdated as of now Snapdragon 820. It uniquely provides music lovers with a Quad digital to analog converter (DAC) internally which elevates your average listening experience by a few notches.
LG's dual-screen creation isn't without its faults though. Its price is quite high, sitting above the $700 mark unlocked at most carriers. Also, while having a removable battery is nice, what's less nice is its relatively small 3,200mAh capacity. You hope for a little more for a phone this pricey.