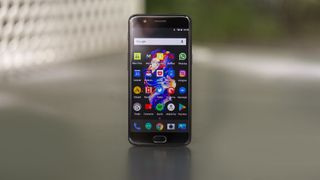 5. OnePlus 5
Dual-lens camera and top dog for performance
Weight: 153g | Dimensions: 154.2 x 74.1 x 7.3 mm | OS: Android 7.1 Nougat | Screen size: 5.5-inch | Resolution: 1080 x 1920 | CPU: Snapdragon 835 | RAM: 6GB/8GB | Storage: 64GB/128GB | Battery: 3300mAh | Rear camera: 20MP + 16MP | Front camera: 16MP
Super-slick performance
Affordable price
Not water resistant
Still 'only' 1080p display
The OnePlus 5 is one of the more affordable devices in this list and offers one of the best Android phone experiences on the market. It comes with a more refined and comfortable to hold design than previous OnePlus handsets as well as dual-cameras round the back and some phenomenal power under the hood.
There's a 1080p 5.5-inch AMOLED display on the front and inside is the latest Qualcomm Snapdragon 835 processor and you have the choice of either 6GB or 8GB of RAM. The battery life isn't incredible on the OnePlus 5, but it rivals a lot of the other devices you'll find on this list.
There's still no microSD support on the OnePlus 5, much like previous OnePlus phones, but you do have the choice of either 64GB or 128GB of internal storage.
The true highlight of the OnePlus 5 is the price though and this may will be one of the best devices for you on this list if you're looking to spend as little as possible on a top-of-the-range phone.
Read the full review: OnePlus 5
What's next? We expect the OnePlus 6 to launch at some point in the future, but considering the OnePlus 5 launched in June 2017 it'll likely be a very, very long way off.
Also consider: If OnePlus isn't doing it for you, then check out the Moto G5 Plus which has slightly less power, but a still very strong feature set, a lower price tag and a new metal design.