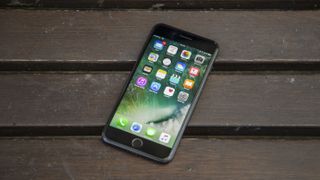 6. iPhone 7
Still one of the world's best smartphones
Weight: 138g | Dimensions: 138.3 x 67.1 x 7.1mm | OS: iOS 10 | Screen size: 4.7-inch | Resolution: 750 x 1334 | CPU: Apple A10 Fusion | RAM: 2GB | Storage: 32/128/256GB | Battery: 1960mAh | Rear camera: 12MP | Front camera: 7MP
Good low light camera
Water resistant
Battery life better but unimpressive
Lacks clear upgrades
The new iPhone is rather iterative: it comes with a similar look and feel to previous models, but it's still the iPhone many will hanker for...and we're just days away from delivering our iPhone 8 review too.
Apple's refusal to lower the price of its flagship phones over time also harms its place in the list, but then again, if you're an iPhone fan you'll probably look past the cost.
That doesn't mean it's a bad phone though. Actually, far from it - with a power boost under the hood, water resistant and a decent camera upgrade all on offer there's enough to keep potential buyers interested.
There's no point upgrading from the 6S to 7, but if you're currently using an iPhone 6 or older then the jump to the 7 is a smart one.
Read the full review: iPhone 7
What's next? Well, that's easy - it's the iPhone 8, and we've got a big, in-depth review of that coming very soon for you to enjoy.
Also consider: If you want to save yourself a bit of money then the iPhone 6S is still an excellent smartphone. It looks identical to the 7, also runs iOS 10 and has the benefit of still having a headphone jack. Those wanting something a bit bigger should look at the iPhone 7 Plus – the best iPhone currently around.