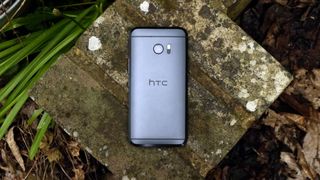 7. HTC 10
One of the best phones for music out there
Weight: 161g | Dimensions: 145.9 x 71.9 x 9 mm | OS: Android Marshmallow | Screen size: 5.2-inch | Resolution: 1440 x 2560 | CPU: Snapdragon 820 | RAM: 4GB | Storage: 32GB | Battery: 3000mAh | Rear camera: 12MP | Front camera: 5MP
Amazing audio
Great design
Camera not impressive
Boomsound not great
HTC didn't really ignite the smartphone game with the One M9, but with the new HTC 10 the brand has made a beautiful phone that's 'sculpted by light', added in a genuinely impressive camera and improved the battery life.
It's since added the HTC 10 Evo to the mix, but it's nowhere near as impressive as the original.
But that's not the best bit: that comes when you plug headphones into this thing. It's sensational - can this thing pump beautiful, Hi-Res Audio into your ears or what? It's sensational.
For that reason alone it's worth a place in the top 10, and the myriad other improvements (including a good camera for those that like to tinker with setting) impress equally.
Read the full review: HTC 10
What's next? The HTC 11 is going to be with us very soon, and strong rumours suggest it'll have a metal shell with an edge-to-edge display as well as the Snapdragon 835 chip - but it won't be using the 'One' brand previously adorning HTC flagships.
Also consider: It's hard to know what to recommend here, as last year's model was so underwhelming. We'd suggest having a gander at the if you fancy an 'underdog' brand that can still make it big... great camera and some fancy innovation on offer there.