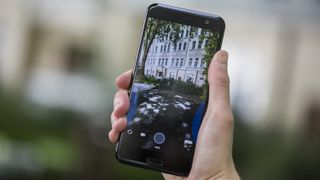 8. HTC U11
One of the best phones for music out there
Weight: 169g | Dimensions: 153.9 x 75.9 x 7.9 mm | OS: Android Nougat | Screen size: 5.5-inch | Resolution: 1440 x 2560 | CPU: Snapdragon 835 | RAM: 4GB | Storage: 64GB | Battery: 3000mAh | Rear camera: 12MP | Front camera: 16MP
Amazing audio
Very impressive camera
Fingerprint magnet
Edge Sense fails to impress
HTC is back with another effort aimed at becoming the phone you want to have in your pocket - and this one has squeezable sides.
You read that right - and unfortunately, they don't really add a lot. But wait! Beyond that this is a very impressive phone, getting the basics right across the board.
The camera offers some brilliant snaps and has a strong HDR mode, the audio performance (combined with the bundled buds and headphone upgrader in the box) is excellent and the two-tone design is thoroughly unique.
It doesn't do enough to topple the Galaxy S8, but if you're looking for something a bit different the U11 is a phone that won't disappoint.
Read the full review: HTC U11
What's next? The HTC U12 will be next in line, but we know nothing about that yet - except that it probably won't be called the U12 as HTC keeps messing around with its naming strategy.
Also consider: It's hard to know what to recommend here, as there's nothing that really compares on the market right now. However, with the price you'd probably look at the Galaxy S8 or the LG G6 as something a bit different.