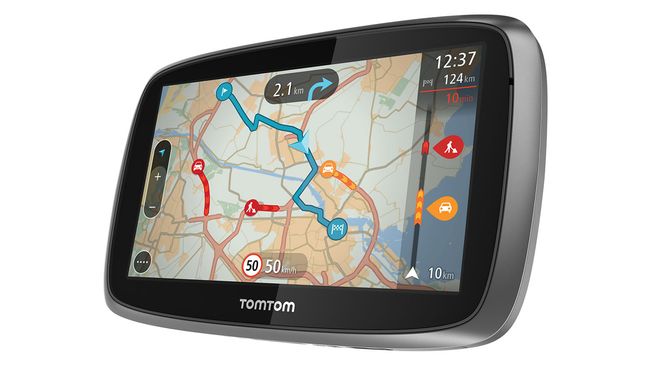 1. TomTom Go 5100
The 5-inch member of TomTom's latest range is pure sat nav at its best
Unless you desperately need a screen an inch bigger, in which case try the Go 6100, we'd say this 5-incher is the sweet spot in TomTom's sat nav range. The essential difference between TomTom's devices and Garmins is that TomTom's are a little more stripped back, with fewer smartphone-style features. In our opinion, that's a better route to go down, excellent though Garmin's sat navs are.
You get speed camera and traffic updates for life too.
2. Garmin DriveAssist 50LMT-D
Garmin modernizes the sat nav with a built-in dash cam and driver assists
Dash cams are gaining popularity around the world. The DriveAssist 50LMT-D incorporates a 1080p dash cam with the Garmin sat nav features you know and love, including: the smartphone companion app, hands-free calling support, detailed graphics and lane change notifications.
If your insurance company provides discounts for having a dash cam, you can even save money on your premiums too. It even adds forward collision warning and lane departure warning capabilities so you can add driver assist technologies from the latest cars to your own car.
The DriveAssist 50LMT-D supports Garmin's optional BC30 wireless backup camera and babyCam wireless backseat camera for added safety features, too.
3. TomTom Go 6100
The big brother of the Go 5100 offers more screen but less value
The TomTom Go 6100 is an impressive piece of kit. The interface is intuitive, with TomTom's excellent routing benefiting from being able to draw on live traffic data to make for incredibly accurate journey times as well. The fact that it includes lifetime map and journey updates for 45 countries in Europe make it all the sat nav you should ever need.
The 6-inch screen is bright and clear and easy to see whatever the lighting outside, and the voices are clear and precise too. The new mounting system is solid, yet it's easy to remove the sat nav from its cradle if you need to. You can charge the sat nav from a standard micro-USB connector, if you're away from your car too, which adds to its flexibility.
Camera data, traffic and global map updates are free for life. However for us, the six-inch screen is overkill, so we recommend the cheaper, 5-inch Go 5100 over this. If you're all about screen real estate, feel free to ignore us on that one.
4. Garmin nuvi 3490LMT
Another smartphone-like sat nav offering from Garmin
This was among the first sat navs to take design cues from smartphones. To that end it's got a capacitive touchscreen, increased slimness and decreased thickness, live services via a connected smartphone app, and looks and feels great.
Elsewhere, the admittedly steep sticker price buys you UK and Euro maps with updates for life, Bluetooth and voice control. You have to pay £17 for camera updates.
This has been largely superseded by the Nuvi 3598LMT but remains available and a viable option. Its price hasn't come down as much as you might think, though.
5. Garmin nuvi 58LM
A decent budget sat nav option
The Garmin nuvi 58LM is a five-inch device (there's an equivalent 68LM for those who prefer a larger 6-inch screen) with a very modest 480 by 272 pixel display.
Given its budget price, you need to keep your expectations in check. HD screens and all manner of streaming data features are simply not going to happen. But if you want a simple offline nav device for the car, you could do a lot worse. We just wish Garmin would give its graphics a bit of a polish.