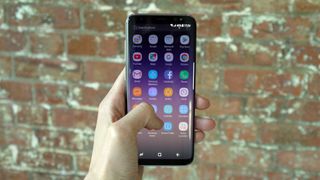 Samsung Galaxy S8
Samsung doubles down with two fantastic handsets this year
OS: Android 7 | Screen size: 5.8-inch | Resolution: 1440 x 2960 | RAM: 4GB | Storage: 64GB | Battery: 3000mAh | Rear camera: 12MP | Front camera: 8MP
Looks stunning
Best display
Bixby is pointless
Weird fingerprint placement
The Samsung Galaxy S8 is the best phone in the world for a few reasons, but none more so than the display: it makes every other handset on the market look positively antiquated.
The camera is still excellent, the screen quality the best that can be found right now and it's smashed through all our benchmarking tests.
While it costs a lot to own, there are a lot of premium reasons for the premium price, and with the screen Samsung has managed to find some impressive innovation at a time when there's very little to be found in smartphones.
Read the full review: Samsung Galaxy S8