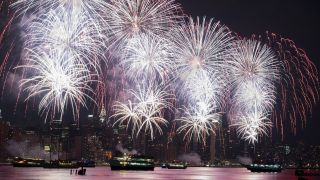 Taking the best firework photos
You might have asked yourself, "how can I capture fireworks in all their splendor?" Thanks to the proliferation of smartphones, anyone can whip out a pocket camera for a quick snapshot.
However, it takes a bit more planning and foreknowledge to create that perfect and memorable photo. There are many ways to take great photos of fireworks, but for now we'll focus on both the simplest way with smartphones and something a bit more technical for DSLR and mirrorless shooters
Most importantly, though, don't forget to enjoy the fireworks! Don't get bogged down with the photographic process and end up staring at your camera all night.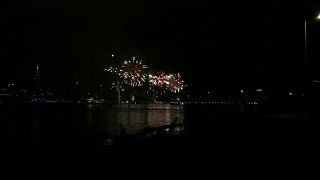 With a smartphone: Getting closer
Despite their relatively small size, you can actually get some excellent shots of fireworks with your everyday mobile device. While not as versatile as a full-on camera with a zoom lens, smartphones have gotten better with deep manual controls, and there are a few things you can do to spruce up your mobile snapshots.
1. Move your feet
Tip number one, get closer. Because smartphones come with wide-angle lenses engineered to get a larger picture, you'll have to zoom with your feet. This means walking right up to the fence, shoreline, rooftops or anywhere else you can safely get near the action.
2. How to avoid bad photos
Now that you've positioned yourself closer to the fireworks, you should turn off your camera flash. It's a completely useless pea shooter, providing no light at all to illuminate the miles of dark sky separating you from the fireworks.
Another plus of turning off the camera flash is that it will make you less annoying to the people around you, all while removing a drain on your .
3. Don't zoom in
Another thing you'll want to skip out on is digitally zooming in your smartphone camera. While it might seem like a sensible replacement for an optical zoom lens, in reality the digital sensor is really just cropping the image to make it larger. In other words, you're actually shedding resolution for a picture with more noise and grain.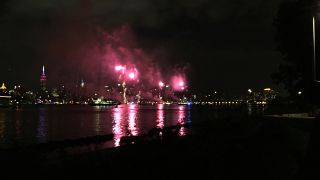 With a smartphone: Go pro
The next step is to just start snapping away. Your smartphone camera is fully capable of taking shots of fireworks with its standard shutter speeds, but if you can manage it, dive into some more manual controls. Manual on iOS and Camera FV-5 on Android unlock the full potential of camera phones on their respective platforms.
1. Change the settings
One of the settings you'll definitely want to set is a lower , which helps cut down on the image noise that might pop up against the dark skyline. At the same time, if you can manage to hold your mobile device steady enough, pick a longer shutter speed. By doing so, you can catch more streams of light as they fall from the sky once the fireworks have gone off.
2. Bring a tripod
Even better than hand-holding the phone, a little mobile tripod can also help you take super sharp shots of the pyrotechnics. With the extra-stable accessory, you could bump up your exposures to last for seconds to capture clearer and more dramatic photos of fireworks.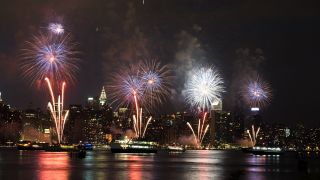 Move on up to a real camera
While smartphones are nice and convenient, they can't match the quality of a dedicated camera. Whether its a tiny compact camera or a full-blown DSLR, these devices will almost always render more detail and stops of light for a more dynamic image in the long run.
Whether you're DSLR, mirrorless camera, or a compact camera like the Sony RX100 Mark IV having more control over your photography is always a good thing.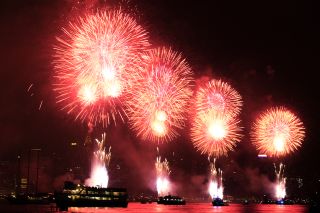 With a camera: Setting up the shot
Of course, for those less photographically minded, most cameras will come with a scene mode made specifically for photographing fireworks. In this mode, the camera will chose slower shutter speeds and ISO speed, lock focus to infinity, dial up the aperture and generally tell users to put the camera on a tripod.
However, for those who rather do it on their own, you'll definitely want to start with lowering the shutter speed. By setting the exposure to go on for a second or longer (nothing over five seconds, though), the camera can capture the full arc of the fireworks shooting in the sky, exploding in the air and streaking across the sky in one frame.
Cover the lens with a black card
Alternatively, there is a way to capture the explosions in the sky as magnificent blooms without any of the messy streaks. You can do this by holding up a black screen to interrupt your long exposure just after the fireworks have gone off. This can be done over and over again, so that your camera only captures the image of exploding fireworks against a relatively clear sky.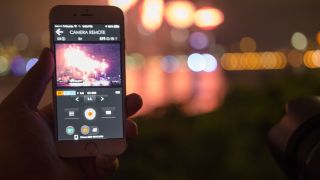 With a camera: Use a remote!
Invariably picking a slow shutter speed also increases the chances your hands will move as you're getting the shot. The worse thing to mess up a perfectly good long exposure is camera shake, and so it would be wise to bring a tripod. To completely remove the chance of any accidental movement by pressing down the shutter button. Users can do so by plugging in a cable release, IR trigger or control the camera over Wi-Fi.
Try light painting
Alternatively, instead of getting the perfect shot, long exposures also open up a world of opportunities to experiment with light painting. You could try your hand at moving the camera in concentric circles or distinct shapes and letters.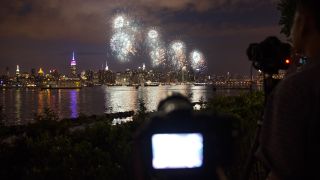 With a camera: Change your perspective
Going with a dedicated camera could also open new framing possibilities with wider or longer lenses. Telephoto lenses with longer focal lengths can reach out and take tighter, up-close photos of fireworks bursting.
Conversely, shorter lenses with shorter focal lengths offer a wide-angle view of the action letting you capture fireworks going off in the distance, the background around it and the crowd surrounding the photographer.
Raise your aperture
No matter what type of lens you choose, the aperture should be closed down to f/4 or f/5.6. As the aperture number rises, the iris in the lens gets smaller. In turn, this widens your depth of field, which means you can capture the whole scene in sharp detail.
Just watch out for raising the aperture too much, as this can introduce diffraction issues. In these cases, detail can become so great that lines and details begin overlapping each other to create unsightly moire patterns.
And with that, you're ready to start shooting fireworks at night. So get out there and have fun shooting!